Click here to get this post in PDF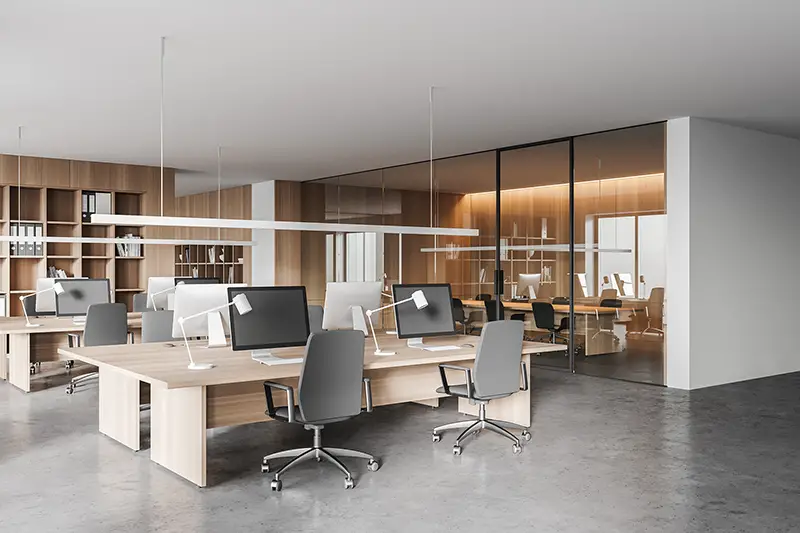 As lockdown restrictions lift, many offices are due to reopen their doors. While it's a positive step for businesses that struggled to keep afloat when operating remotely, it may take time for employees to adjust to former routines.  
Transitioning back to working in the office after months of homeworking could disrupt day-to-day tasks. To help keep employees productive while adapting, you may need to update the office environment and practices.
Here are six ways to make the workspace more efficient and motivate your staff members. 
1) Open communication 
Your employees may feel nervous about returning to the office and being around colleagues again. Holding one-to-one chats with everyone will help you understand how to make them feel more comfortable. These meetings will allow employees to express any ideas for improving productivity too. 
To boost morale, celebrate and acknowledge successes to ensure workers feel appreciated. Also, offer constructive feedback to help people grow in their roles.
In addition to having open communication, allow some space for employee privacy in the workspace by adding office partitions. Researchers at Harvard University found out that open space design is doing more harm than good in your business as team members were found to be distracted and less productive on the floor. Office partitions allow employees to have privacy with less exposure to noise and distractions, increasing the productivity level of many offices that apply this design concept.
2) Upgrade equipment 
Using outdated equipment such as monitors, laptops, printers, and scanners will waste time, cause frustration, and limit capabilities. While upgrading technology can be expensive, it's a worthy investment as it will hugely increase workflow. 
You may need to replace the desks and chairs if they're uncomfortable, as this can be distracting and cause musculoskeletal disorders. 
3) Outsource IT management
Hiring a company to handle the IT services will ensure any problems, including cyber threats, are addressed quickly. Whereas distributing IT tasks among staff who aren't trained in the topic will only impact productivity. Outsourcing the duties will let employees focus on their regular tasks. 
Custard Technical Services offer businesses IT support in Leicester and across the UK. The IT firm can provide a range of services, including email and spam protection, backup and disaster recovery, and hardware support. 
4) Go paperless 
Storing all your business documents as paper versions can quickly clutter the office and create safety risks if they're piled high or block fire exits. It can also be difficult and time-consuming to find specific files compared to searching online. 
Converting all records to digital versions will make it easier to stay organised, create additional space, and enable multiple people to view files simultaneously.   
As well as this, managing admin online using tools such as Google Drive, scheduling platforms, and office management software can minimise errors and increase efficiency. 
5) Offer incentives 
Setting goals is a great way to keep productivity levels on track and to achieve desired results. However, don't set unrealistic targets as not achieving them will dishearten employees.  
Rewarding staff for meeting the goals will further encourage them and improve morale. Tailor the incentives to what motivates your workers, such as an extra paid holiday day, a bonus, or a prize.
6) Encourage a healthy work-life balance  
Staff may feel pressured to work longer days when returning to the office, but this can lead to burnout. Maintaining a good quality of life will keep staff energised and optimistic. 
To avoid stress building up among the team:
Remind everyone to use their holiday days.
Encourage people to take short breaks away from their desks.
Advise them to go for a walk on their lunch and not to work through it.
Discourage unnecessary overtime.
Flexitime also allows employees to adjust their workdays to suit their lifestyle while still completing their required hours. For example, they may prefer to start and finish earlier to pick up their children from school.
It'll undoubtedly take time for employees to adjust to working back in the office, but improving the space, supporting your team, and giving everyone a motivational boost will help the process go smoother.
You may also like: A Clean Office Can Make a Difference in Productivity
Image source: AdobeStock.com