Click here to get this post in PDF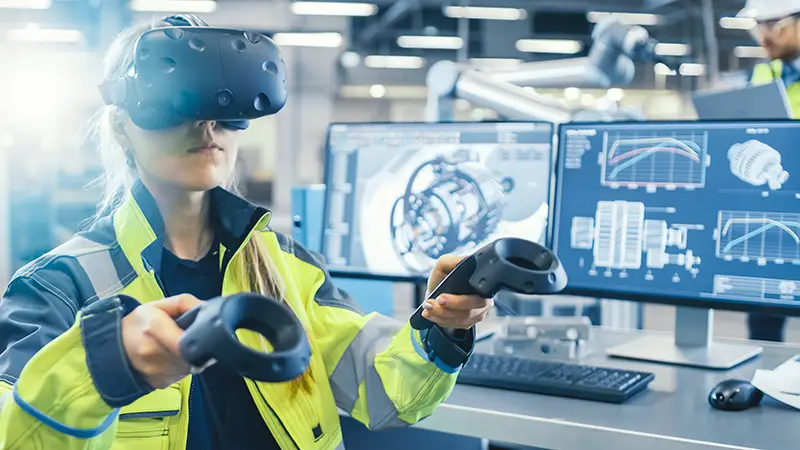 Modern technologies like augmented reality (AR) and virtual reality (VR) have increasingly piqued business owners' interest across different industries in recent years. So far, businesses have explored various applications of AR and VR to improve and expand in innovative and highly immersive modalities.
ARs Practical Uses in Business Today
AR can be integrated into several practical applications in business, from basic tasks to elaborate ones. For example, the Commonwealth Bank of Australia developed an AR-based app to facilitate communication and assistance with clients inquiring about property information providing them with an easy and engaging customer experience. MasterCard also developed an AR app that allows customers to explore and view various card benefits in a 360-degree virtual environment. 
VRs Uses in Business Today
Businesses can utilize VR in training and educating new staff by recreating real-world scenarios. By revolutionizing standard learning routes, employees can interact with the training material via a VR headset instead of leafing through manuals or scrolling through endless PowerPoint slides. This application is especially beneficial in high-risk workplace environments that require training for real situations but with the added value of no potential risks or accidents.
How AR/VR is Transforming Businesses Across Different Sectors? 
A report by PwC, a company delivering quality assurance, tax, and advisory services, predicts that AR and VR will create 23 million jobs by 2023 worldwide, a dramatic increase from about 800 thousand jobs impacted by these technologies in 2019. Let us explore how AR and VR are transforming businesses across different sectors: 
Advertising & Marketing
AR and VR are the future of digital marketing and advertising. Humans feel more immersed by subjective and unique experiences, and these technologies pave the way for a highly personalized advertising experience.
Businesses create and offer immersive ad experiences through augmented reality in marketing instead of the standard print and digital advertising channels. As for VR, an advertisement may be set in a virtual 3D environment where viewers interact with the digital information as they would in the real world.
Real Estate and Construction
AR and VR applications are rapidly expanding in the real estate and construction sectors. For example, real estate viewings are made better and easier as a buyer can tour a house simply from the real estate agent's office via VR, which facilitates the purchase process for both the buyer and the real estate agent.
Construction and renovations are also further expedited as designers can use augmented reality software for architects to turn 2D models into 3D digital models and overlay them onto real-world settings, enhancing the ultimate project's visualization.
Games and Entertainment
AR and VR first established their roots in the gaming and entertainment industries. Since the dawn of gaming, game developers have strived to immerse players in their virtual worlds. "Pokémon Go" remains one of the best examples in AR gaming as it engaged players by overlaying an augmented version of reality onto physical environments with the use of a smartphone, allowing for collaboration with other players and exploration of different locations. 
Retail
Businesses have always strived to engage audiences and potential customers beyond traditional storefronts. AR has introduced this possibility by offering manufacturers and marketers the chance to promote their sales and goods through a try-as-you-buy modality, allowing customers to view products in a physical environment and make better purchasing decisions.
This application transcends online shopping and establishes a personal connection between the consumer and the brand that can increase brand loyalty and repeat purchases. 
Wrap Up
Virtual and augmented reality technologies will inevitably revolutionize business. Soon enough, business owners and service providers will realize the exciting possibilities and benefits of AR and VR applications and solutions. Therefore, aspiring business owners across fields and sectors should seek to quickly incorporate AR and VR to catch up with this accelerating progress.
You may also like: 3 Opportunities for VR and AR Tech in the Business World
Image source: Shutterstock.com