Click here to get this post in PDF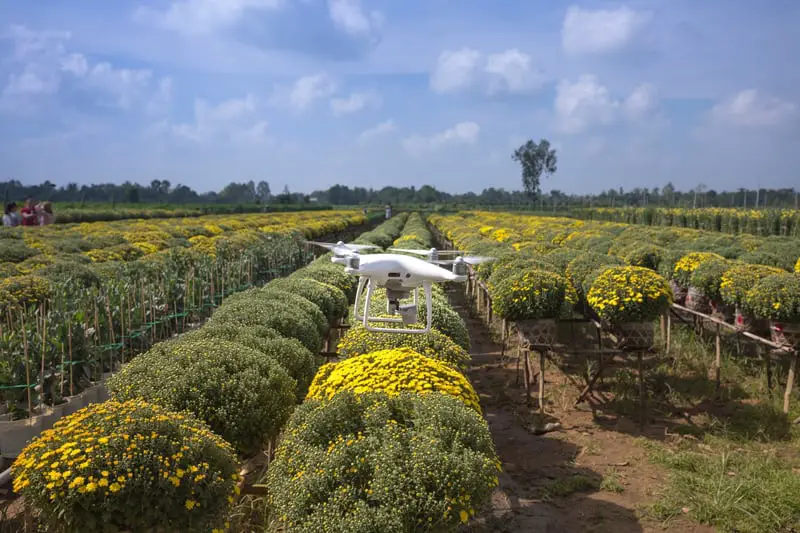 Today, the world is all about technology. The advancement of technology has led to an increased number of app developers who aid in developing applications for tablets, mobile phones, and PC. There are very many applications, and each application has its specific purpose to fulfill. Technology has been incorporated into many fields and is responsible for simplifying a lot of businesses and agriculture has not been left behind. Farmers nowadays use technology to simply farm and facilitate increased food production all around the world. Even they can now insure their crops from natural disasters using state farm insurance.
Today, Because of technology it is easy to cultivate large tracks of land for a short period, unlike in the past when cultivating a huge piece of land was very difficult and very time-consuming. In the past, which is before technology, it was cumbersome to organize and keep track of all the activities and work going on in the fields. Simply put, the incorporation of technology into farming and generally agriculture has largely contributed to better management of farms.
Developing applications to be used in agriculture is meant to go on until the future. The world population is growing every day. Therefore farmers need to use the necessary agricultural technologies to ensure that food production is increased to feed the world population.  Agricultural applications are critical to any farmer around the globe. Here are some of the reasons why farmers should consider and are using apps in farming.
To acquire climate information
A farmer gets access to climate information and weather changes. This is important because it will help the farmer plan when to till his or her land and also when to cultivate. Also, it will help the farmer determine what type of crops to plant. Some crops do well in dry climates while others do well in rainy climates. Agricultural applications may also predict the weather and the farmer. This aids the farmer in better preparing himself or herself for risks and disasters. 
To acquire market information
Most farmers around the world consider farming a business. They use farming as a source of their income. It is important for every farmer to have adequate information about the agricultural market.  By having access to market information, the farmer will get to know the food product that is in high demand and also the farmer is informed when the prices of purchasing food products are higher. The farmer will then make a good profit from the sale of his produce.
To acquire better distribution networks
Developing agricultural based applications will aid the farmer to have access to better distribution networks. It will be easier for the farmer to sell his or her products, on the other hand, it will be effortless for the seller to buy and purchase food products from the farmers. Therefore, agriculture-based applications will help create direct links between farmers, suppliers, and buyers. Establishing direct links between the farmer, supplier and the buyer is important because it ensures the farmer gets more efficient distribution channels and higher prices for his/ her produce
To have access to finance
Some of these agricultural applications give farmers access to finances. A farmer can bank and pay for insurance using the application. He/ she can also access credits and loans that will help him run his farming process smoothly. With the help of the app, the farmer can manage his finances properly.
To have better control over farms
A farmer gets better control of his farm by using these agricultural based- applications. Most importantly the application gives live updates on the farm making it very easy for the farmer to manage it.
As earlier said, agricultural-based applications are critical in farming. They play major roles in ensuring that farming processes are easy and that farm work is more efficient and more productive. Here are some of the instances agricultural apps make farm processes and activities easier.
They are types of apps that help a farmer in livestock management. In large livestock farms, there are numerous numbers of different animals. It is important for the farmer to have the proper information and to keep track of the animal, thus ensuring they are healthy and free of diseases. It is tough and tiring to remember the details and health status of each animal. Agricultural based apps can help you keep data and keep track of your livestock.
In the US for instance, every farmer must conduct a safety inspection on the farms. The app automatically informs the farmer of the changing and new inspection policies.
Lastly, agricultural applications are essential and should be embraced by the farmer, for they possess a lot of advantages. These applications are suitable for both field farmers and crop farmers. Field farmers can monitor their farms and determine the production output. It also eases the use of field machinery. Crop farmers, on the other hand, can monitor the soil conditions, the app can also remind the farmer when to fertilize and when to apply pesticides.
You may also like: Business Technology of Today: Affordable Innovations You Need to Be Using
Image source: Pexels.com