Click here to get this post in PDF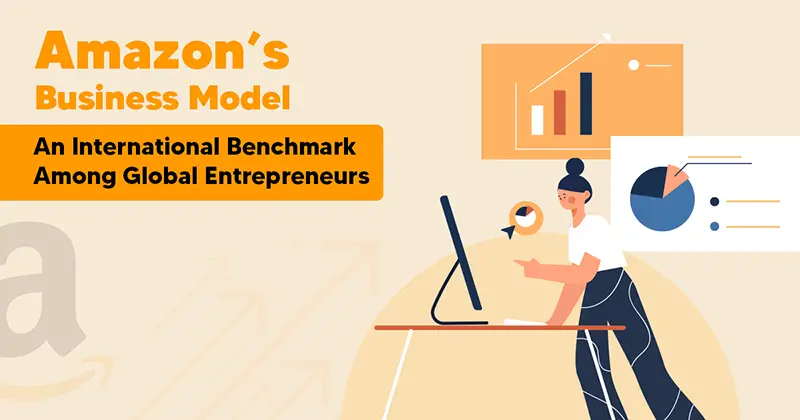 Consumer trends are constantly changing and are highly unpredictable. Businesses and industries try their best to keep up with the latest market inclinations to fulfill consumer demands and deliver up to their requirements.
One highly prominent and revolutionary consumer trend is shopping for goods online through digital technology. Also known as e-commerce, this concept is gaining tremendous popularity and is already a trillion-dollar industry. Speaking factually, the e-commerce industry was valued at USD 13 trillion in 2021. This figure is an optimal example of how vast the scope of e-retail business is.
There are numerous e-commerce platforms in the market. These platforms operate through different sales models, namely B2B (business to business), B2C (business to customers), C2C (customers to customers), and C2B (customer to business). One of the most popular e-commerce platforms across the globe is Amazon.
The platform is known for being an all-in-one solution for the online shopping needs of global consumers. The company has earned this title with a robust and well-curated strategy and has become a successful name in the e-commerce sector.
You must be wondering how big Amazon actually is, right? Well, the next section will tell you everything you need to know about the e-commerce giant.
How Successful Is Amazon?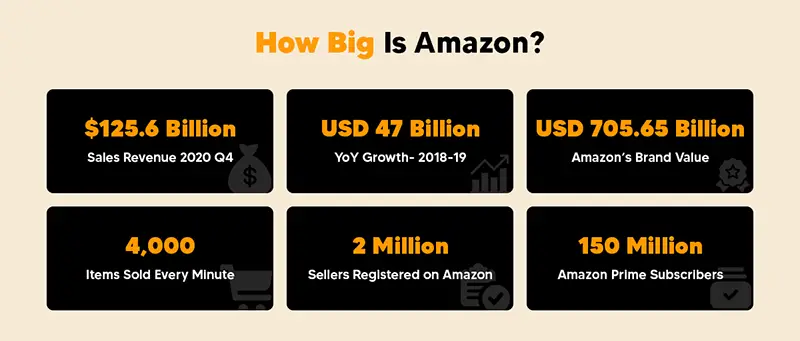 Established in 1994, Amazon is one of the world's leading e-commerce stores. The company is a household name at present and has a vast market spread all across the world.
Most people know about e-commerce because of Amazon, and they use the platform to shop for goods daily. However, while the Amazon marketplace is tremendously popular, you must know that Amazon has numerous other business streams that significantly contribute to the company's revenue. These revenue streams collectively generate an average revenue of $1.29 billion daily.
These revenue streams are highly underestimated, and many people are unaware of their presence even to this day. Therefore, in the upcoming section, let's explain Amazon's major revenue streams.
Amazon's Revenue Streams
Amazon Marketplace
The Marketplace Business Model clearly dominates the company's revenue share and is the highest revenue-generating segment. The sales of the Amazon marketplace are expected to reach $729.76 billion by the end of 2022, with an 18% YoY increase.
Amazon operates with a managed marketplace model, a hybrid version of the inventory-led and online marketplace model. Here, the company has enlisted numerous sellers offering similar types of products to the buyers. As a result, the buyers can browse from, compare, and purchase products as per their preferences.
Overall, Amazon's marketplace is a complete e-commerce solution and dominates the e-retail market in numerous countries. This makes Amazon a complete e-shopping platform and a global leader in the industry.
Amazon Books
It is worth noting that Amazon started its business by selling books online, and the majority of the company's revenue came from Books at a certain point. Today, Amazon is a globally leading book-selling company and has evolved over the years to enhance its services.
Amazon's digital book format, Amazon Kindle, is gaining tremendous popularity at the present time. Kindle books have replaced physical books and have made reading convenient and easy for many. Used with Kindle devices, these books are popular amongst the book reader's community and cater to a diverse reader market.
Amazon Web Services (AWS)
Amazon Web Services, popularly known as AWS, is a cloud computing service offered by Amazon. The service is used by numerous businesses as well as common folks and is one of the most popular in its categories.
As the market scope and demand for cloud computing is increasing, the sales of Amazon Web Services is going higher and higher. Over the past few years, Amazon Web Services has transformed the global IT infrastructure and has made cloud computing more economical, secure, and accessible.
It is worth noting that AWS is Amazon's most profitable revenue segment, accounting for 74% of the company's operating profit. Moreover, these figures are increasing daily, proving AWS's vast scope in the cloud computing market.
Amazon Prime
Amazon Prime is the company's subscription-based service and primarily focuses on e-commerce and entertainment. Having a prime membership uplifts the user's shopping experience and entitles them to additional benefits that non-prime members do not have.
For example, prime members benefit from express delivery, exclusive deals, credit card perks, and much more. Moreover, Amazon Prime members can also use the company's entertainment services to stream movies and series, read books, and do much more.
Amazon prime has a high demand among the younger generations and notably contributes to the company's overall revenue. Amazon prime is relatively new but has given tough competition to other OTT service providers like Netflix and HBO NOW.
Amazon Advertising
Amazon Advertising has evolved from being a miscellaneous revenue generating stream to a major revenue generating stream. Amazon's advertising services include sponsored, displayed, and video advertisements.
Amazon advertising is one of the most less-known revenue segments, among many others. However, Amazon's advertising services' revenue will have crossed $31 billion in 2021. 
Since people visiting the Amazon marketplace platform already have an intention to make a purchase, Amazon ads are turning out to be a viable investment for businesses. Entrepreneurs recognise the high potential of Amazon ads and choose it to grow their business and boost their sales.
Others
Besides all the revenue streams mentioned above, Amazon has numerous other revenue streams such as Amazon Patents, Amazon Tickets, Amazon Physical Stores, Amazon Fire Products, etc.
The company is expanding its boundaries and introducing new revenue streams frequently, boosting its revenue.
These were the top revenue segments of Amazon. However, you must have realised that Amazon Marketplace is undoubtedly the most popular and revenue-generating of all the revenue segments.
This is because of Amazon's unique business approaches and the increasing benefits that businesses are gaining by investing in e-commerce. The following section will cover these benefits in detail.
7 Reasons Why You Should Invest in E-commerce

Online Sales
As we discussed earlier, present-day consumers prefer to shop for goods online instead of physically visiting the stores. As a result, the scope and size of the traditional retail market are diminishing, while the same for the e-retail sector is growing rapidly.
Therefore, investing in creating an e-commerce platform is an excellent idea to keep the business profitable. By creating an e-commerce platform, a business can seamlessly reach a wide target audience and sell its goods to them. Moreover, businesses can use e-commerce platforms to target consumer markets out of their geographical boundaries and sell goods to new locations, further boosting their profit.
Customer Analytics
Modern-day businesses place the customer experience at the heart of their operations. One way to uplift the customer experience is to use customer data and deliver a personalised shopping experience.
However, it is commonly known that gaining analytical consumer data is challenging in traditional retail. On the other hand, in e-retail, businesses have seamless access to detailed customer analytics. Businesses can use these analytics to curate strategies that enhance the buyer's shopping experience.
Amazon is one of the best examples in this aspect. The e-commerce giant has utilised customer analytics and integrated it with technologies like Big Data and Artificial Intelligence to deliver personalised and customer-focused shopping experiences to its buyers.
Process Automation
It is commonly known that a lot of manual effort goes into managing a business. But, of course, the larger scale your business operates on, the more time and resources you will need to efficiently manage its operations.
However, e-commerce businesses have the upper hand in this matter. The latest technologies enable e-retail businesses to automate their operations from start to end and increase their business efficiency.
For example, Artificial Intelligence is a technology based on machine learning and is well-known for seamlessly completing the most complex of tasks effortlessly. Some of the most popular process automation implementations in the retail sector are invoice generation, inventory management, and customer support.
This leaves business owners with more time to focus on more important decisions. Moreover, by automating your business's operations, you can also reduce the cost of sales and increase profitability, making it a worthy investment.
Restriction-free Sales
It is commonly known that traditional retail businesses operate on limited working hours every day and even have certain closed days. This results in a loss of potential revenue and compromised customer satisfaction, as consumers have to visit the store within a given timeframe to shop for required goods.
However, with a digital presence, buyers can easily purchase your goods at any time of the day, any day. This is one of the most popular benefits of investing in an e-commerce platform. By having continuous and uninterrupted sales, you can easily avoid loss of revenue and deliver a seamless shopping experience.
Moreover, with same-day and one-day delivery features, you can further uplift the buyer's shopping experience and even achieve customer satisfaction.
Higher Profitability
Most of the time, the cost of operating an e-commerce business is lower than that of operating a brick-and-mortar store. This is an important business factor as a higher cost of operation directly reduces the business's profitability.
A lower human resource requirement, automated processes, and low infrastructure cost contribute to e-commerce businesses' reduced operations cost. As a result, e-retail businesses benefit from higher profitability and, ultimately, are more efficient when compared to businesses that operate traditionally.
Competitive Advantage
Investing in e-commerce has been proven over time strategy to generate business success. It is worth noting that even though the concept of e-commerce is relatively old, most businesses operate traditionally to this day.
The rate at which businesses are shifting towards e-retail is extremely high, but there is still a long way to go. As a result, having a digital presence with an e-commerce platform can give your business a competitive advantage.
Consumers have shifted to online shopping long back and prefer online stores over offline ones. Therefore, you must identify this business opportunity and use it to stand out from the competition and increase your sales.
Easy Marketing
Marketing is a crucial business activity and is essential to boost sales. Therefore, every business needs to undertake optimum marketing and promotion strategies to make its products visible to the target customers.
However, it is challenging to market a business with only a physical presence and not a digital one. More than often, the process is time and cost-intensive, and there is no guarantee of optimum return on investment.
On the other hand, marketing an e-retail business is not just effortless but also highly efficient, with a high return guarantee. To explain, e-commerce businesses undertake numerous digital marketing strategies that are focused on connecting the business and its products with the right customers and promoting sales. This ensures that your product's marketing strategies are efficient and targeted toward the right customers.
Now that you know why it is a good idea to invest in creating an e-retail platform, you must also know how much it will cost to do so. Generally speaking, businesses either go with website or mobile application development or even both when developing an e-retail platform. The next section will cover the costing part in detail, so read attentively.
Cost of Building an Ecommerce Website & Mobile App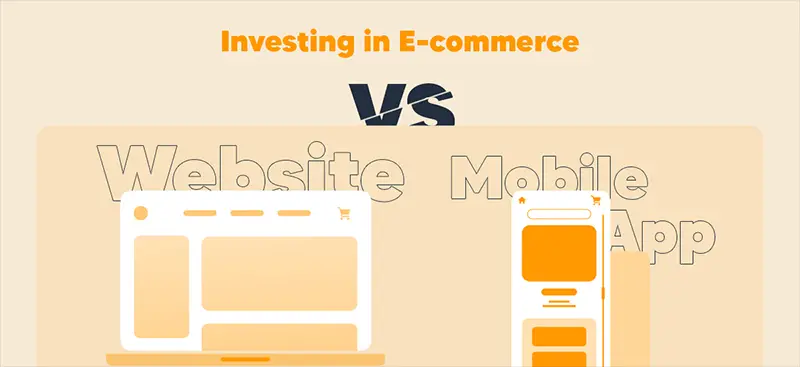 eCommerce Website
More often than, most entrepreneurs start an e-commerce business with a website. A website is a highly popular digital platform that can be used on any device, irrespective of the underlying operating system. All that is needed to access the e-commerce website is a web browser and an internet connection, and one can seamlessly shop for goods.
The cost to develop a basic e-commerce website can be anywhere from $10,000 to $25,000, and can even be more or less than this range. The exact cost will depend on the type of features that you wish to add to your website. If you are motivated by Amazon's business model and want to develop a website like Amazon, the investment in web development can go as high as $60,000 – $80,000, or even more.
eCommerce Mobile App
As the usage of mobile devices is increasing, mobile apps are becoming more and more popular every day. Today, users spend the majority of their screen time on applications. In this case, developing a mobile e-commerce application can be an excellent business idea.
The market for eCommerce applications is tremendously increasing, as more and more e-shopping apps are coming up every day. However, the average cost of developing a mobile e-commerce application is $2,000 to $30,000. Additionally, the design and development costs to create a high-end eCommerce app like Amazon can go as high as $40,000 to $100,000.
However, you can largely control this cost by going for MVP development or outsourcing your design and development requirements to development agencies located in regions with low development rates, such as India and Indonesia.
This was it for the cost of building an e-commerce website and mobile application.
Final Thoughts
E-commerce is a revolution in the retail segment and can take businesses by storm. Among all the e-commerce websites, Amazon is undoubtedly the most popular one and is in the eye of global entrepreneurs for its high revenue and extreme popularity.
As a result, many businesses are looking for ways to build an e-commerce platform like Amazon and benefit from e-retail. By undertaking a carefully and strategically planned development process and understanding the benefits of the investment, you are certain to reap the maximum benefits of eCommerce and create a successful platform.
You may also like: Keys to Success in Amazon Account Management in 2022