Click here to get this post in PDF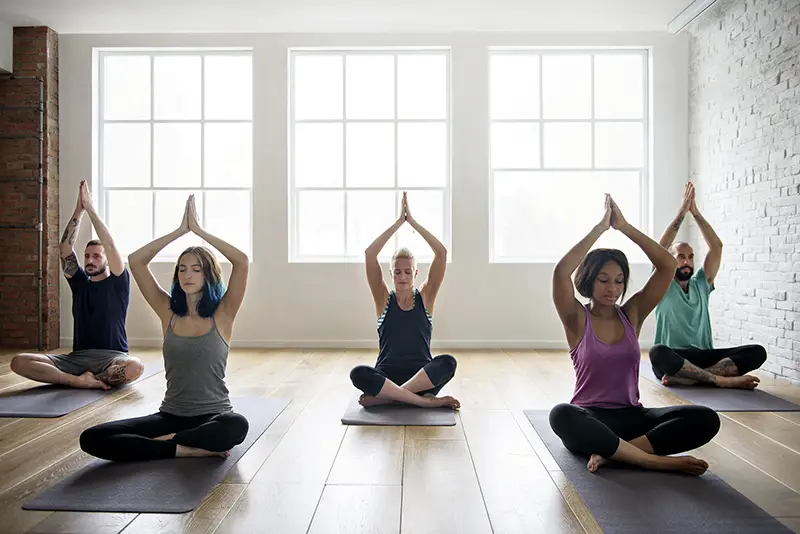 Welcome to the detailed guide on yoga booking systems. What is a yoga booking system? What is its purpose? We'll detail the ten benefits of yoga bookings and mention key features you should look for when finding the best yoga booking system.
First, let's explain what a yoga booking system is before detailing how it can help you and your business. Yoga studios use several different channels when marketing their services. However, the most effective way to attract new students and retain existing ones is by using a well-planned booking system.
What is a Yoga Booking System?
A yoga booking system can be understood as your business's infrastructure for managing appointments and scheduling classes & activities. A yoga studio's appointment book should be synced with good booking management software so that potential customers can sign up online without having to call or visit the studio directly.
Such systems are valuable tools for both established businesses, who need a better solution to manage their growing number of clients, and new startups, who want to enter the market painlessly.
What is its Purpose?
A yoga booking system allows you to:
Improve customer service: You can make scheduling easier for customers and avoid making them wait on the phone while your receptionist tries to find a slot in your schedule. Moreover, it keeps everyone informed about any changes in their appointments.
Attract more students: A booking system allows prospects to choose when they want to come for a class or an activity, even if these are scheduled at times that don't work with their schedules. It also helps you advertise discounts and flash sales by promoting specific time slots which will appeal most to your students.
Manage your team: Your employees can use the system to report time-off requests, availability, and any changes in their schedules. Moreover, you can quickly check whether there are any open slots when assigning appointments.
Track student numbers: This information is vital for creating reports that will help you assess your marketing efforts and improve future strategies.
Build a strong brand & relationship with clients: A booking system shows that you're running a professional business, making it more likely for customers to trust you over an inferior alternative.
In addition to that, it helps nurture your relations by allowing your clients to book classes at times that work best for them instead of having to take whatever's available when they drop by the studio.
Achieve business goals: A booking system offers the opportunity to plan ahead. You can look at your past records and use them to create projections based on various factors. For example, you may want to set a monthly sales quota or see which activities bring the most considerable profits.
Using a good yoga booking system lets you easily accomplish all of these tasks. Therefore, if your studio is growing rapidly or about to enter the market, it should be one of your top priorities. Now that we've answered what a yoga booking system is let's look at some of its benefits for your business.
Ten Benefits Of Using A Yoga Booking System
Improve customer service.
Attract more students with online bookings.
Manage your team more efficiently.
Track student numbers.
Build a strong brand & relationship with clients.
Achieve business goals.
Minimize the risk of overbooking appointments.
Provide an additional revenue stream or cost-saving by selling time/day slots to other businesses.
Communicate events and specials directly to customers through marketing messages in the booking system.
Gain insight from historical data for future planning purposes.
Key Features You Should Look For When Finding The Best Yoga Booking System
Compatibility: First and foremost, you need to ensure that your system will work with whatever technology your team is already using, whether a mobile app, an e-commerce plugin for your website, or special software for scheduling employees' time-off requests.
Affordability: Given that the pricing model of such systems varies widely depending on their functionality and size, you should aim at choosing a reasonably priced alternative that has just enough features to serve all of your company's needs without overstretching the budget.
Remember – even if a particular solution seems affordable at first glance, it can quickly become costly if your studio grows. It would be best if you upgraded to enjoy increased functionality.
Customer service: A good booking system has a dedicated team of professionals who can provide timely assistance whenever something malfunctions. Therefore, you need to read what customers say about their experiences before choosing the one that offers the best customer support services.
Flexibility: You never know how your business will develop over time. When choosing the proper application, don't focus only on its core features and consider how easily new requirements and changing market demands can customize it.
Ease of use: No matter how attractive a booking system seems based on its list of functions, if it can't be used without having to read a ten-page manual, then it's no good.
Therefore, look for intuitive software that is easy to navigate and lets you perform basic operations like adding/editing appointments in a matter of seconds rather than requiring additional training.
Quality: The quality of the results produced by your system should be one of your top priorities while searching for the best product. For example, if your customers are supposed to receive confirmations via email or text message after they book classes, do they get them?
Some systems have issues with sending automatic reminders, so make sure it works if this is crucial for your business.
Integration capabilities: If you want to integrate applications into your booking system, you should look for a platform that provides the necessary support and enhances your business processes by seamlessly integrating with your existing IT infrastructure.
Mobile app: Phone apps aren't just valid for customers who need to check class schedules on the go, but they can also help studio owners communicate promotions and other announcements directly to them via push notifications.
Today, many booking systems offer customized mobile applications that you can install right from the relevant app store (iOS App Store/Google Play), so don't forget to check this option when choosing between different software solutions.
Security: Without question, security is one of the crucial benefits to look out for in all types of online services nowadays. Yoga studios are no exception since your students need to feel secure when sharing their payment information with you.
Therefore, ensure that your system can offer a high level of protection for all data transmitted through the Internet and stored in its database (encryption, anti-virus protection, website authentication, etc.).
Scalability: When choosing between different systems, ask about their scalability and try to imagine how well each product will work if your company grows and expands into new markets in the future. For example, does it automatically add more servers to the increasing number of users?
How easy is it to upgrade from standard to advanced packages without installing additional software? Can it accommodate an unlimited number of clients who might join at any time in the future (e.g., opening a new yoga center, starting franchise locations, etc.)?
Conclusion
We live in a world where time is becoming more precious by the day, especially with an increased reliance on online platforms & tools, making it easier than ever to access information whenever we need it!
That's why having a Yoga Booking System in place can be so beneficial – it enables you to take control of your schedule by creating automated recurring classes which are easy to schedule & manage while also improving client satisfaction with its ability to ensure access to the schedule at all times.
You may also like: How Do Fitness Applications Improve Your Health?
Image source: Shutterstock.com