Click here to get this post in PDF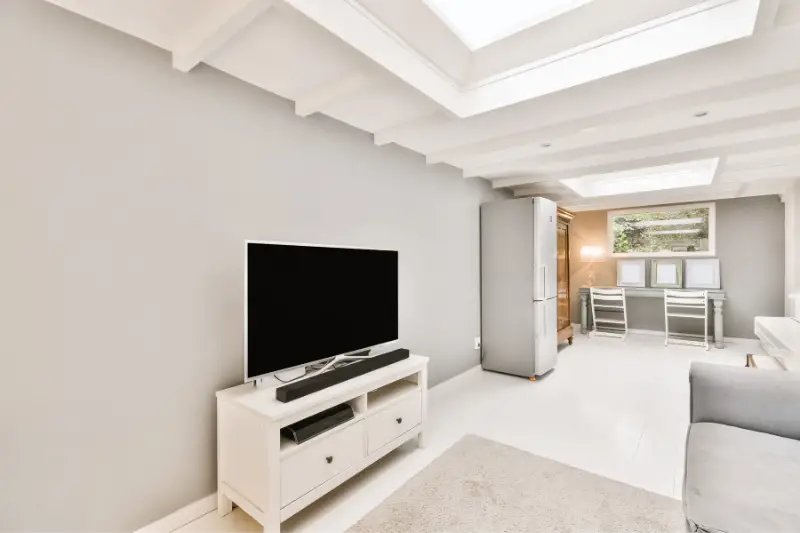 Many modern house architects enjoy using unconventional layouts and floor plans. The high cost of land in big cities forces architects to find creative ways to maximize the space. Today, many builders are embracing the trends of using abstract shapes and curves in their designs. 
It can be challenging to transmit natural lighting in houses with complex floorplans and room designs. With modern ventilation and air conditioning solutions, it is acceptable for some parts of the house to lack window access. Such houses need several lighting fixtures to illuminate all the rooms and corridors effectively.
Skylights provide an affordable way to transmit natural daylight into the darkest corners of your house. This article highlights four advantages of using skylights. Read on if you would like to know more about modern skylights.
What is a Skylight
A skylight is a structure installed on the roof of a building to transmit daylight into a room. Skylight designs vary and can cover part, or the whole roof space of a room. They provide a visual connection with the outside environment. Below are some popular types of skylights in use today.
Tubular Skylights or Solar Tubes
Fixed Skylights or Sun Roofs
Operable Skylights or Roof Windows
Open Skylights
Advantages of Skylights
While there are several types of skylights in use today, they have similar functions and benefits. Below is a list of four fundamental advantages of using skylights in your home. 
Skylights save money
Skylights save energy
Increase Design Options
Low Maintenance Requirements
1. Skylights Save Money
Skylights enable you to illuminate dark parts of your house without the cost. They replace the use of paid electricity with free natural daylight. You only need to cover the initial skylight installation cost. As such, skylights can reduce your electricity bill significantly.
With tubular skylights or solar tubes, you can transmit more natural daylight into your basement, gym or home office. The availability of natural lighting also improves the value of your home. Natural lighting is an attractive feature that appeals to many buyers of modern houses.
2. Skylights Save Energy
With growing concerns over climate change, many people are taking measures to reduce their energy consumption. Energy efficiency now goes beyond reducing utility bills but also having a positive impact on the environment. 
Besides saving electricity, skylights enable you to reduce your heating requirements. Skylights allow you to heat your room through passive solar energy. This helps you use less fuel to heat the room. It also reduces the carbon emissions you would emit with conventional heating fuels. 
3. Skylights increase your design options
Access to natural lighting is one of the constraints that shape the design of a modern house. Health and safety concerns are raised about rooms that don't have access to natural lighting or ventilation. Skylights allow architects to design without lighting or ventilation limitations. 
The intelligent use of skylights enables architects to design longer corridors and private rooms without windows. Skylights afford architects more freedom with the space available. With skylights, you can have functional rooms built into your roof cavity and basement.
4. Skylights have low maintenance requirements
Once installed, your skylights need little attention. While regular lighting fixtures need bulb replacement, skylights only need cleaning.
The tilt of your roof and skylight prevents the accumulation of dust on the surface of your skylight. The rain will also clean your skylight with ease. Yet, you may need to clean your skylight occasionally during long dry spells.
Skylights have several other advantages besides those listed here. These include easy installation, versatile design, affordability and many more. The various skylight designs also have specific advantages over each other. In the end, skylights add a unique touch of style to modern houses.
You may also like: What is Solar Energy?
Image source: elements.envato.com