Click here to get this post in PDF
So, you've seen some of the reasons for your business to go green, and you've thought it through.  You've decided you are ready to become a more ecologically sustainable company.  Here are some simple ways you can implement your new commitment.  
Recycle
This one seems obvious but think beyond the little blue recycling bins in your office space.  What else is your company discarding?  There are all kinds of companies out there that can help you recycle just about anything, from scrap steel recyclers to the computers and phones in your office.  
Use Refillable Ink Cartridges
And while you are at it, assign your employees coffee mugs and water bottles instead of providing paper or plastic cups.  And don't forget to exclusively stock refillable pens instead of disposable ones.  Ask your staff to get creative about what else can be reused or upcycled.  
Using Recycled Products
Definitely use recycled paper in your office, but think beyond that.  There are even companies out there that specialise in providing recycled materials for construction.  Wouldn't it feel great to have an office space or commercial property made mainly of reclaimed material?  
Throw Sustainable Parties
Whenever you have an event catered, go organic.  Organic growing practices are much more sustainable than non-organic, and your health-conscious guests and employees will thank you.  Use real utensils and dishes where possible, but if not, make sure you or your caterer are using biodegradable products.  Think twice about having that large foam-core sign or vinyl banner printed.  
Eco-Friendly Landscaping
There are lots of reasons to go green with your landscaping.  It's not only good for the planet, but it's also better for your employees, who might spend lunch breaks on your lawns or in your gardens, not to mention passing dogs.  Investigate gardening by tree pros in Redlands.
Bike Bonus
Your staff has to get to work somehow, and rewarding them for doing it sustainably is a beautiful way to help the environment.  If you can create a culture of biking to work, it will also benefit your employee's health.  But don't forget to reward taking public transportation, carpooling, or other ecologically friendly ways of getting to the office.  
Green Housekeeping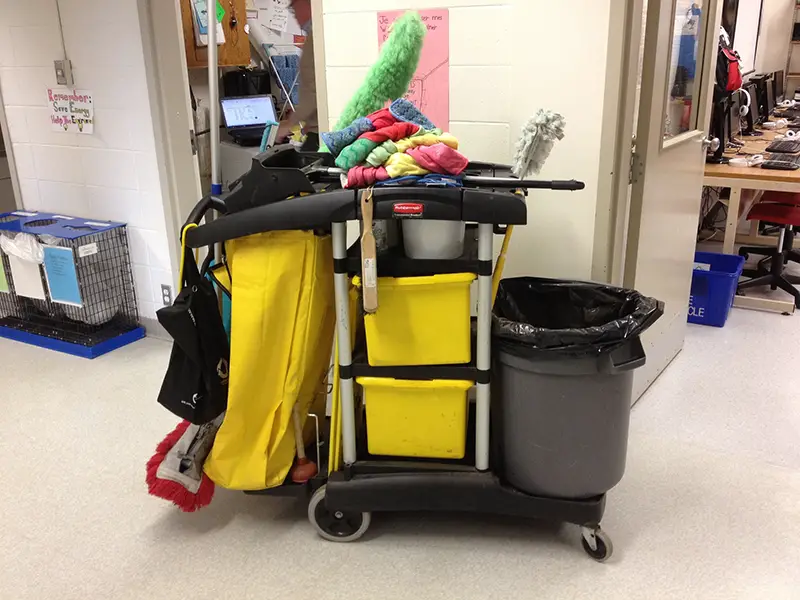 Besides the ecological benefits, ask yourself, do you want toxic chemicals to be sprayed around your office space anyway?  Many cleaning companies are available now who can use safe, sanitary green products to clean your space.  
Double-Sided Printing
Invest in double-sided friendly printers with double-sided automatic document feeders so that double-sided printing is a quick and easy default for your staff.  There is also software out there that can help you identify and eliminate wasted space, like that last page of a printout that only has a page number or a URL.  This can also save your company money on all the reams of paper you didn't have to buy.  
Some of these ideas might seem small.  What's a couple of re-used ink cartridges to all the plastic waste being generated every day?  But little and relatively easy changes like these add up.  Be the most sustainable business you can be, and don't be shy about mentioning it to other companies, your staff, and your customers.  A green reputation is a good reputation! 
You may also like: 6 Ways to Green Up Your Business