Click here to get this post in PDF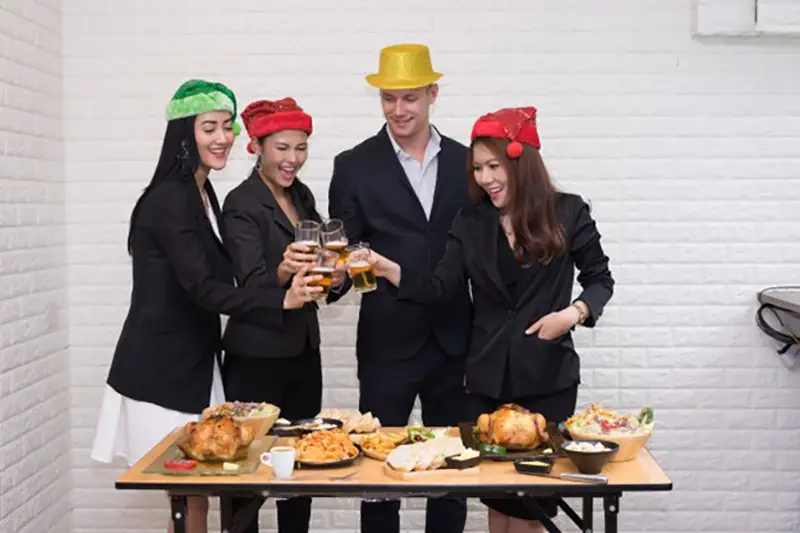 Source: Freepik
It can be hard for office employees to keep themselves motivated for a long period of time without having some fun and excitement. Rather than being a bah humbug, bring some joy and fun into the office.
Normally, Christmas is considered an event where you spend time with your friends and family members. How about you have your Christmas party at your office with your office mates?
Not only will it be a lot different, but it'll also make your relationships good with your office staff.
Here are 7 ideas to celebrate your Christmas at your office to have as much fun as you want:
1.      Christmas party
Christmas cannot be celebrated without having a party. All the office staff can have fun at lunch, or you can have a get-together with other departments of the office to celebrate this festival in the best possible way.
The office is like a second home to employees, and you will surely love to have fun there. Moreover, at the Christmas party, you will see the lighter and funnier side of your boss too.
You can make this Christmas party a lot more fun if you plan to wear the same sort of dresses to show unity with one another.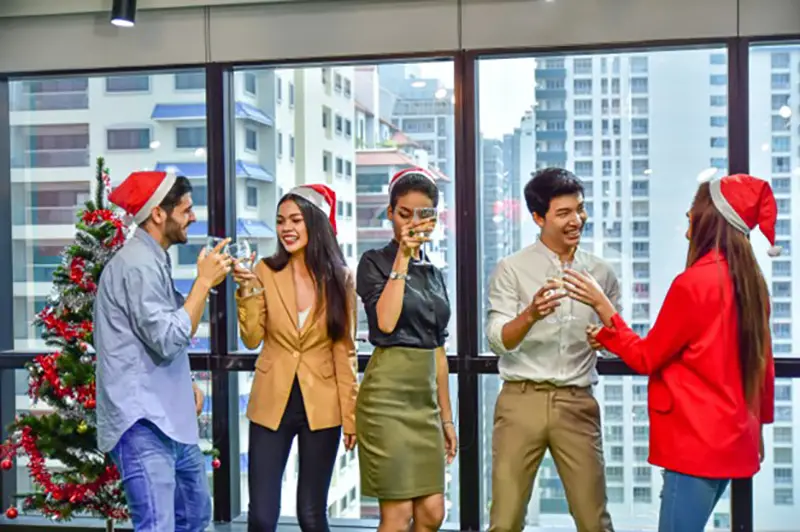 Source: Freepik
Most probably, your boss will host the lunch, but the team members can also celebrate this day by having a party with the boss.
2.      Exchange gits with each other
Exchanging gifts with your office mates can make your Christmas a lot more fun. For a very small price, you can win their hearts.
We all exchange gifts with our friends and family members. As the office is like a second home, you must buy some gifts for your office friends and seniors.
Exchanging gifts is really easy, as it gives us a chance to connect with the people we haven't connected with entirely. 
When you are having fun at your office, it's a must-have thing to look for Christmas gift ideas for your boss too. It's a smart way of becoming the apple of his/her eye 😉
3.      Decorate your office
Can you even imagine not decorating your house for events like Christmas? The same has to be the case with the office. If you have planned to spend some time in the office this Christmas – add some bubbles and lights around your office.
There is absolutely no need to spend a lot on Christmas decorations because simple flowers can make your workplace astonishingly cool. You can be extra creative and get inspiration from specialists like Decorator's Warehouse that have everything you need to make your workplace more cheerful during the Christmas holidays.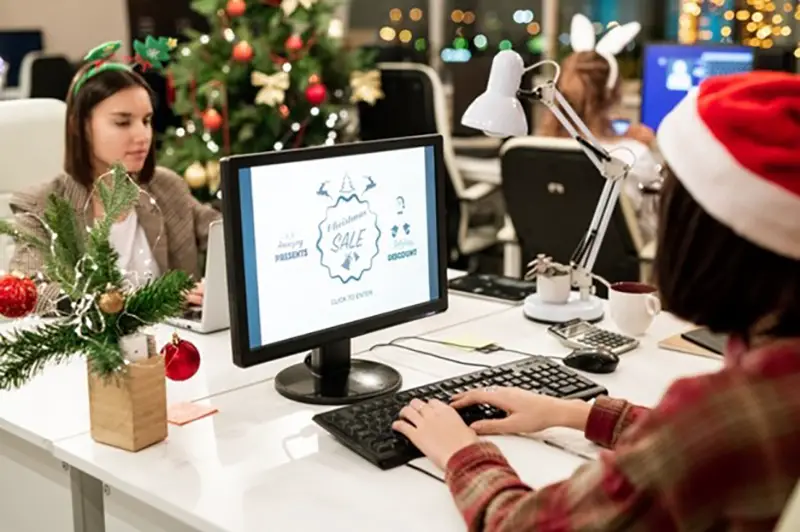 Source: Freepik
How about you start a competition, whoever decors the office in the best possible way wins. Your boss will also feel great to see decoration in the workplace.
4.      Games day
Christmas is an event that comes at the very last of the year, so make sure you play some games with your office staff to end your year on a high. If you have had so many successes during this year, how about you all relax and have some fun to enjoy the achievements you had in the year?
Playing games with office members is always fun because it's an exception that you have games in your office place. Must you be thinking about the games one can play in the office?
There are some games like winner/loser, scavenger hunt, barter puzzle, All drift, etc. Games will ensure you have a stellar Christmas party with the rest of your office staff.
Moreover, when you see your boss and old office members play some games, it'll be a source of recreation for the rest of the staff.
5.      Secret Santa
We are absolutely sure that you must be familiar with how this secret Santa works, but let us explain it to you.
All the office staff places their names in a hat, and once it's done – turn to pick out your match. This will let you know who you got as a secret, and then you have to exchange gifts on a set date.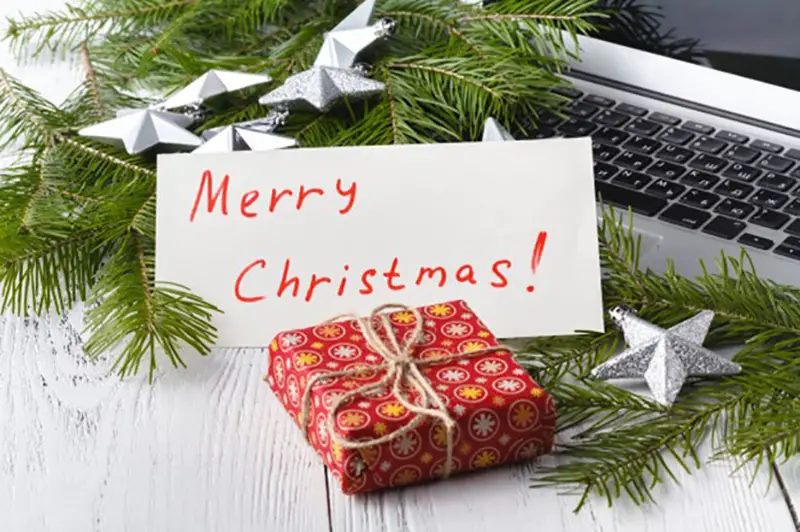 Source: Freepik
One of the things you need to do before planning this secret Santa is to decide on a budget to avoid any further inconvenience.
6.      Plan contests
Just like office employees have incentives over sales, why don't you plan some contests for all office members, and whoever wins will get a prize or trophy?
The best way to plan some contests is to make a team of seniors and juniors and make them work hard for the trophy. Not only will it be a source of fun, but it will also teach you to work as a team.
Do you want to know about some content ideas for your Christmas party? There are so many like raffles or draws for prizes, office decorating contents, charades, trivia competitions, etc.
7.      Christmas jumper day
One of the funniest ways of celebrating Christmas is Christmas jumper day. At Christmas, shops are full of festive dresses, so you have an opportunity to pick and mix dresses to look the ugliest of the lot. Here, you can go for picking up the best winter jacket for men or women that is lightweight, stylish, waterproof, Graphene-infused, moisture-wicking, and meant for everyday use. Therefore, a popular graphene jacket manufacturer like "Wear Graphene" can be a perfect choice, as it brings to you the GAMMA range of utility jackets that are apt for a winter party or weekend office dressing.
All the office members come to the office daily in formal dressing, and imagine how funny it will be to see your office mates in ugly sweaters.
Do you know there is a national ugly sweaters day that is celebrated on the third Friday of December? Buy some funny and ugly dresses to be the winner of this competition.
---
Also read: 5 Ways to Make Your Office More Fun
Get: Santa hats for everyone at Blossom Costumes
---
Conclusion
Christmas is one of the most awaited events of the year. It has to be celebrated in the best possible way.
Normally, you may celebrate this event with your family members, but think out of the box and have some Christmas fun with your office mates as well.
You can play games and have parties with your office staff to see how your Christmas celebration goes with them. The aforementioned ideas will definitely help you plan a perfect Christmas party at your office.