Click here to get this post in PDF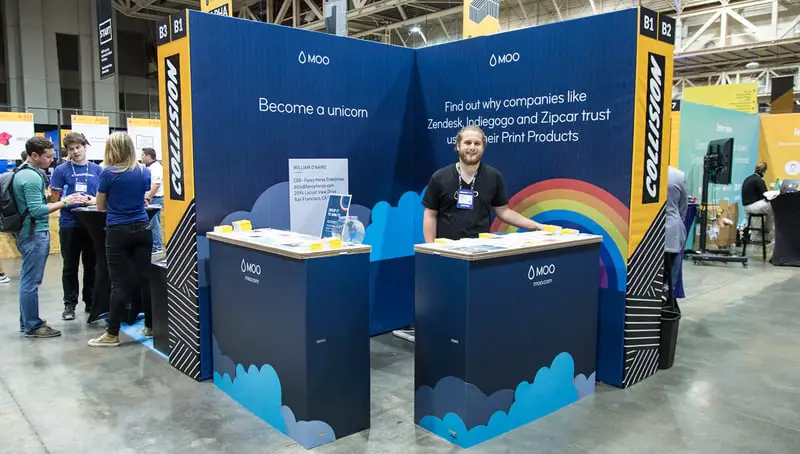 One of the constant challenges most small businesses face is to get their brand and product exposed to customers and clients who are really interested in their products or brand. TV ads and general marketing tactics often work on a hit-or-miss strategy where they reach out to a crowd of audience hoping to find the right people.
Trade shows are in a lot of ways a lot more targeted. They attract an audience interested in the type of product or service you are trying to sell. Long story short, you get access to a base of possible customers who are already interested in your industry. All you really need to do is create the right impression and convert them into sales.
If you are planning your first trade show participation, the following are 6 targets you should be setting. We will also fill you in on how best to achieve these objectives.
Target -1: Get People Talking About Your Product
The best and most organic way to get people to talk about your product is to have a new and exciting product that gets everyone hooked instantly. No one needs to be told to talk about a new amazing looking concept car or the latest Marvel movie.
If your product is not as interesting or something that's similar to a lot of what others are showcasing then you need to turn to the booth design. Get custom trade show display rentals to create a booth that attracts passersby.
Remember, the sales executives on the floor will have no chance if people ignore your booth at the trade show. One of the easiest ways to get people to talk and generate shares is to incentivize them. Offer an exclusive discount for referrals. It's also important to train your executives to highlight the benefits of the product instead of mindlessly repeating specs and numbers.
Target-2: Generate Business Leads for Bulk Orders
Trade shows are a great place to score bulk orders. That's mainly because they are flocked by business owners looking for new vendors in the industry. For instance, a trade show for computers and office electronics will have a significant number of business owners and office managers who are looking to place bulk orders.
Train your executives to pass on leads to you and incentivize them for doing so. Business owners and people who place bulk orders often prefer to speak to the person in charge in the hopes of scoring a better deal. Another great way to get bulk orders is to visit booths in the trade show that may need your product or service. Speak directly to business owners and try and score an order.
Target-3: Finding New Talent
If you are a veteran business owner you already know how difficult it is to find real talent. Trade shows are an ideal scouting ground as you see hundreds of sales executives working hard to earn their incentives. There is no better interview than to see the sales executives on the job. Find people who are passionate about your industry and who can do a stellar job working for your firm. This will save you on HR costs and save you time reading online resumes of people you have never met.
When roaming the trade show floor look out for great sales executives and ask them for their contact details. Once the trade show is over, call them for an interview.
Target-4: Research the Competition
You can learn a lot from the competition, both their mistakes and successes. Trade shows provide a great platform to research what your direct competitors are doing.
Oftentimes a direct approach offers the best result. Just go to their booth and inquire about their product. This will give you an idea about how to improve your product by adding features it currently doesn't have. You also get to witness how the competition is targeting the customers and note down the strategies that are working for them.
Target-5: Get Organic Social Media Shares
People love to take selfies, especially if there is an interesting background. Design a trade show booth that has an interesting wall for selfies.
You may also conduct games and activities and provide a way to display scores on a giant screen along with the participants' names. The scores along with your brand name next to it are going to get a lot of shares on social media. People also tend to take pictures next to interesting objects. Make sure your trade show display has a lot of interesting snap-worthy spaces.
Target-6: Engage the Audience
The only real way to engage customers is to figure out the real reason why they are drawn to your product and exploit that to your advantage. Create games and activities that are fun yet speak about your products and services.
A lot also depends on finding sales executives who are truly interested in your product and who see the value and difference it's making to peoples' lives. Train your representatives to strike interesting conversations instead of pitching a product.
You may also like: 5 Reasons Trade Shows Are Great for Business
Image source: https://live.staticflickr.com/4189/34461434841_bc1daef508_b.jpg