Click here to get this post in PDF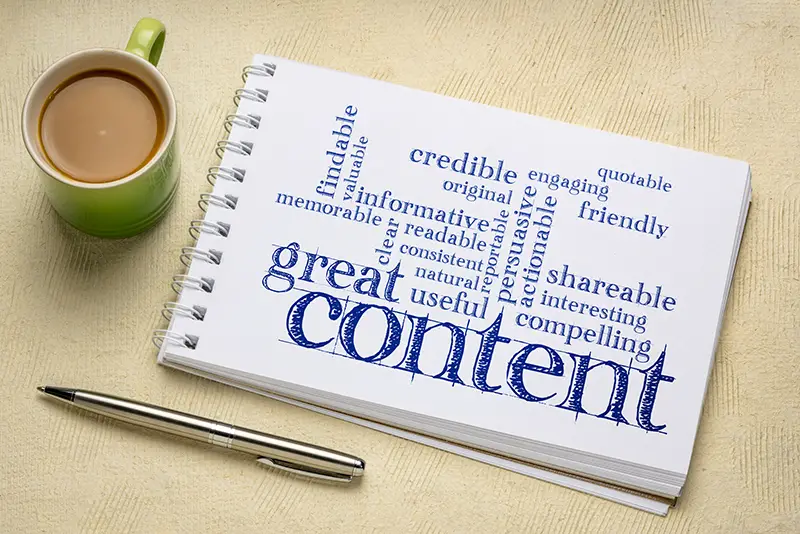 Want to create great web content that will change how you're viewed online? Here are some great tips to do so. 
1. Copywriting is the basis of content creation 
In its most basic form, copywriting is content produced for the sole purpose of outreach, promotion, advertising, or any other market-related purpose. The final product is called sales copy or cope and is used to create a brand image that can be recognized by the target audience, increase brand awareness, and be used to persuade new and existing customers to take specific actions, like buying a product, sign up for a newsletter or any other action. 
Copywriting is a critical component of any business marketing strategy because it places the company's vision and goals in a simplified, interesting and memorable format that can be better conveyed. Copywriting forms the basis for a wide variety of other types of content, like video scripts, mailing lists, and many more articles. This is why it is essential to have top-quality copywriting that is relevant, engaging, and encourages your target demographic to take action.  
2. Engage your target audiences 
Taking the time to craft high-quality copywriting is the first step in the process. But no matter how high-caliber your copywriting content is, it will be for naught if this content is not actually making a connection with your target audience. Content that is not visible or accessible to the target audience or is being applied to the wrong crowd is ultimately an exercise in futility and will not produce the required results. For this reason, it is essential that you have properly identified your target audience and looked for strategic methods of implementing the content to engage them. This will lead to those meaningful interactions that produce the results of increased traffic, improved sales, and higher revenues.  
Engagement is the crucial part of the potion that will transform interested customers into conversions and develop those long-term relations with new and existing customers. These will lead to opportunities for better relations where your clients learn more about your products or services. When your customers are properly engaged you can ensure a better customer experience, which leads to brand loyalty and recognition. This also ensures that you learn more about your target audience. Through engagement marketing, you will be able to offer greater value to your target audience which includes far more than just better products and services.
3. Stay relevant with evergreen content 
The internet is awash with the content of all different types. There is a plethora of videos, images, and web pages being uploaded every minute on an alarming scale. This means that you will have a hard time ensuring that your content will remain visible and relevant for very long. This is why it is imperative that you create content that remains relevant over long periods of time. This is called evergreen content and is designed to stay topical and relatable for extended periods of time so that it is always engaging and attractive to users.  
This means that evergreen content can't include things like statistical trends, seasonal topics, or news reports. If it does, it will be associated with a specific time and quickly become dated and lose its relevance. The incorporation of this evergreen content is critical to success for a good business strategy because of its capacity to drive traffic. It also has a lower maintenance cost, because it does not have to be maintained and updated constantly and it can maintain its social media status for longer periods of time.  
4. Make the most of content management systems 
It can be mentally taxing and time-consuming to maintain a website along with the pressing demands of your business. For this reason, content management systems are a great way to modify, conceptualize and publish online content. A good quality web designer will ensure that your website is easy to manage. The CMS will allow you to manage the content you are posting on various platforms without a great deal of technical knowhow or expertise. It basically allows you access to the tools needed to build a website without having to construct from the code up.  
You will enjoy having your web pages generated and images embedded by your CMS, this will allow you to focus your efforts on more important tasks like the visual impact of your platforms. This is especially important to the time-pressed digital marketer who can now spend their time building their brand and creating marketing strategies rather than wading through the daily minutiae of running a website.  
5. Interact with a call to action 
For best results, content should be conversational and interactive as opposed to relayed passively. This is where the call to action comes in and speaks directly to your target audience and encourages them to take action based on the content you just provided for them. A call to action should be prepared to encourage your audience to take a specific action, deliver a response, make a purchase or perform some sort of interaction. For best results, you will need to find carefully crafted words or phrases that connect to your brand's image and purpose. Most often these should flow seamlessly through sales scripts and advertisements that have been posted across your social media accounts and web pages.  
A highly effective call to action will encourage your new and existing customers to take immediate action in some very specific way. A good CTA is designed to improve the response rate from your marketing initiatives. Some effective phrases to consider include 'discover', 'join' and buy now'. 
6. Create connections with blogging 
A blog is a website that is updated more regularly and frequently used as an outreach tool for a marketing strategy. These can either be integrated into the business's e-commerce website or separate from it.  But no matter how you choose to use it, your blog is a great way to build interactions with your customers on an intimate basis. Your blog can allow you to generate leads and encourage greater sales. For example, you can write a blog on all the ways your products or services can be used to provide value to the lives and routines of your target audience. And from that point include many clickable links where customers can immediately make a query or even a purchase.
You may also like: Content Curation in 2021 – How To Keep Your Existing Subscribers and Generate Fresh Interest
Image source: Dreamstime.com