Click here to get this post in PDF
It's been more than 12 months since COVID-19 started to shut down the world. We know a lot of people have died, and we mourn the losses for everyone. 
However, miracles have also happened to combat and build up a resistance to COVID-19.
Generally speaking we have all become more and more responsible and used to our personal ability to protect each other, Covid cases are trending down, vaccines are trending up, people want to get back together at events, and businesses and vendors are ready to get back to work.
Here are five points to make each chance you get to advocate for restarting events in your area.
1. Responsibility
While masks and social distancing are not comfortable nor convenient, we've become a little more accustomed to these practices. We wash and sanitize our hands more often than we did before.
This article contains affiliate links. For more info, see disclosure.
We don't shake hands or hug as often which can exchange germs as we did before. We all think about our personal hygiene and how we can avoid getting sick (of any type) by not coming in contact with or spreading germs.
As we increase our protections against COVID-19, these personal protections and social interactions won't last forever. But in the meantime, we are better than ever at helping to stop the spread of COVID-19 with more hygienic habits.
When you advocate for restarting events in your area, show your responsibility and emphasize how you can still practice these hygiene measures and social distancing practices.
2. Covid Case Trends
Just search "covid cases" on Google and you'll be presented with data about new cases in your area (or any area you choose). You can sort or change the data by date or location.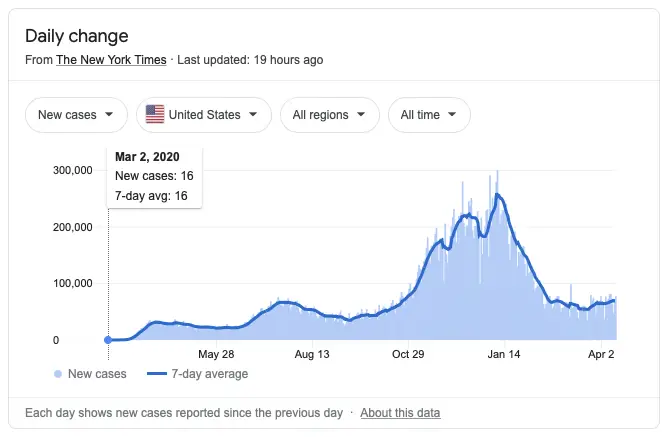 When you advocate for restarting events in your area, show how the trend is at least stable if not downard. If Covid cases are trending up in your area, you might find resistance against restarting events. If the Covid cases are trending downward, you'll have a better argument for restarting your events sooner than later.
3. Vaccination Trends
Again, looking at the data provided on Google. 
The total number of COVID-19 vaccinations and the rate of vaccinations is increasing.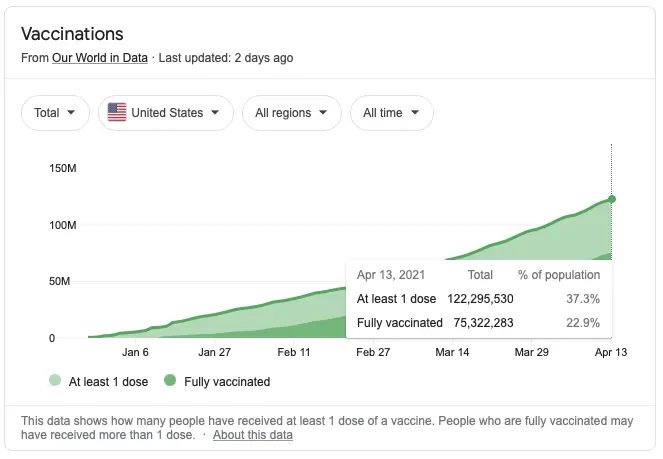 Total vaccinations and the rate of vaccinations will continue to grow, which allows people to travel and interact more safely more quickly. Initially the rate of new vaccinations was just 100,000 per day in the United States. Now, the rate of new vaccinations per day in the United States exceeds 1,500,000 per day.
With so many vaccinations already administered and new vaccinations happening so quickly, our bodies might be more ready to get together than our minds or our social norms are ready. 
But when you advocate for starting events again, remind people that vaccinations are rolling out quickly.
4. Interest
You can gauge the interest that people have for events by looking at your own life, the comments and interest of other people, and data from other sources.
For example, are you interested in getting back together with other people for a class, a workshop, a sporting event, a religious activity, or school function? 
Look at Google Trends and you'll see that the number of searches for "events" now exceeds that of the number of searches done in the United States at the low point in 2020. Even though the interest in events is less than half of what it was before the COVID-19 pandemic, people are more interested in events than about any other time in the past 12 months. 
If your business uses or hosts events, it's best to get ahead of the curve and ride the wave up as people get out and restart attending events.
5. Available Capacity
Events can help your business and your community recover. A lot of businesses have had to slow down operations during the pandemic. Some businesses had to close their doors. Call your local venues and suppliers and ask about their availability. You are likely to find that most businesses are ready and willing to help you with your event. 
More events in your location means more local revenue to businesses and municipalities. The more money circulating will mean more job opportunities too, and the whole cycle continues. When you advocate for restarting events, mention how you can help put people back to work when you host events.
6. Using Technology to Start Smart and Start Small
Even though you can't "go big", sometimes it's best and even more plausible to start small. Recommend to your team, government officials, customers, school, parents, friends, etc. that you can use event registration technology to keep people safe and start small. Using event registration technology, you can keep people safe by limiting attendance to your event and maintaining registration records for contact tracing.
An inexpensive event registration and ticketing provider such as Event Espresso has an event registration guide that can help you get started. Using Event Espresso and WordPress for your event website can help you control your costs, be efficient, and scale up and grow as the social conditions continue to improve.
So, when you advocate to restart your events, show that you're willing to move forward with an abundance of caution.
Conclusion
Covid has frustrated every business that hosts events or uses events to support their business. Don't allow that frustration to cloud your judgment nor impede your ability to formulate a clear argument to advocate for being able to restart events.
Instead, communicate a clear picture that you understand the situation and are recommending a responsible way to move forward.
You may also like: 6 Ways to Attract New Clients to Your Event Planning Business
Image source: Unsplash.com