Click here to get this post in PDF

Australians are known for having a more laid-back work etiquette. Not because they take work for granted, but because they love to socialize and keep things casual. Contrary to other's beliefs, Aussies work hard and even take on extra work without hesitation. 
They also do more when working so they can finish early. That way, they can keep their professional lives from their personal endeavors. And again, socializing at work is part of the Australian working culture.  
Most importantly, Australians have to play by their rules. They have to follow workplace laws strictly. That's why, amidst the pandemic, businesses need to adapt to the changes and their laws. One of which is to ensure that employees are safe and comfortable when reporting for work. 
Thus, small businesses have shifted to following these office furniture trends: 
1. Office Chairs 
For office chairs, there are many options and on-trend that are currently sweeping the nation. Whether your business is still using a work from home arrangement or is slowly moving to an in-office setup, you must consider ergonomic chairs. 
These chairs are designed to fully complement long working hours. Thus, providing numerous advantages to your employees. 
Provide Support: Ergonomic chairs have head cushions or headrests, providing support for the neck and head. Thus, maintaining good body posture throughout the day.   
Has Comfort: Although most regular office chairs can adjust in height and length, the ergonomic chairs go even further, accounting for depth, pivot, and body shape. Thus, allowing it to adjust to your own body size, providing comfort and support. 
Availability: With its benefits, especially in the pandemic, you can purchase this product wherever you are in Australia. Melbourne renowned Prodigy furniture, office chairs provide you a wide variety of options. You can also purchase such chairs from online retail stores as most have various ergonomic chairs.
2. UV-C Lamps  
With the return to in-office work, you must consider safety precautions for your employees and customers, especially when employees need to stay and work for long periods. 
One of the first things you should consider for a safe working environment is UV-C Lamps. Since UV rays are designed to kill almost all bacteria and viruses, placing them in your offices will provide an extra layer of protection against the coronavirus.  
You might be worried about the negative implications of UV light on the human body. However, this has been accounted for. Thanks to modern technology, systems have been installed on most lamps to prevent them from operating when employees are in the business workplace. 
Most have a detection system, allowing activation if the area is unused or not occupied by an employee or a customer. Furthermore, some lamps can be set to flash UV lights at small bursts throughout the day, reducing the UV-related exposure risk. Hence, this allows efficient decontamination when no one is around such an area. 
Additionally, customers and employees will see your business as an excellent example for implementing forward-thinking devices and systems. Thus, providing peace of mind that they are safe when doing business or working in your business.   
3. Temperature Check Stations 
Not only should you be on the defensive side, but as well as on the preventive side. One effective way to avoid infections in the workplace is to set up protocols suggested by government health officials. 
Since one of the symptoms of the virus is high body temperatures, it's practical to place temperature checkpoints in the entrances and exits of your office.
Additionally, if you have a multi-floor office or are simply enormous, you should also consider placing temperature check stations between each floor or area. Thus, if a contaminant does get in, it will be limited to a floor or area. By doing this, you can prevent someone who has a high fever from entering or exiting your building. 
Most importantly, ensure your checkers are also safe from the virus; thus, you must implement proper safety measures. Placing a barrier between the checker and the person being checked will be essential. You can also place a small pathway only for the hand to reach over to check the temperature, reducing risk and adding functionality.  
However, suppose your business is unable to hire or assign an extra employee to do the checking. In that case, install devices that allow self-checking at the entrances of your office or establishment. Thus, avoiding the need to put someone in a high-risk situation. 
4. Privacy Lounge Chair 
When setting up your new office design or layout, you should also consider the safety of your visitors. Since your visitors or clients will most likely have to wait in the lobby or lounge, you must install functional pieces of furniture that provide safety and comfort at the same time.  
Many manufacturers are now investing in innovative means and modifications from normal furniture, and the private lounge chairs are the result of such. 
With an ample side panel, it protects anyone from getting in contact with the persons on their sides. Additionally, it uses the same comfortable materials for easy clean and protection. 
Some even have sockets and USB ports to prevent visitors from walking around the lounge area. Thus, providing safety, comfort, and solitude to the persons sitting on it. Not only will you be following the safety precautions of the new normal, but you're also keeping others at risk of being contaminated.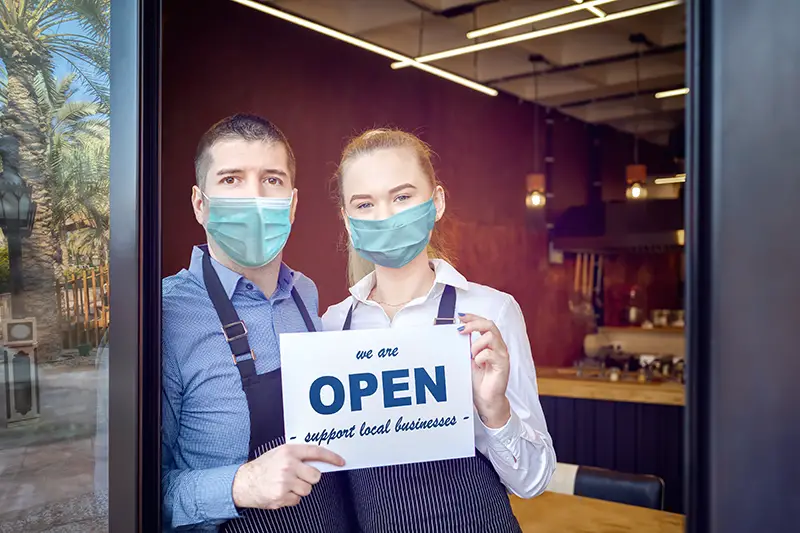 5. Social Distancing Dividers 
Although Australians can socialize during work hours, the pandemic may have to change it a little bit. Instead of Aussie employees gathering around a cup of coffee, they may now have to practice social distancing measures.
It's not enough to allow enough space between the table and work areas. Since your business space is in an enclosed area, the extra one to two meters of extra space will not be enough. Thus, it's only natural to look for ways to utilize social distancing pieces of furniture and tools to maximize your office space.    
The first option you should look into and consider is placing dividers in between workstations. This minimizes the need to distance workstations as dividers can protect each employee. These dividers work as an air guard and a sneeze guard preventing harmful air and particles from crossing workstations. 
Use acrylic panels, attach them to movable stands, and place them in between distanced desks to double the safety and security. Additionally, you can also attach the panels onto the tables to ensure safety without needing stands to take up additional workspace. However, don't forget to raise these panels high enough to effectively stop the air from going over. 
Not only will you be keeping your employees safe from contamination, but they can still socialize as the transparency of the acrylic panels allow interaction. Thay way, you remove their worries while still allowing employee engagement, increasing overall productivity across the business workplace. 
Moreover, since acrylic panels provide a smooth protective surface, they'll be easy to clean and disinfect. No need for harsh chemicals as disinfectant wipes or sprays can do.
6. No-Touch Amenities 
Aside from following social distancing, it's also best to have no-touch amenities. That's because the coronavirus can be transmitted not only through air particles but through touch and contact as well. 
Since the virus stays active and alive on most surfaces, touching these surfaces then touching any part of your face may still infect you. Thus, as a business owner, you must install furniture and protocols that prevent the need to touch surfaces. 
Here are some no-touch amenities to incorporate in your workplace:
No-Touch Trash Cans: Trash cans that open upon approaching or waving your hand across a laser sensor are trends. Thus, reducing the need to press or touch any surface. Or you can also opt for the low-cost options. Instead of purchasing high-tech trash cans, you can use those that require you to step on a lever to open them. 
Bathroom Amenities: You can also install faucets, sinks, and toilets that use sensors to activate them. Thus, eliminating the need to touch the faucets to wash your hands. 
RFIDs: Moreover, you can also implement RFIDs and sensors to the doors and devices. Flash your work RFID, and it'll open the door or device without any physical interaction. Additionally, you can also use self-opening doors if security isn't a real issue.  
In-Office Equipment: Instead of using your in-office equipment or software for remote work purposes, include it in your in-office business. For instance, use your phones to operate equipment like projectors, scanners, and printers. It's easy; you only have to sync them on your or your employees' phones so they can command the equipment's operation without touching their buttons. 
Conclusion
Business operations in Australia can still continue amidst the pandemic as long as you follow your government's safety regulations. Thus, it's not only practical to use these latest trends, but it has also become necessary. 
Additionally, as business owners, you want your employees and clients to have a comfortable in-office experience by ensuring their safety against coronavirus contamination. However, it would be best if you did not forget to regularly sanitize your office and furniture even if they're no-touch amenities. That way, you can be sure that all streak of the virus is eliminated.
You may also like: 5 Easy Covid-Responsive Workplace Changes
Image source: stock.adobe.com