Click here to get this post in PDF
Making your small business safer for all employees is vital if you want to get them back to work. Some businesses simply cannot survive, unless they have their employees working face to face. Granted, we all have to adapt to the new way of the world but if you would like to meet up, at least one or two days out of week, then you need to implement a few changes. It's incredibly important to have in place some measures that have been approved by your local authority. This involves, learning what the rules are, what the standards are and where you could possibly get some much-needed advice. But we have made a small list of the things you can do now.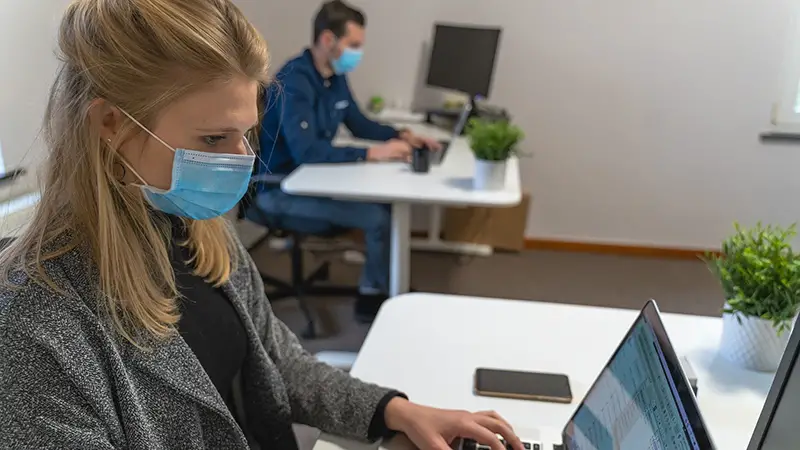 Distanced desks
The most important thing you can do is to move the desks apart. Put every desk 2-meters apart, and this will allow your business to be looked upon kindly by any inspectors that want to know if you're following the rules. 2 meters is generally the rule but you can have them further apart if you wish. 
Hand Sanitizer 
Another simple but valuable move is to add sanitizers all around the office. If you put at least one sanitizer dispenser per 10 employees, this can help to keep them safe from each other. However you should always make sure workplace sanitisers are fit for purpose. These sanitizers can be refilled, they don't need to be handled, and they can be fitted around the workplace. They can be stuck onto walls, tiled surfaces and wooden boarding.
Free PPE
The local authorities will want to know that you have masks and plastic gloves at your workplace, just in case your employees forget their own or if one of theirs breaks. This way, there is no excuse for any of your employees to not be wearing personal protective equipment. You can always ask employees to bring their own, but simple, cheap PPE can be kept in storage or placed on piles in the middle of desks for easy access.
Good policy
One of the other things you need to have set in place is good protective policy. Even if your employees are following the rules, they might slip up once in a while. This is all it takes for the virus to spread and it can wreak havoc in your workplace. So having some kind of easy-to-remember rules list is a good idea to implement. Something like, the first thing you do when entering into the workplace is, have a mask already on, then wash hands with sanitizer and then wipe down their desk before sitting. 
Good circulation
Something as simple as good air circulation can prevent the virus from impacting your business. It's good to have the windows open but now that winter is here, you might not be able to do this without disturbing your employees. So, having a good HVAC unit is vital.
Every business, no matter how large or small, can implement these rules and regulations. They are easy to follow for all employees and this will keep your business open. 
You may also like: Covid and the Workplace
Image Source: Pixabay.com