Click here to get this post in PDF
As a business owner, you'll have many responsibilities to keep your business running smoothly. From hiring employees to interacting with customers in person and online, you might overlook the importance of having a good HVAC (heating, ventilation, and air conditioning) system in your commercial space. Typically, a commercial HVAC system plays a crucial role in your business. Without it, your business might deal with several problems, including discomfort among employees and overhead costs.   
Keep reading this article to learn about the five ways investing in an HVAC system can benefit your commercial space.  
1. Makes Your Commercial Space More Comfortable  
One of the common benefits of getting an HVAC system is ensuring a comfortable workplace for your employees. Without this unit in your workplace, you might have difficulty maintaining a temperature that can make everyone in the area feel comfortable. When this happens, your employees might not be able to work productively and efficiently. It might even cause a business downtime since your workers will be more likely to leave due to unbearable temperature changes.  
Luckily, most new HVAC systems from reliable service providers, like Kaiser Air Conditioning, come with amazing features that ensure a more consistent temperature in your commercial space. These can include technologies, such as inverter compressors, adjustable burners, and many more.  Hence, by investing in an HVAC system, you don't need to worry about inconsistent temperature changes that make your place uncomfortable.  
2. Ensures Energy-Efficiency To Save Money  
Having a commercial HVAC system in your office can ensure energy efficiency, which helps save on power bills. Since most heating and air conditioning units have new thermostats and comfort-monitoring features, you can automate temperature scheduling based on when your unit needs to kick on and off. This setup can prevent your system from operating wastefully, resulting in high power bills.  
Moreover, installing an energy-efficient commercial HVAC system means your unit is less likely to break down due to its longer lifespan. Consequently, you can also save more money on maintenance and repairs.  
3. Offers Some Health Benefits  
Generally, the indoor air quality of a commercial building isn't as good as compared to the outdoors. Due to lack of proper ventilation, the air inside your workplace can make your employees or customers sick because of the exposure to molds, viruses, and other harmful pollutants. For example, if your commercial space is located near a parking area, the carbon monoxide emitted by the vehicles can affect your space's indoor air quality. As a result, it'll cause some severe health conditions, including asthma, respiratory illnesses, and many more.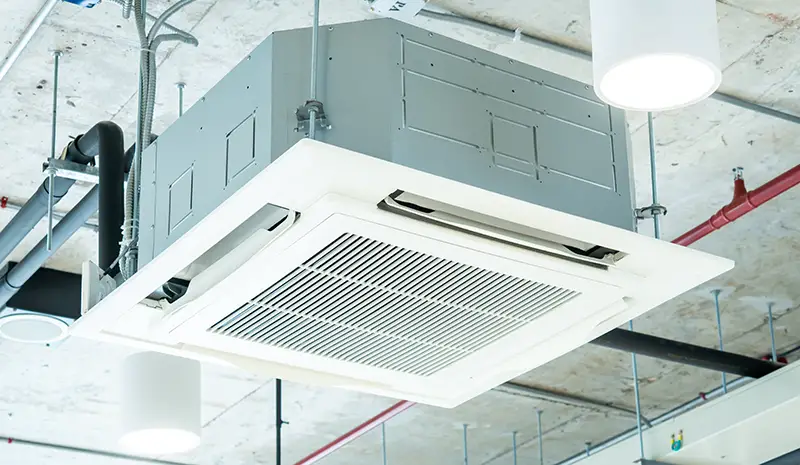 For this reason, investing in a commercial HVAC system can benefit your workplace by offering potential health benefits. Since most new units have state-of-the-art filtration, which can eliminate harmful contaminants from the air, your employees or customers coming to your place are less likely to suffer from health issues.  
4. Boosts Business Marketability  
If you're in the business of leasing commercial spaces, investing in an HVAC system can help improve marketability. Nowadays, most commercial building tenants look for conducive areas and more likely have an energy reduction strategy in place. This is where installing an HVAC unit comes into play.  
For example, when you offer spaces with an energy-efficient HVAC unit, you'll likely attract more tenants to your building. As a result, you can lease out your commercial spaces as quickly as possible, resulting in high revenues in the long run.  
5. Makes Your Commercial Space Environment-Friendly  
Nowadays, environment-friendly businesses are more marketable than those which aren't. Nowadays, most people love to do business with commercial entities that implement the best practices against climate change and other environmental issues. This is how investing in an HVAC unit for your commercial space becomes beneficial.  
By having a heating and air conditioning system in your workplace, you can minimize your business's carbon footprint. Most new units consume less fuel and generate fewer greenhouse gases, making your space greener. Many potential customers will come to your commercial space and more likely support your business when this happens. That's because you're doing the right thing to protect the environment while doing business to make money.  
Bottom Line  
With the information mentioned above, it's clear how installing an HVAC system can benefit your commercial space in several ways. With the new units' appealing features and technology upgrades, your business can ensure comfort for your employees, save money on being energy-efficient, protect your employees against health risks, boost its marketability, and become a greener company.  
Thus, if you're looking for the best HVAC equipment for your commercial space, it's best to opt for trustworthy companies and service providers who specialize in heating and air conditioning systems.  
You may also like: What is an HVAC System, and How Does it Work?
Image Source: AdobeStock