Click here to get this post in PDF
In recent years, digital marketing has taken precedence over direct marketing. Despite this, direct mail is still an effective way of reaching customers and prospects. For marketers who have been in the field for over two decades, you probably have vast experience in the use of direct mail. This channel of communication remains an effective tool for handling a single task, as opposed to running huge, costly marketing campaigns. 
There are several ways that companies can use direct mail campaigns, such as generating new leads by creating special offers, like discounts or seminar passes, and then mail the introduction letters with the offers to specific people in organizations within their target market. 
Businesses can also use direct mails to sell their products. They can send quarterly or monthly mails with special deals that are targeted at addressing very specific needs that their target audience has. Direct mails can be used to direct recipients to the company website so they'll be able to place orders using offer codes. 
At the same time, companies can use direct mail to upsell products or services to existing customers. The easiest way to do this is to send target customers notecards or letters with special upgraded offers. Such deals would appeal to existing customers and make them feel valued. Still, businesses can strengthen their relationships with their current customers through direct mail. For instance, a business can mail personalized thank you letters to their customers as a form of appreciation for remaining loyal to the business.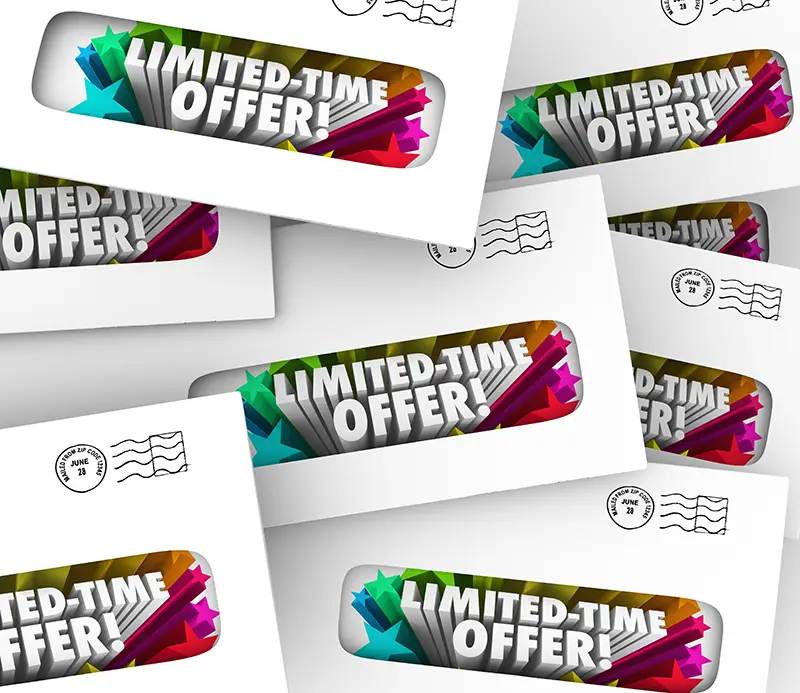 However, as businesses leverage the opportunities that direct mail offer, how can your company ease mailing requirements? Here are five ways to do precisely that: 
1. Create A Clean Mailing List 
When you're preparing to conduct a direct mail campaign, you'll need to generate a mailing list. To ensure that the direct mails get to the intended audience, ensure that the mailing addresses you use are correct and not outdated. Hence, confirm the names of your target audience. 
Taking time to confirm the names and addresses of the intended mail recipients reduces wastage of resources and increases the success of your direct mail campaign. 
2. Clearly Communicate Your Offers
When you send direct mails to customers or prospects, you want to ensure that those who receive them understand the message and know the actions you want them to take. As such, ensure that the message you wish to communicate is clear before you dispatch direct mails. 
If you scan through your direct mail piece and you're unable to determine what the call-to-action is within three seconds, you need to revise its content. 
3. Forecast Conversion Rates 
In direct mail campaigns, the rule is that the more targeted your mailing list is, the more you'll spend on every piece. Ideally, you're better off impressing a few people with your communication than leaving a weak impression on a whole lot of people. 
Before you dispatch direct mails, find out how much each unit will cost you and forecast the conversion rate. This will enable you to determine whether your direct mail Vancouver campaign will have a positive return on investment or not prior to rolling it out. 
4. Keep Tabs On Responses 
When running a direct mail campaign, the last thing you want is to disappoint your target audience. As such, to ease your company's mailing requirements, ensure that you have a clear plan of tracking responses and handling positive responses from your customers. 
For instance, if you are sending customers a special offer that they need to use a code to access, ensure that you have everything you need to deliver the offer in place before you dispatch your mails. 
5. Monitor Results 
The only way to know whether your direct mail campaign is generating the results you want is to monitor the results. To do this, identify clear metrics. By doing this, you'll be able to determine whether the campaign has achieved the forecasted returns or not. 
Conclusion
Even in today's digital age, mail campaigns remain relevant because of the physical shape, dimension, and feel that they bring to customers and prospects. To ease your company's mailing requirements, ensure that your mailing list is accurate, the offers you're sending are relevant to your targets, and make your call-to-action clear and easy to spot.
You may also like: How to Run a Successful Email Marketing Campaign & 3 Examples to Inspire You
Image source: AdobeStock