Click here to get this post in PDF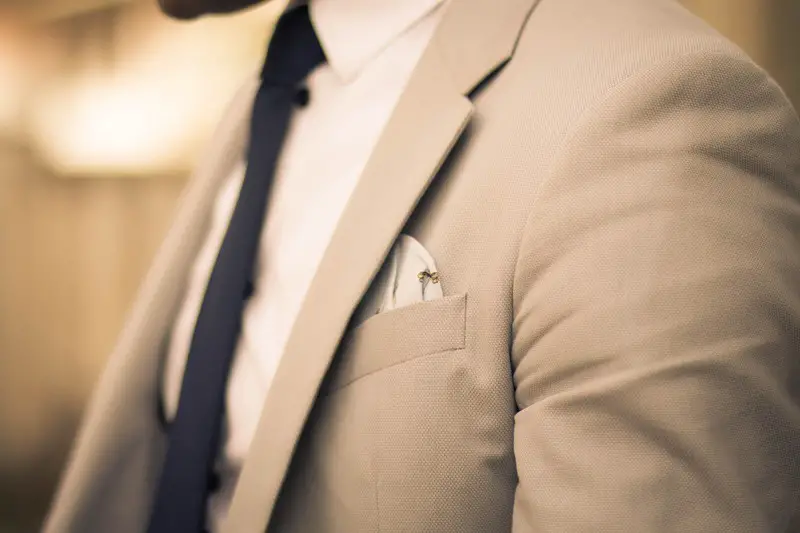 No matter who you are or what you do, every man needs a great business suit.
In today's graduate-dominated world, the standard business suit seems to have been replaced by a uniform of jeans, trainers and t-shirts. While this is all well and good if you work for a digital start-up, if you're looking to move to more professional ventures, it's critical to have a smarter option in your wardrobe for business meetings or interviews.
But, where do you begin? Get the fit wrong and it can swamp you, choose the wrong colour and you'll look more like The Mask than James Bond. From deciding on the colour and fabric, to choosing the best style for your body, if the thought of buying your first suit has you clutching your head in despair, we've got you covered.
We spoke with leading Manchester suit alterations business, Alterations Boutique, to help us with the basics.
1.      Know your size
Before you begin shopping for a suit, it's important to know your exact measurements. Unlike standard clothes shopping, purchasing a suit requires precision and accuracy. The right fit can make or break a suit – regardless of whether you've spent £50 or £500, if the suit is ill fitting, it will never look good. The path to choosing the correct fit can be a challenge but taking your measurements will help you to choose the right size for you.
Begin with a tape measure and a friend who's willing to help. Ideally, you'll want to wear a good fitting pair of trousers and a t-shirt.
Neck: measure around your neck at the level a shirt collar would sit.
Shoulder: measure from the edge of one shoulder to the other.
Sleeve Length: measure from your shoulder to where you want the end of the suit sleeve near your wrist.
Chest: measure around the top of your chest, under your armpits and over your shoulders.
Waist: measure your natural waistline.
Seat: measure around the widest part of your hips and bottom.
Thigh: measure around the thickest point of your thigh.
Inside leg: measure from the lowest part of your trouser crotch to just below your ankle.
Height: stand parallel to the wall and measure from the tip of your head to the floor.
Remember: make sure to keep the tape measure tight but not strained – if you measure too closely to your body, the suit will be much too tight and uncomfortable.
2.      Consider the fit
Depending on your own personal style, and what you feel comfortable in, there are a number of different fits to suit every body type:
Skinny & Slim – tapered through the legs and closely fitted to your body, a slim or skinny suit is a contemporary silhouette that features a closely fitting jacket and trousers.
Tailored – a sleek and timeless style tailored fit sits between a skinny and a regular suit. With a shaped waist designed to skim the body, trousers are slightly tapered for a smart finish.
Classic/Regular – a classic, or regular, fit suit offers men a wider chest and arms for a roomier feel. Jackets are cut with a straight waist to complement a broader chest, while trousers are generous and comfortable.
3.      Find an expert tailor
If you're buying straight off the rack, it's crucial that you take it straight to a suit alterations specialist like Alterations Boutique. Not everyone will fit standard suit lengths, and so it's always best to choose something slightly longer, or larger, and have it adjusted by a tailor.
Suit alterations, when done correctly, can change the entire fit and feel of a garment. Whether your suit is an old style that no longer fits, or you've simply purchased a suit that is slightly off-size, suit alteration specialists have the knowledge, skills and knowhow to make your suit work for you.
4.      Fabric (and colour) rules
No matter whether you've got the best-fitting suit in the world, if it's made from shiny, cheap fabric, it will look shiny and cheap. Here's what we suggest looking out for when buying a business suit:
Pick seasonal fabrics – linen and cotton will help you to remain cool in the summer, while tweed and wool will keep the chill out come the colder months.
Consider your needs – instead of buying a style just because you've seen a similar one on an Instagram influencer, if you're purchasing your first suit, go for a plain pattern that will be versatile enough for a number of different occasions.
Don't go overboard – while it can be tempting to opt for a bright tartan, or an eye-catching pinstripe, a grey or navy suit is normally the most appropriate and versatile option.
5.      It's all in the details
Shoulders: When it comes to purchasing a suit, making sure it fits your shoulders properly is the most important step. If your suit doesn't fit in the shoulders, it's not going to fit anywhere else. Opt for a snug fit, with no excess fabric hanging over your body – the suit's shoulder line should mirror your own.
Arms: Sleeves should end at your wrist, allowing a small amount of cuff to peek out. Make sure the suit sleeve doesn't rise above the cuff – the seam where it joins the shirt sleeve should never be seen. A good general rule is to end the sleeve just above your wrist bone.
Buttons: Just because you purchased your suit with a specific set of buttons, doesn't mean you can't change them to reflect your own personal style. A great suit alterations specialist will be able to source and change the buttons for you.
Lining: An unexpected lining can add personality and luxury and injects some colour into an otherwise plain suit. However,not simply for cosmetic reasons, suit lining can also add structure and weight to your jacket, making it fit the contours of your body better.
 Lapels: When it comes to lapels, the general rule of thumb is this: the wider your body, the wider the lapel.
You may also like: Carving Out Your Own Career Path