Click here to get this post in PDF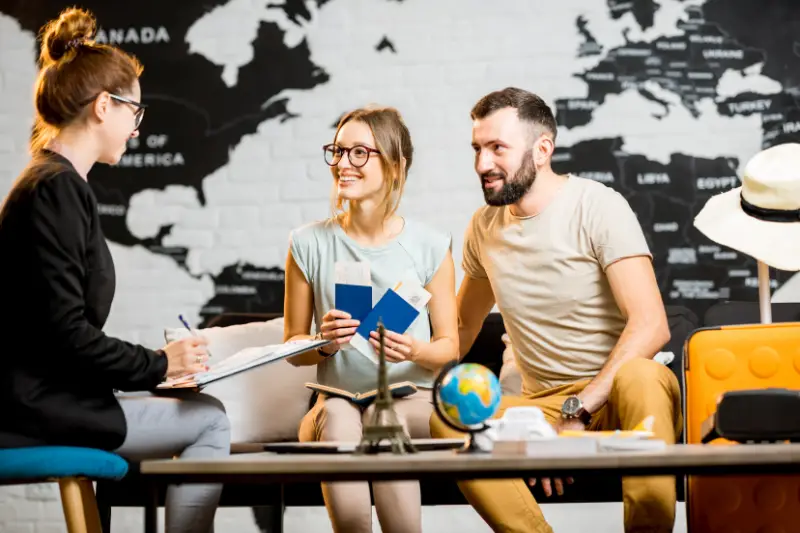 We earn commissions if you shop through the links on this page.
In the travel industry, marketing has its own nuances and fine-grained details. Companies in the travel industry have to appeal to a variety of consumers. You've got those who are dreaming of a vacation, some who are already planning and organizing their trip, and then you've got those who are at the final stages of booking flights and hotels. The fact is that people are planning and researching trips each day of the year. Take a look at Dream Ireland for a great example.
Marketing as a travel agency may be an uphill battle, but there are plenty of techniques to consider that will make your marketing tactics more effective and efficient. Keep reading to learn about 5 tips that will ensure your marketing strategy is creating new leads and turning conversions.
1. Know Your Target Audience
Many business owners start with the grand idea that everyone can benefit from their travel services. In turn, their target audience becomes overly broad "everyone." The problem with marketing to everyone is that not everyone is seeking your services. If you want the most bang for your marketing bucks, you'll need to know who is looking for your services and to understand their behaviors. Once you have a good idea of who you need to market to, you can focus on the how.
Unsure of how to identify your target audience? Consider these options:
Look at your current clientele and pull demographics
Determine your competitor's target audience
Think about who most benefits/uses your services
You may also want to consider market segments. If your travel company plans exclusive trips to Europe, you're likely better off marketing to the older middle to upper-class couples versus marketing your services to a younger crowd.
2. Create & Track Metrics
It's impossible to know how your business is performing without analyzing your data and producing metrics. You'll of course want to track sales revenue, gross margin, and sales growth, but there are other metrics you may want to consider, especially as a travel company.
Tracking how many new clients you gained in the last 6 months or year is a solid key performance indicator. It may also be beneficial to know how many repeat customers you've had. The success of any travel agency relies on its ability to attract new customers while also creating business loyalty.
3. Check Your Techniques
When was the last time you updated your marketing plan? What was trending a few years ago, and sometimes even a few months ago, may not be the best marketing tactic anymore. When it comes to marketing, it's important to stay ahead of the trends and to be nimble enough to change as needed.
Today, having a website and posting blogs every so often isn't going to cut it. Consumers are all about social media, video marketing, and other tech-based marketing methods. Not a guru at making explainer videos? Does the idea of social media marketing scare you a bit?
This question about the potential of video marketing always gets me thinking, "When you think about the fact that 43% of people want to see more video content from marketers, you start to wonder about your marketing strategy.  Sure, you can continue to post blog after blog, but what if you added a video with each one?"
If you've used the same techniques for years, now's a good time to return to the drawing board. Top projected trends for 2018 include live streaming, mobile video, artificial intelligence, and explainer videos.
4. Embrace Mobile
The ease and convenience of mobile devices have changed how users search for information and book their travels. In fact, mobile stands as the top platform for users to research and book their travel plans. A survey conducted by Opera Mediaworks found that 66% of travelers prefer to use their mobile phones for travel research and 85% of them use their phones to book flights and hotels.
To ensure your travel company takes part in the mobile boom:
Design your website using responsive design
Use SMS and MMS messages
Mobile payment options
Mobile usage isn't expected to decline anytime soon. This means you'll need to incorporate mobile marketing into your marketing plan to ensure you're giving customers what they want, how they want it.
5. Don't Neglect Traditional Marketing
In the day and age where technology rules all, as a travel company, you'll never want to neglect traditional methods of marketing such as business cards, attending vendor expositions, and word-of-mouth. It's one thing to read about a travel agent online, but, it's a whole new experience to meet face-to-face and to discuss travel plans and goals. Using social media and viral videos build your online buzz, but your offline reputation and outreach are just as important. In-person engagement could make or break your company.
Conclusion
When it comes to marketing, the return on investment is crucial. You don't want to spend thousands of dollars on a marketing campaign only for it to fall short. With the tips above, you can better position your marketing plan to position your company for success in the short and long term.
About the Author

Victoria Howes is an entrepreneur, traveler, and consultant to multiple brands including Travelocity, Hotels.com, and HomeAway.