Click here to get this post in PDF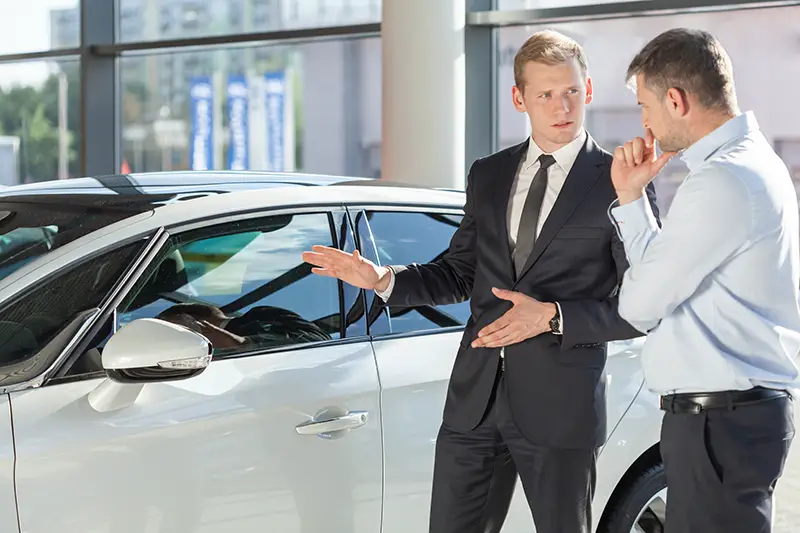 Considering whether to buy or use a company car can be daunting and intimidating if you don't know where to start. The potential choices for which style of car will suit your lifestyle or company, your spending budget and how to protect yourself financially are all considerations you should make before making a final decision.
Here are 5 things to consider when buying and using a company car.
Research Brands and Models
When it comes to deciding on what vehicle to settle on, the 300-400 new models that become available each year can become mind-numbing to sort through. If considering the right car becomes overwhelming, you should consider researching for the most suitable brand, model and make for your lifestyle and company.
Firstly, you should narrow down what style of vehicle you want and need, assessing the various costs and expenses which accompany the purchase as well. Costs like included GPS systems, additional seating and certain interior upholstery can greatly increase the price of a vehicle. You will need to evaluate the necessity of such inclusions and remember that these are options and not absolutely essential to the function of the vehicle!
If you're having trouble making a decision, the Environmental Protection Agency (EPA), and the National Highway Traffic Safety Administration (NHTSA) could assist in your research regarding the quality, reliability, fuel consumption and safety of certain vehicles.
Consider Your Options For Leasing And Buying
One of the first major decisions after researching is to think about leasing or buying a company car. Between the two options, upfront costs will vary as purchasing a car comes with initial down payments while leases only need the first month's payment.
The benefits of purchasing a company car include:
Deduction of mileage, gas and maintenance expenses
Interest repayments on a car loan may qualify as business expenses
Lower insurance and liability rates
Eventually owning the car as it is paid off or in full
Leasing a company car becomes a more attractive option for small business owners as they will not have to provide a down payment or collateral. However, leasing accumulates quite quickly and may end up costing more in the long run.
Prioritising Fuel Economy
If you've decided to splurge on a newer model vehicle it could be a good idea to consider saving in other areas such as the vehicle's fuel economy. If you are planning to travel a significant number of miles while using the company car then fuel efficiency should be a major consideration.
Remember that fuel is an additional expense for many larger vehicles and not for hybrid or eco-friendly models. A fuel-efficient vehicle may also be eligible for tax savings so do not neglect to consider this when making a decision.
Regular Mechanical Services
In addition to buying a company car, there are other expenses that come with owning it such as insurance, road tax and general mechanical maintenance.
Before purchasing any vehicle, you should always get a mechanic to inspect it for structural and mechanical integrity to make certain that you won't be putting your life at risk on the road with a faulty vehicle. Ensuring that vehicle is safe before purchasing will result in your peace of mind and should save you money and time later, you can easily find car manuals online for further information on the vehicle.
Along with an initial inspection, you should ensure the vehicle is roadworthy at all times through general checkups. Minor problems can become major ones if left unnoticed, so make sure to get your mechanic to give the car a thorough checkup every few months. Regular servicing will help ensure that your vehicle is running smoothly and efficiently which might save you some fuel in the long run.
If you're having trouble finding someone local to you, Enji can assist in finding a mechanic for general maintenance and servicing options.
The Right Vehicle Insurance
In addition to keeping your vehicle roadworthy, it is even more important to be protected and secure if you do end up in an accident. Having comprehensive car insurance on a company vehicle will secure money for the business if there is damage and will give you peace of mind if an event does occur.
When considering an insurance cover, you should think about:
The type of vehicle that is being driven.
The number of drivers it will have.
The type of damage that may occur.
The areas it will be driven.
The primary use of the vehicle.
Vehicles used for company travel are usually on the road more often than private cars meaning that they are more likely to be involved in an accident. Before deciding on a provider, think about your options for personal car insurance that will cover business use or dedicated commercial car insurance to find the best deal for your situation.
You may also like: An Introduction To Electric Cars For Businesses
Image source: Dreamstime.com