Click here to get this post in PDF
In the age we live in, your online presence as an entrepreneur is everything.
You can have the greatest product made by man, but you won't make any money if no one knows about it. This is why your business needs to have an online presence. 
The more you enhance your online presence, the more doors will open up for you. 
People are often more willing to work with you because your online presence is a sign of consistency and competence.
Enhancing your online presence sounds complicated, but in reality, you can enhance your presence in huge ways just by doing some simple things that can be done in 30 minutes. 
Below I'm going to give you a few examples of how you can enhance your online presence.
1.Start Guest Blogging
Guest blogging is one of the most straightforward methods to get your name out there. Guest blogging has so much more value than building backlinks for SEO purposes. 
Every guest post grants you access to that website's audience, and if the website has a high engagement rate, the content will be shared by them as well. 
This is one of the reasons I recommend picking a few websites and started guest posting regularly because it makes it easier to apply the marketing rule of 7. 
The marketing rule of 7 states that prospects need to contact your brand at least 7 times for research before they buy something from you.
By the time they get on your website, they know you're knowledgeable, and they're ready to invest money into your products.
2.Become a Podcast guest and do interviews
Podcasting is huge now, and it has that same boom blogs used to have around 2010. 
What I like about podcasts compared to guest blogging is that it's often easier to get on a popular podcast, but the result is the same and sometimes even better than blogs. 
With guest blogs, you often have to email website owners, and it's not always a given that they'll respond.
You'll run into this roadblock less with podcasts. There are websites where people with tens of thousands of downloads are looking for new podcast guests. 
An example of one of those websites is podcastguests.com. You can sign-up as a podcast guest and get offers emailed to you weekly.
You could easily incorporate a 30-minute interview into your daily routine and enhance your online presence a lot over the long term.
3.Answer questions on Quora
Quora is a Q&A website where you can ask questions about anything. In the past, this website was insanely popular with SEO's and bloggers because they saw it as an easy way to get backlinks that'd contribute to ranking on Google. 
This isn't the case anymore, but it can help a lot with enhancing your online presence. In addition, answering niche-specific questions on Quora will also help with giving you more credibility, which is valuable for your business. 
Aside from Quora, there are many niche-specific forums on which you can use the same strategy and even build an audience from scratch.
Focusing on this for 30 minutes a day can have tremendous results in the long term, but many people aren't willing to do it because they don't see the immediate ROI.
4.Instagram live collaborations
Collaborating on Instagram live is an excellent method for getting more exposure online. I personally like Instagram live because the platform doesn't demand you to be over-prepared for every live you go on. 
Most people use it as a spur in the moment thing but just like with podcasts you can bring other people that have audiences on the live and get a new audience to see your content. 
It's a win-win situation for both parties, and as I said, the platform doesn't demand you to be over-prepared, which means you can schedule people in faster because the bar is a bit lower when it comes to quality.
After the live is done, you can also repurpose it for other platforms such as YouTube and create additional content for your audience.
5.Get listed on web directories
Web directories are digital phone books. As an entrepreneur, it's important to be listed on web directories for multiple reasons. When you're listed on the right web directories, you can get a lot of exposure, and they produce solid backlinks. 
The problem sometimes is that not all web directories are fit for websites to enhance their online presence. This is because a lot of spammers would list themselves for backlinks and never look back afterward. 
This means nobody is looking at listings on these web directories. They're just there for their personal gain.
This is why you need to spot the good ones that people use to find the services they're looking for. 
As a rule of thumb, You should ask yourself if the directories you target are relevant to your niche, have meaningful traffic, and have moderators to vet the listings.
A directory that checks these 3 boxes can be a great opportunity to enhance your online exposure.
How to measure the ROI on spending 30 minutes daily on enhancing your online presence
Measuring the ROI of enhancing your online presence is complicated.
How many people will purchase your products by using these methods is almost impossible to find out, but you can survey the evolution of your digital footprint because it'll play a huge part in how people will view your business.
You can use Google mentions, for example, to notify you every time someone mentions your name and business.
You'll notice it'll start working when these things occur:
Increase in links to your business website
Mentions of your business on the internet
Your business is referred to in the way you present it while using these methods.
---
7 Ways To Increase Traffic And Boost The Online Presence Of Your Blog
---
About the Author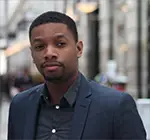 Rogier Giersthove is a Digital Marketer, Blogger, Podcaster, and founder of realdigitalsuccess.com a website that helps people with creating an online business, website marketing, and provides people with a realistic look at what it takes to make money online. He has been featured on Social Animal, The Small Biz Club, the I AM CEO podcast, and Addicted 2 Success.