Click here to get this post in PDF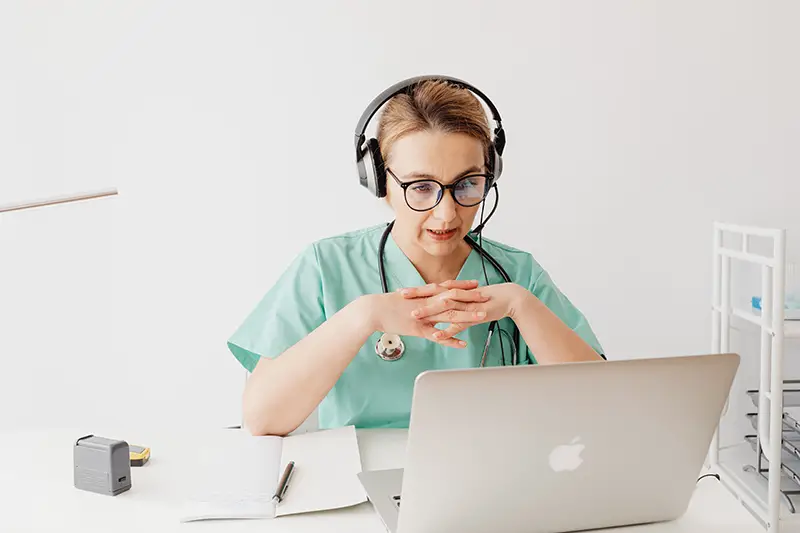 As healthcare delivery models continue to advance and new technological innovations unfold, the opportunity for providers to improve and increase efficiencies in care is tremendously powerful. 
Remote patient monitoring services have been proven to improve outcomes during and after hospital stays, reduce unnecessary readmissions, and lower hospital inpatient expenses, paying off any investment into a solution. 
Here are five reasons why health systems should consider using remote patient monitoring solutions and how you can get started.
1. Improve health outcomes
Remote Patient Monitoring Solutions can help improve patient outcomes by allowing medical practitioners to intervene early on if there are any issues with a patient's health. It is especially useful in situations where patients may not feel comfortable going out of their way to seek treatment because they do not want someone else to know about their condition. 
For example, a patient with depression may not want other people to know about it due to the stigma associated with mental health issues. With remote monitoring solutions, however, this information can be communicated directly between healthcare professionals and patients without anyone else being aware of it. This helps ensure that patients receive appropriate care and treatment at the earliest possible time, resulting in improved outcomes.
2. Increase Patient Satisfaction
Doctors using remote monitoring tools give patients greater control over their care, leading to increased satisfaction with their care experience. Patients feel empowered knowing they can access their data and communicate directly with their doctors if needed. This leads to fewer missed appointments, lower readmission rates, lower mortality rates and overall improved quality of life for patients in all stages of life – from newborns to seniors (and everyone in between).
3. Reduce Costs
Remote patient monitoring can reduce costs in multiple ways — from reducing readmissions to lowering the amount of time spent in the hospital or emergency room. By decreasing unnecessary visits, medical facilities can free up resources for other patients who need them more urgently. In addition, remote monitoring eliminates the need for expensive equipment like hospital beds, allowing hospitals to operate more efficiently with less space required for physical facilities.
4. Improved Coordination of care
Remote patient monitoring can help improve the Coordination of care by providing patients with access to their health records and allowing them to communicate with their doctor. Remote monitoring also reduces the risk of hospitalisation and improves outcomes.
Remote patient monitoring solutions can be integrated into existing EHRs, making it easier for doctors to review the data they need to make informed treatment decisions. This creates a more seamless experience for patients and healthcare providers, offering better communication between parties while reducing unnecessary medical testing and visits costs.
5. Improved Safety for Patients and Staff
Doctors using remote patient monitoring help keep patients safe while at home by providing round-the-clock monitoring of their vital signs. This helps prevent complications that may arise from not being able to receive immediate medical attention when needed. It also helps reduce the risk of falls and other injuries among elderly patients who live alone or have difficulty getting around due to illness or disability.
 In addition, it allows nurses to monitor patients' health more easily than before so they can intervene before problems arise and become severe enough that someone needs admission into a hospital or nursing home facility.
Conclusion
Overall, there is a reason why doctors are using remote patient monitoring solutions. More information about doctors using remote patient monitoring can be found at https://www.care-mate.co. These solutions give doctors more insight into their patients' status and conditions by lessening the time it takes for them to receive feedback on patients' progress. This makes it easier and more convenient for doctors as they strive to provide better healthcare solutions, particularly when it comes to heart failure treatment.
You may also like: The Future Of Remote Patient Monitoring
Image source: Pexels.com