Click here to get this post in PDF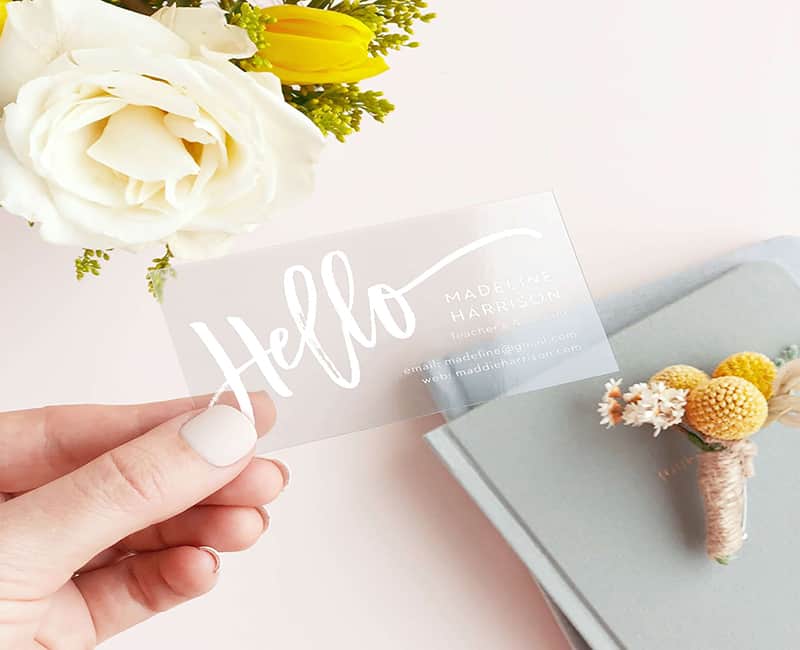 Transparent business cards will help you set a commanding first impression. Any good businessman would know how vital it is to have an excellent first impression.
Think of it as a new meal that you're about to offer to your guests. One good bite is going to leave them craving for more.
It is exactly what it means to have transparent business cards in a business or client meeting. Instead of being all around the place, it focuses the attention of the audience to a vital piece of information.
It is going to serve as a silver lining that separates you and your business from the rest of the competition.
1. Visually Appealing To The Receiver
People are so used to regular business cards. When it comes to appearance, there isn't much you can do. But in turn, you can switch to using transparent business cards.
All business cards are the same, but not when they are transparent. You can go creative and represent your field or service with illustrations.
Every card is unique, and you can never find a design that is similar to yours.
2. Adds a Professional Touch
Professionalism is all about being unique and distinct. It would only contain the information that your client needs the most.
Adding a little creativity could completely define your reputation. For example, you can choose to include the picture of your works and provide your contact details below them.
The new method of approach would send a direct message to the customer that you're a professional.
3. Draws Undivided Attention
Would you like to go one step further than just letting the client know your contact details? Transparent business cards are the best way to do it. It is going to do the talking for you.
You can kindle curiosity into a client without having to speak a word. It subconsciously tempts a client to enquire more about your business and your products.
4. Long-Lasting
Transparent business cards are long-lasting. When compared to their counterparts, they are durable and more flexible.
There are various processes involved in manufacturing them like "frosting". They are going to make your card more resistant to dust, cracks, and smudges.
Even if your client decides to throw away your card, damages will never be one of the reasons.
5. Contemporary And Innovative
A well-designed card would leave your client speechless as it is uncommon and relatively new.
There are very fewer chances for your customers to have witnessed it before. It reduces the probability of your client throwing away the card to an absolute minimum.
Final Thoughts
For a long time now, people have been using cards that have their name in the middle and logo to the corners.
It is time that you bring in something new and smart. Try out your luck on the transparent business cards, and you would never want to go back.
You may also like: Increase Traffic with Professional Business Cards