Click here to get this post in PDF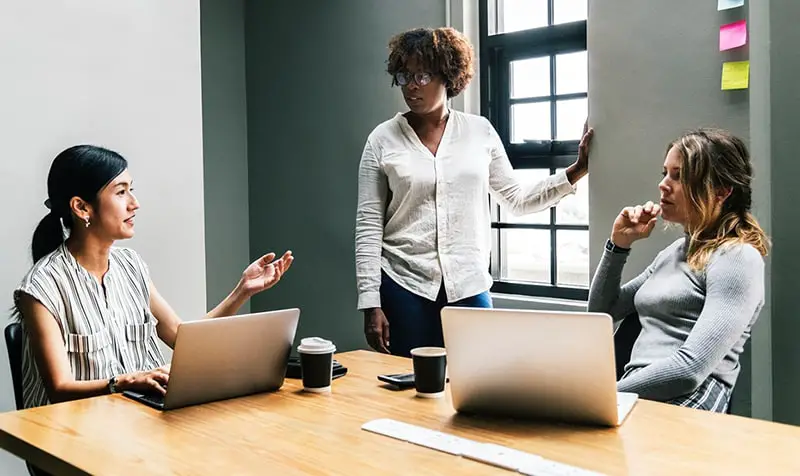 One of the growing pains businesses experience as teams scale-up is in ensuring the lines of communication stay open. Smaller teams are more visible and by that logic, easier to manage.
This corresponds to regular interactions between team members such that each person can stay atop their work, avail help when required and be in the know of the tasks their colleagues completed or are presently working on.
But as demands increase, roles advance and new skills are created, the workforce composition and size is impacted situationally. Communication gets infrequent, leading to workloads piling up due to delayed responses, approvals and risk resolution. 
Getting the green signal work-wise does hinge on everyone being on the same page, so for progress to follow a smooth course, it is vital that departments come together and engage actively. Only then can mission-critical activities be delivered on time without any compromise on either potential or quality.
It's time to look at a few ways this team-wide communication can be improved as you scale up, which begins with
A. Unconditional visibility range
The wider the visibility into enterprise-wide activities, the better able you are to formulate a plan of action at the slightest risk of workload shifting. Insights into work schedules should capture your teams and projects alike. Knowing the essential workings of a resource management software gives you the inside track on role-based assignments.
It lets you sync operational, administrative, support and core project work to the effort bandwidth invested by skilled employees. Considering the fact that schedules are constrained by availability, visibility is the one feature that prevents you from over-allocating or under-utilizing your staff's potential. It lets you instantly spot and fix schedule imbalances such that every person is assigned an optimal workload that gives them the leeway to complete sequenced tasks on time. Any updates and changes made to workflows consequently get conveyed to your staff, alerting them to change tack with respect to newer priorities and ongoing commitments. Let's learn about the benefits of using a Kanban tool for project management.
B. Personalize learning curves
The standard employee record contains information on their employment contract, payroll and compensation, leave management and number of years in active service. In addition to this, you should profile your current workforce capacity by their skills reports, utilization and availability.
Once you know the seasonality and nature of the work they're on, you can determine the most favorable time to place your staff on to training schemes. By beating the skills gap, you can proactively counter staffing issues such as outdated skills remaining on the sidelines or a critical skills crunch.
Rather than worrying about work getting derailed if members leave projects midway or join a parallel inflight activity, rest assured that the adequate workforce capacity actually strengthens team communication between experienced and new hires. It ensures work stays on track by encouraging both parties to conduct a complimentary exchange of experiential instincts and know-how, thus shaping the learning curve.
C. Invest in collaborative team dynamics
Team dynamics play a pivotal role in boosting communication between members. Investing in a collaborative one not only nurtures niche skills but also enables colleagues to share time-sensitive information with each other, with the view towards speeding up work progression.
The first step to healthy team dynamics is to assess individual employees' existing competencies, effort hours and performances on previous work. This unearths their primary skills and interests, letting you assemble teams who are not only able to leverage these but complements the contributions others make.
Further, it lets your workers accurately gauge what they're capable of delivering within the requested timeline, and accordingly take ownership of tasks divided amongst themselves.
What's more, improving collaboration within the workplace enables your workers to take over troubled projects should a primary member be unavailable or busy on another activity.
D. Give recreational activities a try
Team-building activities are a must for today's agile workforce. It not only establishes employee goodwill but also lets the more introverted members of your workforce overcome their shyness gradually. Recreational activities bring global offices together. It takes personal interests into account, making it easier for your staff to find common ground with their colleagues. 
Annual retreats are the best platform to introduce recreational team building events. Not only can you measure team participation but you can also pick out natural leaders who can take over in their respective fields in the future. From outdoor sports to installing puzzling challenges and riddles, organized recreational activities let the best minds work together, boosting team communication.
Besides giving your staff a break from work, team-building lets your employees build a rapport with each other for the entirety of their association with your firm.
Given how it takes just one weak link to break a strong communication chain, investing in measures to improve interactions goes a long way in preparing your talent pool for the future of work. This way, even with market uncertainties and a fragile service economy, your staff can support one another and know what they're up against!
About the Author
Aakash Gupta directs the sales and marketing wing at Saviom Software. As a resource management aficionado, he has several articles on workforce productivity measures to his credit. Start a dialogue with him, here.
Image source: Unsplash.com