Click here to get this post in PDF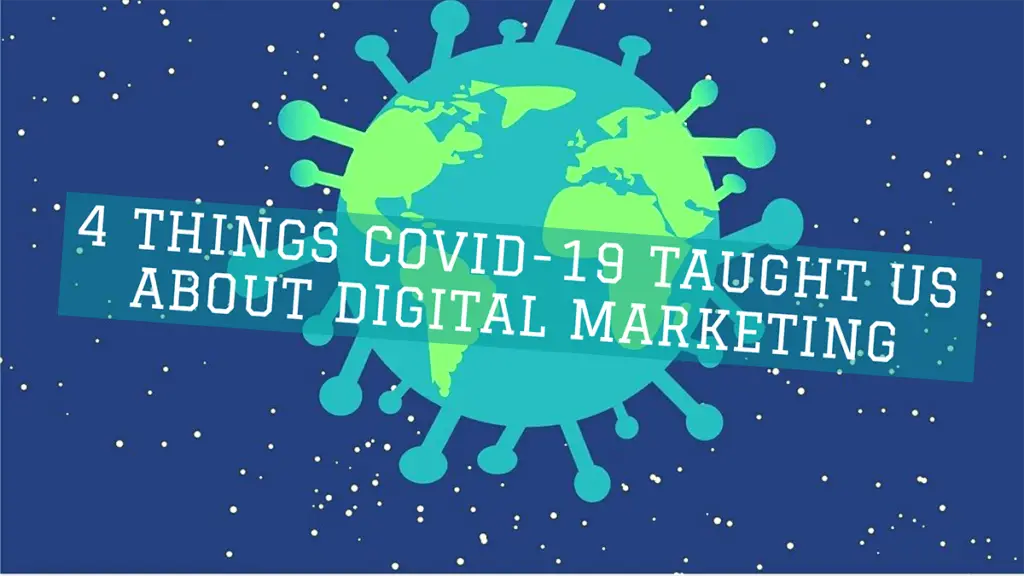 Just as it has affected millions of people worldwide, COVID-19 has threatened countless businesses around the world. In fact, it has been reported that 94% of the Fortune 1000 are experiencing business disruptions due to the pandemic. Because of the implications of quarantine protocols, business owners are forced to make do with the resources they have at hand in order for their enterprises to survive.
In a world where everything is readily accessible with a press of a button and in a time where everyone is asked to remain inside their homes, it's no surprise that the global economy has started to depend on the internet for survival.
COVID has forced business owners and brand builders to quickly adapt to the new normal. From intensified social media activity to creative promotional tactics, here are the four biggest takeaways that all digital marketers had to learn because of the pandemic.
Active and updated social media pages are now an absolute necessity.
The pandemic has certainly placed having a sound digital marketing strategy on a pedestal. These days, brands that have business profiles on social media enjoy an automatic advantage as far as customer reach is concerned.
While social media has always been some sort of a gold mine in digital marketing, active and constantly-updated online pages weren't really seen as an absolute necessity until recently. In the past, just having an existing Facebook page or Instagram account was enough for many businesses, especially those that have already attained a certain level of brick-and-mortar success.
It's different now. It's simply not enough to have a page that you check every once in a while and update when you have major announcements. These days, if you don't make an effort to post photos and stories every day (or most days a week, at the very least), you'll easily get lost in the fray of hundreds of businesses that are all trying to compete for your customers' attention.
Clear and prompt communication should be a priority.
It's important for a brand to always have someone monitoring their profiles for customer inquiries and comments. Being open to suggestions about products and consistently providing prompt responses to messages generally lead to more sales.
Like in traditional marketing, the goal of digital marketing is for a brand to establish its presence, regardless of how big their competitors in the market are. In general, consumers are more drawn towards brands that seem reliable and reachable. Leaving your messages unread and failing to make them feel heard is one of the easiest ways to sour a brand-customer relationship.
Don't make this mistake. Beefing up your customer success team is now more crucial than ever,  and it's an investment that you'd definitely want to make as soon as you can.
Information is king.
With everyone spending more time confined inside their homes, it now makes sense to invest in creating higher quality and more informative publicity materials for your brand. What used to be advertised in billboards and subways are now mostly endorsed in YouTube ads and Instagram stories. Holding your customer's attention for more than a second or two is now possible provided you use the right strategy.
Moreover, this pandemic presents unique opportunities for you to provide consumers with convenience and valuable information. Supplementing your usual content with relevant materials like infographics and healthy and safety tips bring added value to your customers. Besides, relevant content that is useful beyond the confines of your niche is more likely to be shared around social media, which could translate to more exposure and reach for your brand.
There's a need for unique and creative promotional activities.
Thousands of businesses rushed to the internet and social media in hopes of making up for the loss of sales in their physical stores. As such, competition became tougher than ever.
It's hard to bank on a 20% off coupon to attract customers when every other store in your niche is running the same promotion. Because of this, the pandemic put forth an urgent need for unique and creative promotional activities.
One such activity we've seen a few weeks back involved a shop that offered store-wide discounts while donating 10% of sales to medical frontliners who are working to combat COVID-19 in poor communities. This strategy appeals to people's instincts to help out during tough times.
A similar principle is used by done-for-you grocery service providers who leave personalized notes to their customers about the buyers who did the grocery shopping for them, thanking the former for helping the latter (usually someone who's been laid off from their old jobs because of the pandemic) earn a living.
---
Steps Small Business Needs to Fight COVID-19
How to Approach Influencer Marketing Post Covid-19?
---
The bottom line.
Though the economy continues to fluctuate due to COVID-19, digital marketing is a constant that's here to stay. The internet is a marketplace where all businesses are given the same playing field. Everyone is given various opportunities to reach a wider audience through the use of strategies that can be delivered to consumers with just a tap of a finger. And as with any other aspect of marketing, being innovative and quick to adapt is crucial if you want a shot toward success.