Click here to get this post in PDF
Apps have been at the forefront of innovation in the business world. Regardless of your size or niche in the industry, you should work on making good use of them to stay competitive. 
If your business has been going steady, you might want to set aside an app development budget. From there, you can hire an app development agency that can help you realize your plans to optimize your tasks.
Besides the funds, app development requires more elements to truly pay off in the end. But what are they? 
If you're interested in leveraging apps to enhance your enterprise, this guide has the basics you need to know.
You start by taking the following four steps: 
1. Understand Your Budget
Developing a successful business app requires you to invest. But for this to be worthwhile, you need to understand your needs, know your goals with the apps you create, and then scale your budget accordingly. This ensures that allocate enough funds at every stage of the development process.
Your app development budget should be able to cover the following stages:
Conceptualization and creation
Maintenance
Updating
Marketing
Knowing all of this, you should work with your team in laying out everything that's needed for your planned app. This includes everything from the initial drafts to the actual launch. Experts like Diffco and many others have a lot of actionable expertise on this matter. So, you can get good results in the planning stage by reaching out to them.
2. Audience And Market Research
If you want your business app to be successful, you should know if you're target audience would even bother with it.
This is why research is essential when developing an app. It helps your business know if its initiatives actually help it reach its goals. In this case, you need to know the current state of your audience and the surrounding market. It will provide you with essential insights into what your customer base actually needs from you and how your app meets that., allowing you to develop an app on real data rather than fake information.
Use research to get data on:
Your target audience's general behaviour
Their preferences
The problems they want to avoid
How they interact with your competition
Opportunities to improve on what others have done before
Account for both quantitative and qualitative data. Then, consult with experts or use analytics software to interpret your findings into actionable points. Remember to check how well your competitors are doing at the same time.
If you want to put your app idea to the test, you can try soft-launching it through a minimum viable product. This is an easy way to see if your audience would be interested in a fully developed iteration. You can use this to get feedback on where you need to go to make an app they would use.
3. Think The App Marketing Strategy Through
The app is the key to bringing your business closer to your target audience. Therefore, you should also think about how you market it.
Like all big initiatives centered on your customers, you need to lock down a clear marketing strategy to generate interest in your app.
The challenge lies in finding the one that works. Fortunately, you have many options to choose from. Social media content marketing has been a staple for many businesses. You can post updates, tutorials, and teasers to start building buzz from your customers. For something more obvious, you can use pay-per-click advertising. Whichever way allows you to get the organic traffic you need, put that in your budget, as well.
4. Tighten Your Security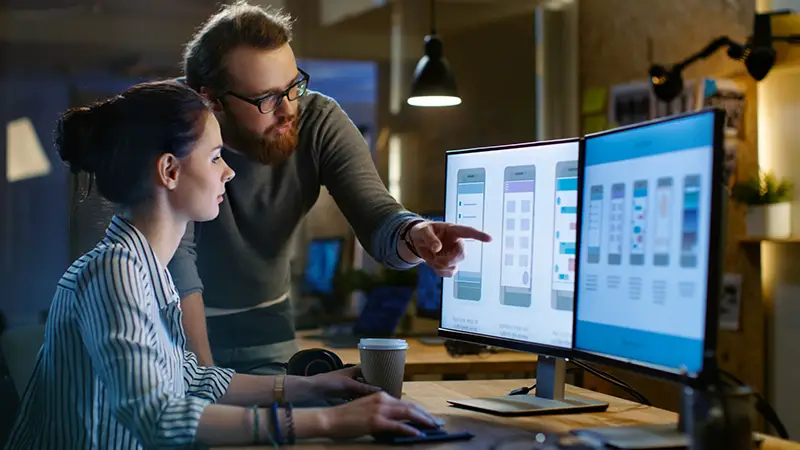 Many business activities, such as storing private data, chatting, booking, shopping, and financial transactions, are usually accomplished on mobile apps and devices. So, security isn't just one factor but an indispensable element of your app. 
An app with poor security is prone to jeopardizing client safety. That can lead to sabotage and cost you your brand reputation and customer trust.
With this in mind, you should work with an app developer that can implement the latest measures to enforce data protection and client privacy. They can help you follow these requirements for keeping information secure:
Use SSL and HTTPS for transferring your data, especially between servers and apps.
Ensure you audit third-party libraries before you start using them.
Ensure SDKs and libraries, among other dependencies, are updated.
Use proper session management.
Stick to security compliance, like HIPAA for medical apps and PCI DDS for your payments.
These steps will take a lot of time and consideration. But if they lead to a successful launch and a productive app, all the effort would be worthwhile.
Apps Are The Way
In today's economy, you need to catch on to the latest developments to survive. This guide should give you a good idea of how to best use one of these. Remember to plan, test, and replan every chance you get. Only then can you get the results you want from your business app.
You may also like: Figuring the Costs of Mobile App Development for Your Business
Image source: AdobeStock