Click here to get this post in PDF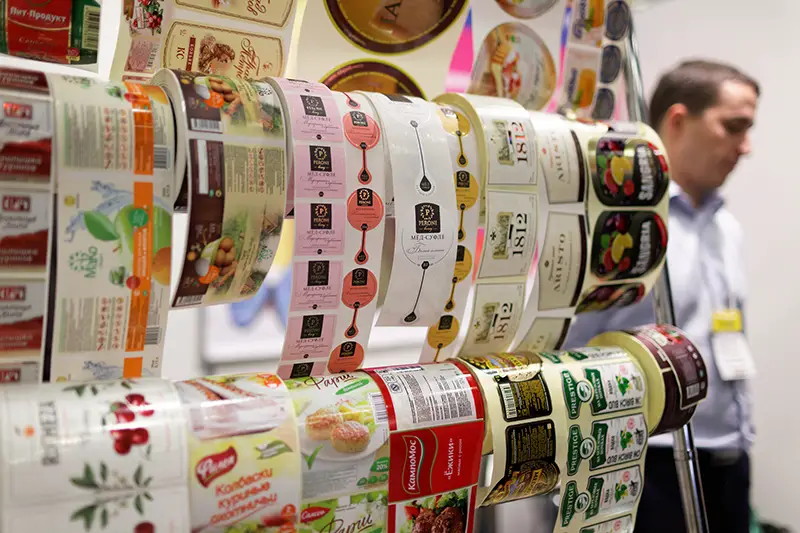 It is a beautiful abyss out there. You cannot let your brand and corporate identity get lost in this haze. Time to stand out. A great way to do that is by investing your time and resources in the most appropriate and attractive customized labels. Eager to know how you can carve out a unique brand identity with personalized labels and packaging? The following section explains 12 easy ways to enhance your brand visibility by using customized labels and logos:
1. Keep Your Typography And Branding Intact
Just like you have always focused on maintaining a certain type of typography on your product packaging, make sure to follow the same rule when designing custom labels. Your brand and your message should come across clearly through the font and design that you choose for your custom printed label. It should be trendy as well as classic at the same time, maintaining easy communication with your customers.
2. Clarity Across All Packaging And Labeling
Have you ever paid attention to brand clarity? If you haven't, make sure to keep all your labels and symbols easy to identify and differentiate. Your customer is not going to appreciate it if he has to work hard to identify your products or even understand their intended use. Conveying enough information and maintaining clear and concise communication through your special labels is the key to making an impression on your customers.
3. Not Just "Shopping Bag" Branding
Your brand and your labels can find easy placement in any of the widely used products that your customers use. You can go with picnic backpacks or custom coolers, gym bags and coffee mugs, customized pens and special edition wristwatches, and much more. It is important to choose a specific product and place your customized logo and label strategically so that it gathers the most amount of attention. These packages make for very attractive and engaging walking promotional pieces if you do it right.
4. Be More Creative
When it comes to the packaging and labeling of any product or item, creativity goes a long way. The only way to do that is to come up with commercial labels and custom designs that are highly noticeable. Make them as eye-catching as possible without going over the top. An important aspect while designing your personalized commercial symbols and labels is not to let them blend into the crowd. You are not a faceless company but a market leader and you need to come up with designs that reflect just that.
5. Using Messages Is A Good Idea
Do you know that nearly 54% of your customers are more likely to choose a product that has an attractive and customized label on it? That label is the very first thing they are going to see when they make a purchase. Ask your customers and prospects for their opinions. Make it easier for them to customize the look and feel of the product as they please. Give them an option to choose the shape and size of their liking, along with the font that they prefer. This could pave the way for interactive product designing and labeling and you could be the pioneer of this trend.
6. Be Consistent With Your Designs
Your brand should have a color scheme that is reminiscent of your story and struggle. It should have a certain appeal to it that will prevent it from getting lost and buried under the sea of options your customers have. Leave a mark and a strong impression and the only way to do that is to be consistent throughout. Follow the same design language in your product catalogs, coupons, flyers, websites, social media channels, and everywhere else.
7. Match Colors With Flavors
Thinking about diversifying into a different set of offerings? If your new favorite is a health drink, make sure to match the colors of your labels and font with the flavor you offer. For example, red is the color of apple and strawberries and when you think about yellow, you instantly associate it with banana or pineapple.
8. Label True To Product Size
Any custom label that you design for your product should fit well on the product packaging. A label that is larger in proportion to the overall volume of the product is not going to look appealing at all. A disproportionately small label or logo will just get covered under the folds and wrinkles of the packaging itself. Therefore, make sure to follow a standard and proportional size of custom labels for all your packaging requirements.
9. Get In Touch With Us
Your branding and marketing strategy is going to be incomplete without the necessary contact information. Do not forget to include your address and phone number in the small font. You may also include a toll-free number that can be specifically used to address any grievances of your customers. Add your official website address at the bottom and you are done.
10. Mandatory Information
This is something that every company or brand has to follow when creating and using customized labels. By law, they all have to mention the specific nutrition information, contents details, and other product specifics that are relevant to their offering.
11. Tell Your Story
Is it possible to tell the story of your brand through a pictorial representation? It is. The logo of your brand can go in the upper right-hand side corner of a picture as a subdued but very much visible watermark. The base could be a picture that delivers a strong and impactful message to your customers. You could always accompany the whole design with an inspiring quote at the bottom. This could be one of the most interesting ways to display your brand and product in front of your prospects.
12. Variety In Your Imagery
We talked about pictorial representation, and this brings us to a very interesting point. Customized digital printing can give you access to some very compelling opportunities. You can use different yet related images for the same product category. You can play with colors, borders, and finishes to make it more attractive. Looking to personalize them even further? You may release special edition packages and labels for your loyal and returning clients. These could even sport their names and pictures, turning your inventory into a dedication of sorts to them. What better way than this to add a more personal touch to your product packaging and labeling!
Conclusion
So, these were some tried and tested ways to enhance your brand visibility with intelligent use of custom labels. Pick a color scheme that speaks to your audience. Remember to choose designs and imagery that resonates with your purchase decisions. Choose a message that is relatable, fun, and awe-inspiring.
You may also like: How Packaging and Labels Affect Marketing?
Image source: Dreamstime.com