Click here to get this post in PDF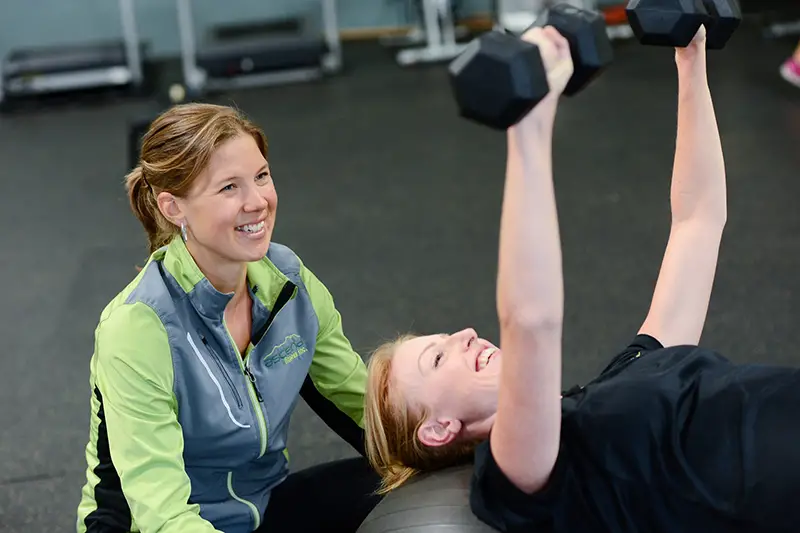 When it comes to workplace wellness programs for employees health and safety, you're probably aware of the common ones: gym memberships, drug and alcohol testing, and seminars on nutrition and exercise. But did you know that some companies are also doing more than just encouraging their employees to eat healthy foods or take a walk around the building now and again? They're committing themselves to helping their workers live healthier lives through every little step they can take. Let's take a look at what's being done—and what other companies could do—to help keep their employees fit, healthy and safe at work.
Provide gym memberships
As part of your wellness program, you may want to consider providing access to a gym membership. A 2015 study by the International Health, Racquet, and Sportsclub Association (IHRSA) found that only 16 percent of Americans have access to a health club close enough to where they work or live. Another study by Gallup in 2014 found that 83 percent of U.S. workers do not participate in any employer-sponsored health and well-being program. However, when employees have access to such programs, they are more likely to use them for exercise, which helps promote employee health and productivity!
In addition to having an increased likelihood of participating in physical activity through workplace wellness programs like these, employees who have access also report higher job satisfaction levels than those without it!
Conduct drug and alcohol tests
Employers should make sure that their policies are clear about how they administer drug test training and alcohol tests. They also need to be clear about the consequences of failing a test. If you have certain jobs requiring a higher degree of safety, such as healthcare or construction, you may need to include drug testing in your workplace wellness program. You can also require random tests throughout the year if your employees are working in an environment with a risk of them being impaired by drugs or alcohol.
Encourage workplace wellness activities
Encourage workplace wellness activities
Help employees find time to exercise and eat healthily
Provide resources for healthy eating, such as a fridge stocked with fresh fruit and vegetables and a pantry full of healthy snacks.
Make sure workplaces are smoke-free. If smoking is allowed in some areas, ensure that these areas are marked or away from entrances or exits. This will help protect non-smokers from secondhand smoke exposure, which can cause lung cancer and other serious health problems.
Offer seminars on nutrition and exercise
As a manager, you can offer seminars on nutrition and exercise. These are proven ways to help your employees stay healthy.
Nutrition seminars can teach employees about the importance of eating balanced meals and make sure they know where the healthiest options are in their workplace cafeteria.
Exercise sessions could include a walking group that meets at lunchtime or a yoga class after work. These kinds of programs will help keep your workers feeling good even as they burn off stress from their jobs!
Provide employee health screenings
Employees should be encouraged to get a physical every year. If needed, employers should provide their employees physicals, including blood work and urine tests. If employers are not required by law to offer this service at no cost, they should pay the employees portion of the bill.
Encourage eye examinations
​​It is crucial to have comprehensive eye examinations. Even if you do not feel like there is anything wrong, it is a good idea to go for an eye test every two years or so. When you go in for your examination, the optometrist will examine your eyes and ask questions about any changes that you have noticed. If any problems are found, they can be treated right away.
If any changes are noted in your vision during this time period (or at any time), contact a medical professional immediately!
Provide coverage for dental and oral health procedures
While it's important to keep your dental health in mind, don't forget the importance of oral care. The Mayo Clinic recommends brushing at least twice a day and flossing once daily to prevent gum disease and cavities. If you have a workplace wellness program that covers dental coverage, take advantage of it! You should contact a clinic like Bendigo dental clinic to see what program they offer.
While there is no exact cost for getting teeth cleaned at the dentist or having oral care done by an orthodontist, most people will pay between $50-$200 depending on how long their appointment lasts. Your dentist may also ask you to change out any old toothpaste tubes before leaving so you won't be tempted by those delicious minty flavors while at home!
Offer Employee Assistance Programs (EAP)
Employee Assistance Programs (EAPs) are designed to help employees overcome personal problems that may be affecting their work life. This can include issues such as divorce, substance abuse, depression, or other mental health concerns. EAPs provide counseling, referrals, and other assistance to help employees get back on track so they can continue working at a high level and not let any personal issues affect their job performance.
Every little step matters when it comes to cultivating a healthy workplace.
A healthy workplace is the best way to support your employees and improve their overall quality of life. A healthier workforce means a more productive workforce and a happier employer.
The benefits of workplace wellness programs are endless: they create opportunities for communication between employees and management, offer education about healthy habits and lifestyles, help reduce absenteeism and increase productivity. By promoting health awareness in the workplace, you're also showing that you care about your employees as people—not just workers who are there to do their jobs every day.
And this isn't just something we say because we want an excuse to eat chocolate cake all day long (although it would be nice). There are real health risks associated with not taking care of yourself at work—stress can lead to anxiety or depression; eating poorly can cause weight gain; not exercising regularly might lead to cardiovascular problems later on down the line! We know those donuts look good right now but think about how much happier you will be when you're not worried about getting diabetes at 40 years old because one too many pieces of cake sent your blood sugar through the roof.
Conclusion
The idea behind workplace wellness programs is to encourage employees to live healthier lives. These programs can help people make healthy choices at work and home by offering services like nutrition education, physical activity opportunities, and more. They also provide employers with peace of mind knowing that their employees will be more productive and less likely to miss work due to illness or injury. When you factor in the costs associated with absenteeism and lost productivity, it's easy to see why investing in employee health makes sense for everyone involved!
You may also like: 5 Ways To Ensure Your Employees Are Healthy All Year Round
Image source: Pixabay.com