Click here to get this post in PDF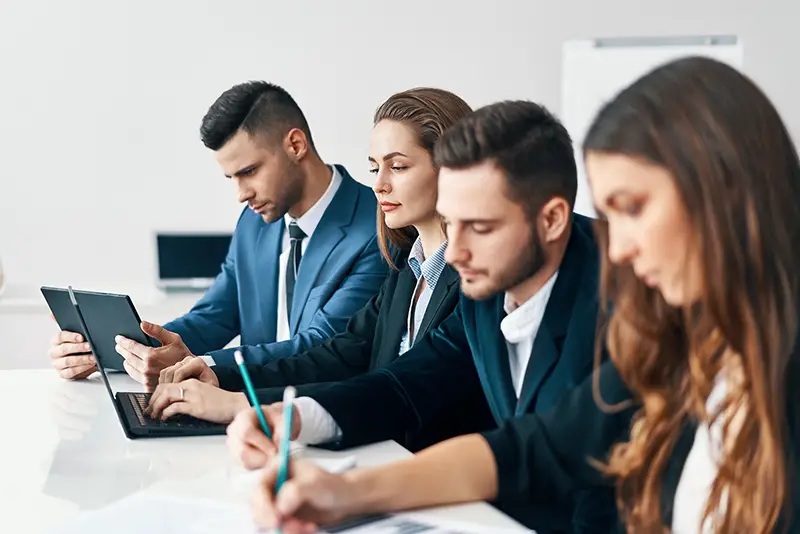 We've all experienced the unnecessary training meetings of endless waffle and pointless quizzes. The word "training" unfortunately may have a bad repute, but there are some areas of training that you really can't afford to skip. As a business owner, you have a reputation to hold on to and efficiency to maintain; the key to this is in the training. The subject might seem overwhelming, but there are numerous resources available to help you give your employees the best training and achieve the best results. From interactive courses to compliance training software, there are a plethora of tools available to help you manage the training of your staff while also giving your team the best chances of success too. Compliance training software empowers you to be the best manager you can be while also ensuring a safe environment for the benefit of your employees.
What is Compliance Training?
Compliance training is required by legislation and provides your employees with the information they need to comply with the regulations applicable to their role or industry. These regulations are in place to provide a safe workplace for employees, reduce poor conduct, and minimize risks in your work environment. All of these bring benefits to your company's productivity, so it will be worth all the effort required to organize and record the training of your employees. 
An important aspect of compliance training is to record progress to verify the qualifications of your employees. This is where compliance training software comes in – it can simplify the way that both you as a leader and your staff as employees deliver and receive compliance training. It reduces the chance of human error, which would cause significant delays in your training processes. With all the legal repercussions that can result from inefficient training, it's not a good idea to try and run this training without the help of a learning management system. 
Effective training gives your employees examples that will test how they respond to issues of ethics and compliance that apply to their specific job role. It gives them the knowledge and confidence to thrive in their position while handling their role in the most efficient way. It's ongoing and continually beneficial for the whole company. It's good for them, and it's good for you as a business owner too.
The Penalties for Non-Compliance
While it often depends on the field of training, the penalties of failing to train staff are wide and varied. They can range from fining the company by seizing its assets, to even time in jail for executives of the company. That's not a risk that anyone should be willing to take! Just as one example of an extreme penalty, in 2013 the Las Vegas Sands Resort was required to pay a fine of forty-seven million dollars in penalties for not bring compliant with Anti Money Laundering. That's a big bill to pay for such a mistake that would have been so easy to prevent! 
The damages that come from non-compliance go beyond financial. If companies or individuals are found to violating regulations, their reputation can be beyond saving. When a business loses respect, it's not long before it starts to lose revenue too. 
The Benefits of Compliance Training
As previously discussed, the consequences of non-compliance can be severely damaging, so what are the benefits of working hard to comply? 
Compliance training helps employees to understand how to identify and report any violations they see or experience. Equipped with this knowledge, they can even detect potential violations before they occur, helping the other staff members stay safe and saving you a lot of stress and headaches. 
Of course, mistakes will happen, and it's impossible to avoid any violation whatsoever. With this in mind, keeping a record of your compliance training will be the safety net you need to navigate the pitfalls of any issues, or even lawsuits, that do develop. Your records, helpfully managed with the help of compliance safety software, will show that you took all the necessary steps to try and educate your staff and prevent accidents. It will be great protection if an employee suffers an accident and then goes on to try and sue the organization. 
What Subjects Can Compliance Training Cover?
Compliance training covers many specific areas. Common categories include:
Health and safety training – especially now with our heightened awareness of germs and diseases, is essential for maintaining a safe work environment. Several industries involved work that can cause harm if not done correctly, so this is a vital aspect of becoming compliant.
Data and security training – personal data is precious cargo, so staff need to be trained on how to use it and handle it. 
Ethics training – ethics training will enable your staff to create a conflict-free work environment where all can feel accepted and respected.
Diversity and training – diversity and inclusion are of a high priority to eliminate prejudice and inequality in the workplace.
Anti-harassment training – all employees deserve to feel safe and respected in the working environment. Therefore, this training teaches the requirements expected of all team members to ensure all have a pleasant working experience.
In the overwhelming world of compliance, you need all the help you can get. Compliance training software will be the helping hand you need that will give you the peace of mind you need to run a business confidently. You won't lose sleep worrying about your staff and their safety, and by managing the progress of your team, you will be filled with confidence in their ability. Don't get sucked into the stress but rest the workload in the capable hands of an automated system that will do all the hard work for you. You'll save yourself money, stress and time and create an efficient and productive company that will grow from strength to strength. 
You may also like: The Need For Customized Training For Employees
Image source: Shutterstock.com