Click here to get this post in PDF
A pressure gauge measures the pressure of media in a system. The measurement of pressure in your system is a critical quality control step to ensure the consistency of your product and to detect leaks and buildup of pressure. The options for pressure gauges are endless, from Bourdon tube gauges, diaphragm gauges, capsule gauges to the latest digital pressure gauges. 
Modern technology such as digital pressure gauges offers many advantages such as readability, less need for constant calibration, and a high degree of accuracy. They work well even in areas with high vibration. However, that doesn't mean that mechanical analog pressure gauges have no more use.
We look at the differences and available options, when you should choose a digital gauge, and when you should choose an analog pressure gauge for your application. 
The difference between analog and digital
In essence, analog and digital pressure gauges are used to visually display a liquid or gas's pressure within a container. As far as digital and mechanical approaches are concerned, they could not be more different.
Analog Pressure Gauges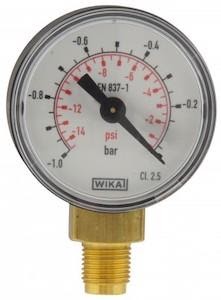 Analog gauges, also called mechanical gauges, measure pressure by using a metallic element that responds to pressure. While it may take different forms, this element's primary function remains the same: to flex elastically under the influence of pressure differentials. The deformation of this element is converted to the rotation of a pointer on a scale display. Bourdon tubes, diaphragms, and capsules are the three main types of mechanical gauges. You can learn about all expects of pressure gauges here.
Advantages of analog pressure gauges
Compared to digital pressure gauges, analog gauges are more affordable.
They do not require a power source.
Replaceable parts are relatively easy to find.
Easy installation
The dial can be read from long distances.
Analog pressure gauges can be used in a wide range of hazardous, dangerous, and corrosive environments. 
Disadvantages
As they are mechanical, pulsation, vibration, shock, temperature, corrosion, etc., can cause them to fail.
It is necessary to calibrate them periodically.
Reading of the dial may be inaccurate if viewed at an angle or in low light conditions. 
Digital Pressure Gauges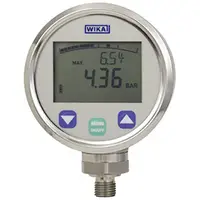 Digital pressure gauges use pressure sensors to convert pressure in a system to an electronic signal. Although there is a wide variety of pressure sensors, the most common is a piezoresistive pressure sensor. This sensor is a diaphragm equipped with piezoresistive elements. The gas or fluid pressure causes the diaphragm to deflect; this deflection causes a change in the cross-sectional area of the piezoresistive elements that are directly coupled to the electrical resistance. The change in resistance is then translated to the digital display. Check out this article about digital pressure gauges to learn more. 
Advantages
Backlighting ensures that you can read the display in every lighting condition.
Using the Min/Max values, you can better analyze the set pressure in a system.
The bar graph display shows the trend of the measured pressure. You can easily see if the pressure has an increasing, decreasing, or steady trend.
Battery-powered: This ensures that the user can read the pressure in case of a power outage.
Most digital pressure gauges allow for the display unit to be rotated to a large degree (e.g., 300°)
Highly customizable.
Disadvantages
Digital pressure gauges require a power source to operate.
Can be costly.
Specific industries and environments require certification for digital pressure gauges.
Analog or Digital?
The advantages of using a digital pressure gauge over analog pressure gauges are clear. A high degree of customization, readability, and use in all kinds of applications make digital pressure gauges an excellent choice. That being said, digital pressure gauges are far more expensive than their mechanical counterparts. Check this article about Chatillon Force Gauge.
The choice for an analog or digital pressure gauge will, in many cases, depend on the application type. While analog pressure gauges can be used in highly corrosive, dangerous, and hazardous environments, using a digital pressure gauge in those environments will be an expensive mistake. However, if you need 100% accuracy with reliable measurements that can be tracked, the choice for a digital gauge is clear. Making an informed choice between analog or digital will mean going through different selection criteria and basing your choice on these factors. And while digital might seem the best way to go, there is certainly still room for analog pressure gauges. 
You may also like: Modern Machines: cost-effective or waste in business?