Click here to get this post in PDF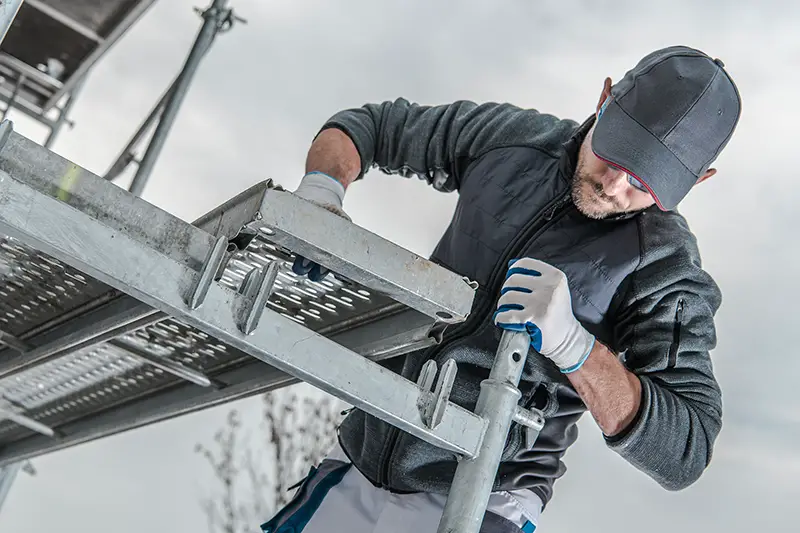 When a business needs scaffolding in Orlando, Florida, or anywhere globally, it is the safest bet to have a crew that knows what they are doing to put it up and take it down. Every project that deals with construction is dangerous and has many hazards. Scaffolding is no different. When you think of the height a team is working, the last thing anyone wants is one piece to falter. It would play a domino effect on the entire construction and cause many injuries and loss of life. 
The purpose of scaffolding is to reach heights and different levels to safely allow a construction crew to work on a tall building or structure. It is essential to understand each part, tool, and diagram used to set up and tear down the scaffolding. There is no limit to how high the structure can reach; as long as the equipment is there, it can be built.
Knowledge and Qualifications 
From reconstructing buildings and different structures to land and offshore jobs, scaffolding is used for the construction crews to paint, repair, or build anything at a high level. Ladders are the smallest form of scaffolding but can only be used for a few feet off the ground level. When it comes to tall structures, scaffolding keeps the workers safe, almost in a cage-like setting, and the workers are harnessed and strapped to each level for safety. 
Everyone has to start working somewhere to gain knowledge and experience. All new workers start as green hands and gain experience as they go through the years. They are assigned to an experienced worker or supervisor to work alongside to learn the ropes. Every worker, green hand or skilled, needs to take safety courses annually and get special certifications to start working for a company. 
Most companies require a TWIC card and go through an orientation with their company, which goes over all OSHA Scaffolding Safety laws. All must be able to put together and take down scaffolding in the training area and be labeled as competent. Education requires basic arithmetic, organization, communication, parts inspection, assessment, and being familiar with crane operations. Physical fitness is a must.
Other Requirements 
Other requirements are needed to be part of a scaffolding crew. Insurance is a critical issue for both the company and those building and taking down the scaffolds. If the scaffolding is not put up correctly, it can collapse and cause a significant amount of damage to the structure and cause injury and loss of life. Insurance is mandatory in most locations across the nation for this reason. 
A crew can set up scaffolding anywhere as long as the foundation is sturdy and enough room for the base. Some places scaffolding is used would be offshore on the platforms, stadiums, cruise ships, churches, and gymnasiums. 
Knowing and understanding the environment is critical. In many situations, the team will work in most weather conditions. Naturally, the higher the altitude, the colder and windier it will be, so all workers are prepared with proper attire. They also must have PPE worn at all times. Safety is a priority in all situations. OSHA states all workers working six feet or higher must have harnesses and must be tied to a secure level. 
Crew Versus No Crew
It is legal, and it is possible to rent the scaffolding and do it yourself. However, this is not advised, especially for first-timers. The best way to educate yourself is to get a skilled scaffolding contractor and get a quote and consultation. Without the qualifications and experience, it is possible to take shortcuts that could mistakenly lead to disastrous situations. 
No matter who does the job, insurance should cover the contractor, the project, and the business in need of service. The crew size depends on the project. Some start with a four-man crew to a 40 man crew. When it comes to manpower and equipment, everything is rented and paid separately, or some have the scaffold and the manpower. Research is a critical factor when it comes to any construction company. The bottom line is you want the best and most qualified.  
You may also like: Top 5 Tips for Running a Successful Construction Company
Image Source: Shutterstock.com