Click here to get this post in PDF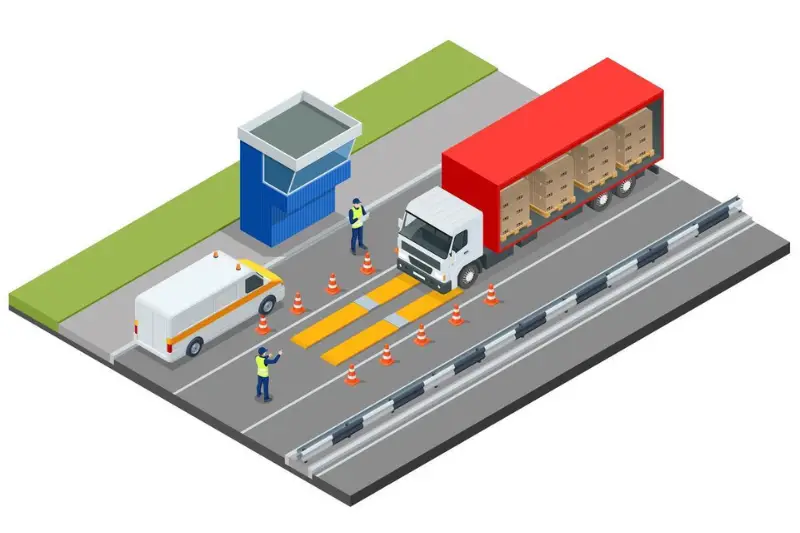 Weighbridge management systems are integral to various industries that rely on accurate weight measurements for their operations. These complex systems refine the weight data collection, management, and analysis process, thus facilitating productivity and efficiency. Therefore, understanding these systems' detailed functioning and significance in business operations is paramount.
Keep reading to learn more about weighbridge management systems.
What is a Weighbridge?
Historically known as a weighing plate, a weighbridge is a set of scales industry professionals use to weigh bulky items, typically vehicles laden with goods. Organisations involved in manufacturing, recycling, farming, aggregate, waste management, and shipping make use of weighbridge systems to achieve accurate weight data for large products and loads. It enables them to maintain the legality of their operations and improve business efficiency.
Components of Weighbridge Management Systems
Weighbridge management systems comprise two main components:
1. Weighing Equipment: The physical scale on which you weigh the objects. It may range from a full-size weighbridge that accommodates HGVs to small scales for weighing pallets.
2. Management Software: A digital module that records the weight data, timestamps and other necessary details about every weighing operation. This software can also integrate with other enterprise systems for end-to-end data trail.
Benefits of Weighbridge Management
Implementing a weighbridge management system provides several benefits:
Precision: Weight is a critical factor in many industries. A minor measurement error can lead to significant financial discrepancies. Weighbridge systems minimise these errors by providing accurate results.
Compliance: Weighbridge systems help businesses adhere to regulations, ensuring loaded vehicles aren't above legal weight limits. It decreases the risk of penalties related to overloading vehicles.
Safety: Weighing your vehicles before they get on the road ensures they are within the proper operational limits. As a result, you and your staff can rest assured that the vehicle is safe to operate even on busy, crowded roads.
Revenue Enhancement: Using a weighbridge certifies that your vehicles are always within the proper limits. Conversely, it also helps you avoid underloading, thus enabling better space usage within the vehicle and maximising your business' revenue collection.
Efficiency: Automating the weighing process increases the speed, reducing waiting times and improving efficiency.
Data Management: The software attached to a weighbridge makes it easy to record, retrieve, and analyse weight data. It thus aids decision-making processes.
Customer Satisfaction: The precision weighbridges offer ensures your payload deliveries are accurate at every turn- a benefit that provides customer satisfaction while preserving your company's reputation.
Key Features of Weighbridge Management Systems
A well-rounded weighbridge management software provides several key features:
Data Recording: Tracks all weighing transactions automatically, helping streamline operations.
Integration: Interfaces with third-party systems like ERP and accounting software for smooth data flow.
Reporting: Provides comprehensive reports that assist in making informed business decisions.
Security: Ensures only authorised personnel can operate the system, preventing fraudulent activity.
Selecting the Right Weighbridge Management System
Choosing the right weighbridge system depends on your company's specific needs. Here are a few points to consider:
Scale of Business: You should choose a system that suits your business' operational scale. Small businesses may prefer simple systems, while large corporations may require advanced solutions with high functionality.
Software Compatibility: Ensure the management software is compatible with existing business systems to allow easy integration.
Support and Maintenance: Consider the vendor's reputation for customer support. Ensure they provide assistance for installation, training, and maintenance.
Conclusion
Weighbridge management systems are essential for industries that rely heavily on accurate weight measurements. These systems offer numerous benefits, from aiding compliance with legal regulations to improving operational efficiency. Therefore, while choosing a weighbridge management system, you must carefully select a solution that best fits your needs.
You may also like: Top 3 Benefits of Facilities Management Software Web-based Dashboards