Click here to get this post in PDF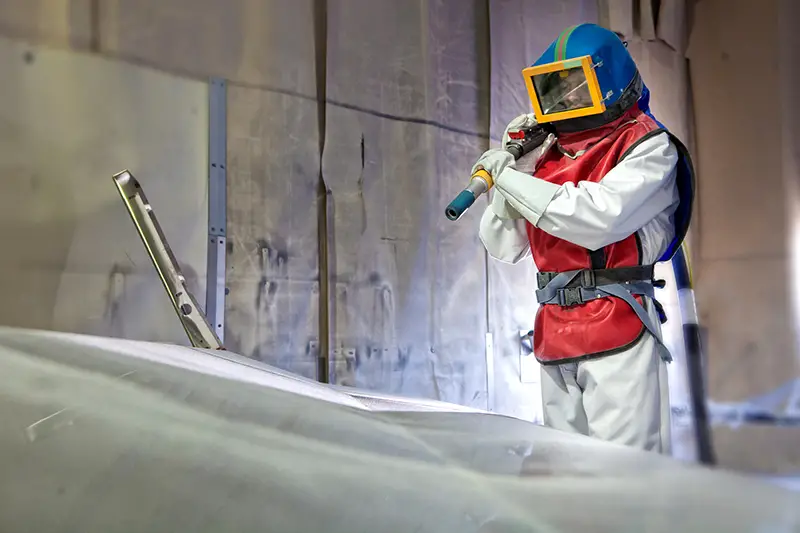 Sandblasters are used to remove paint and other contaminants from surfaces. They come in handheld and stationary models and can be used on various surfaces, including wood, aluminum, and plastic.
Sandblasters are widely used in various automotive, aerospace, and construction industries. They can also be used to smooth or shape surfaces. Some sandblasters use high-pressure water or air to generate the blast of sand. Others use a smaller nozzle that shoots a stream of sand.
The sandblasting equipment used in sandblasters can vary depending on the type of sandblaster being used but typically includes an air compressor, a hopper with sand, an air nozzle, and a motor. 
Air compressors
Air compressors are equipment commonly used in sandblasting. They are used to increase the air pressure in the system, which helps break up the surface of the material being blasted. 
Blast pot or pressure blast tank
A blast pot or pressure blast tank (PBT) is a piece of equipment for sandblasters. It creates a high-pressure gas by forcing air and gas through a chamber pressurized to up to 100,000 psi (690 MPa). The high pressure forces the sand particles through the nozzle and produces a fine, even finish on the surface.
A nozzle
Effective sandblasting requires high-quality sandblasting equipment, including a suitable nozzle. Nozzles are designed to create the correct blast pattern by directing the air stream at the target surface. They come in different sizes and shapes and can be purchased separately or as part of a sandblaster kit. 
There are three main types of blasting: wet (with water), dry (without water), and hybrid (wet with water). Each has its own specific needs for a good nozzle. Dry blasting is the most common type and uses compressed air to blast away material.
Moisture trap 
The moisture trap is a piece of equipment that is used in sandblasters. It collects the moisture produced by the blaster and then sends it outside the blaster. This helps prevent problems with the paint job and keeps the blaster more efficient.
Deadman switches
Sandblasters use several pieces of equipment to clean and polish surfaces. One of these is a deadman switch, which allows the operator to stop the machine during an emergency. Deadman switches are becoming more common in sandblasters because they help keep the machine running smoothly and prevent accidents.
Blasting respirators
Respirators are a piece of equipment for sandblasters. They protect the user from inhaling harmful particles and gas. Respirators come in different types, including those for organic vapor, compressed air, and water. 
When selecting a respirator, it is important to consider the type of work the user will be doing and the type of sandblaster they are using. For example, if the user uses an organic vapor sandblaster, they would need a respirator with an organic vapor filter.
Abrasive blast materials
Abrasive blast materials are essential for use in sandblasters. With them, sandblasting would be much easier and more convenient. There are a variety of abrasive blast materials available on the market; each one comes with unique properties that make it perfect for specific applications. Some of sandblasters' most common abrasive blast materials include diamond grit, cork grit, and aluminum oxide.
Final thought
Sandblasters offer a versatile and efficient way to clean various surfaces. With a variety of pieces of equipment, sandblasters can handle almost any job. In addition, because sandblasting is so versatile, it can be used in commercial and domestic settings. If you need a quick and easy cleaning solution, sandblasting is the perfect option.
You may also like: How to Effectively Manage Machines and Materials during Construction?
Image source: Depositphotos.com