Click here to get this post in PDF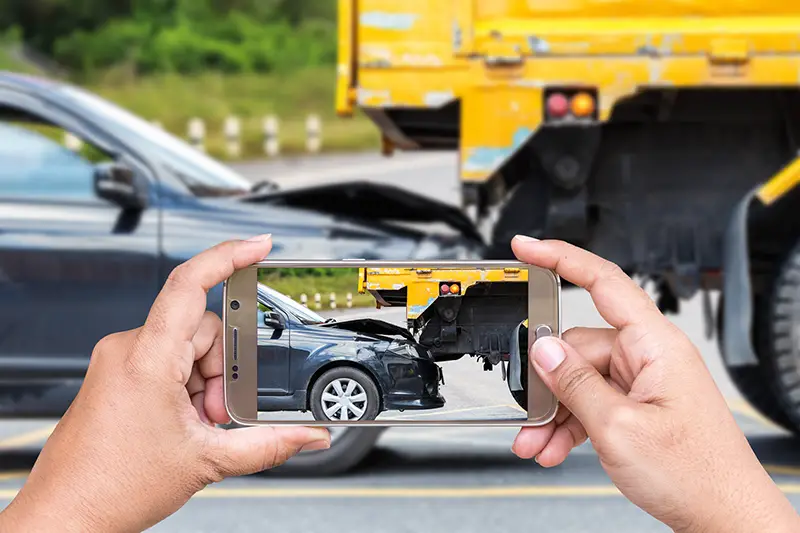 If you're involved in a car accident, it's essential to stay calm, assess the damage, and take steps to ensure everyone's safety. 
If you get injured in a car accident or a pedestrian crash, or if you want to collect the insurance from your car in a Florida accident, these are the steps you should take:
1. Take Pictures
First and foremost, make sure to take as many pictures as possible of the scene before anyone else gets hurt. Be sure to document how the vehicles look, whether there are any signs of damage to tires, and how far apart the cars appear to be. If someone gets injured in your accident, make sure you ask them if they need any medical attention before moving further on their own. 
If there are no injuries, exchange information with the other driver, including your name and driver's license number, insurance company address and telephone number, vehicle registration number, license plate number, and driver's license expiration date.
2. Notify the Police
If your car accident was severe enough to involve injuries or fatalities, or if there's any possibility that someone is drunk driving or they fled the scene, it's essential to report the accident to local law enforcement immediately. Make sure you call 911 if someone is injured in your crash, too. These are just some of the times where police involvement is necessary after a car accident in Florida. 
By contacting the police, they will need to know your car's make and model, as well as any damage it has sustained. If the driver of the other vehicle is uninjured, they should provide this information to you. The police will also send a report to insurance companies involved in the accident.
When the police arrive, they will evaluate the scene and make an accident report. Law enforcement may issue citations for violations of traffic laws. If the accident results in significant injuries or death, law enforcement will be involved in a more thorough investigation.
3. Contact Your Insurance
As soon as reasonably possible after the accident, you should contact your insurance company to inform them about the accident. Your insurance agent can give you advice on filing a claim and managing your insurance coverage following an automobile accident depending on how badly any vehicles were damaged and how many people got injured in the car accidents.
Your insurance agent may want to take photos and discuss with you what to do next. Then, they will work with the driver's insurance company, who caused the accident, to help try to settle your claim. Conversely, if you are responsible for causing the accident, they will need to advise you in this process.
Depending on how severe the car accidents were, you may be required by law to file a police report and submit it to your insurance company. Florida statute 627.736 states that any person involved in a car accident must give any other driver involved in the crash their name and address, vehicle registration number, and license plate number. This is called a "Minimum Traffic Crash report.
4. Get Medical Attention
Whether you're feeling sore or have injuries that need checking out by a doctor, it's essential to seek medical attention if you think it's necessary. You must get checked out after a motor vehicle accident if:
You're pregnant
You hit your head, were in a fistfight or were ejected from the vehicle
You're feeling drowsy or tired without any idea why
You have any lumps, bumps, bruises, cuts, or scrapes where it hurts to touch and doesn't seem like something you can walk off
There are visible damages to your car that could have been sustained in an accident — broken windows or lights not functioning correctly, for instance.
Even if you don't think you need to go, it's a good idea to at least talk to your primary care physician or someone from your local emergency room about any injuries that you may have sustained.
If you're not a patient at the local clinic or hospital, or if you're not injured badly enough to warrant a visit there, it's essential to call an ambulance as soon as possible. It's even more important to file an accident report if you cannot consult with the police. This is for insurance companies and others who request documentation of any car accidents in Florida. Florida Car Accident Reports are required for such reports to be considered for compensation or settlement.
5. Seek Legal Advice
If you're injured in one of these kinds of accidents, you will probably want to consult an car accident lawyer. They can help you seek financial compensation after your accident. For example, suppose the accident was caused by another driver's negligence or a company's negligence. In that case, you might be able to receive a monetary settlement to cover medical bills, pain and suffering, lost wages, and more. 
Your personal injury lawyer can help you gather information about the case. Having this information can make it easier to prove that the other driver was negligent in causing your injury. Of course, it's crucial that you file this claim within the Florida statute of limitations for personal injury claims: two years from your incident date.
6. Take Steps to Protect Your Rights
Filing a car accident lawsuit can be a lengthy and challenging process that requires collecting evidence and organizing facts about what happened at the time of the crash for presentation in court. Some of your friends or family members may disagree with your decision to file a personal injury claim, and they may try to pressure you into settling for less than you deserve. If this happens, you must protect yourself and your rights by consulting a lawyer who has experience dealing with car accident claims in Florida.
Final Thoughts
Finally, remember that a Tampa lawyer gives legal advice over the phone or via email. Please schedule a consultation with an experienced personal injury attorney to discuss how best to proceed after your car accident claim in Florida.
You may also like: Car Accident Attorney: Taking the burden off your shoulders! How?
Image source: Dreamstime.com