Click here to get this post in PDF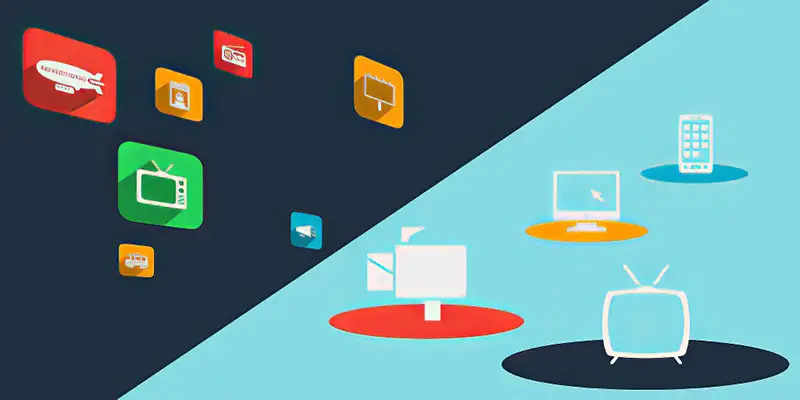 We bet that you and most of your friends don't watch cable TV anymore. It's true that new technologies replace the old ones and the time of traditional linear TV rapidly comes to the end. Modern audience prefers personalized online content and streaming over old-fashioned television. Over-the-top (OTT) gadgets provide then with such an opportunity and seem to be the new word in the world of media.
What is OTT? This term is used to describe gadgets and services that connect to a TV set and stream content online. Media players, smart TVs, and game consoles are known as the most common devices here. Due to these technologies, viewers enjoy freedom of choice, absolute flexibility, and low-cost (if not free) content.
What about OTT advertising?
Advertisers and publishers avert their gaze to OTT advertising for numerous obvious reasons. What does OTT mean when it comes to promotions? While this type of advertising is similar to linear TV, the content is delivered differently. All ads are delivered through platforms like Hulu or Roku. These websites stream a great number of various shows and series, so advertisers can choose to display their promotions in specific areas of customers' interest. OTT based ads are highly-targeted, engaging, and affordable. Now let's discuss the core benefits of OTT advertising. 
To advertise your products with the help of OTT, you can choose geographic areas, themes, and demographics. This way, your content will definitely reach the right people and the chances to sell your goods will grow. This is something you can never get on linear TV.
Impressive audience reach
Today, OTT is a king among digital platforms. eMarketer suggests that 197.7 million monthly OTT users will join in 2022. Comparing to previous years, this is a huge growth and it seems like the number will continue increasing. 
To help you track the results and understand the performance of your ads, OTT streaming platforms provide data analysis capacities. Platforms provide detailed reports about impressions and customers interaction. 
OTT advertising and buying becomes more pleasant for your customers since the platforms encourage you to produce highly-engaging and quality content. These sites are designed to display interactive and meaningful ads with numerous cool features, like in-built galleries, shopping carts, quizzes, and even mini-games. No other advertising environment provides such opportunities. 
All businesses are looking for an opportunity to spend less and earn more. OTT provides flexible budgeting options – one can purchase a specific amount of impressions for a narrow audience, which increases ads efficiency and decreases your expenses. 
Conclusion 
Being a business person, you must be looking for an opportunity to march in lockstep with the latest trends. That is why OTT is something you must be interested in And your interest is absolutely justified. OTT is a real revolution of the ad world. After this new content-delivery style appeared, the ad sphere has changed entirely. The new vector is moving in the direction of flexibility, affordability, and personalization. OTT is the best way to reach these latest ideals of content-delivery. With its help, advertisers can enjoy powerful and precise analytics, strong targeting, cost-effectiveness, and creative content delivery. Consider launching the OTT campaign today – don't give your competitors a chance! 
You may also like: Telling OTT from CTV: What Are the Principal Differences and Functions?