Click here to get this post in PDF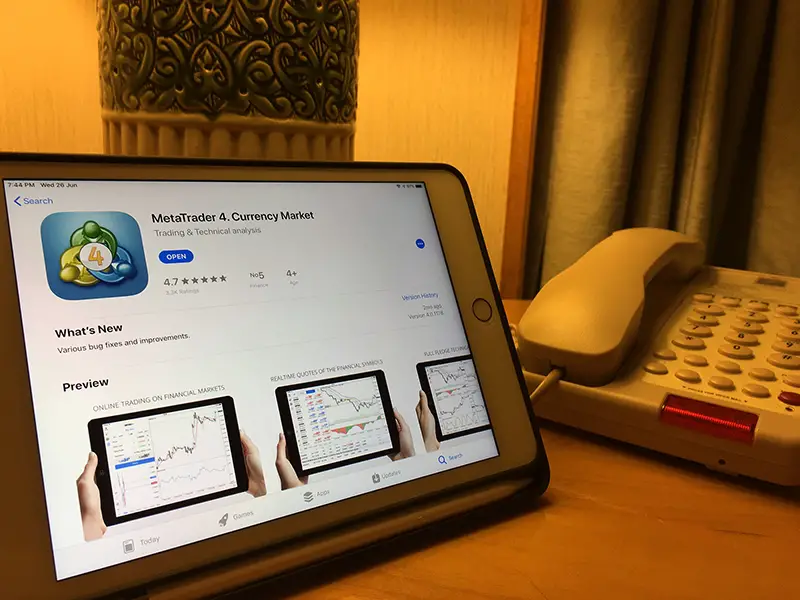 Bitcoin has emerged as another vitally important feature of the financial markets, valued for almost the same reason as gold. While gold is the standard of the physical economy, bitcoin is the standard of the digital/crypto economy. And to show further much it has matured as an alternative asset, bitcoin has hovered around a price of $30,000 per coin, as against gold's $1,800 per kilo.
For these reasons, it has begun to be traded alongside stocks and currency on the forex markets. In this guide, we explore which brokers offer the opportunity to trade bitcoin on the Metatrader 4 platform.
What is bitcoin?
The world's premier cryptocurrency, Bitcoin was released in 2009 by Satoshi Nakamoto, as an alternative to fiat currency, devoid of government meddling and inflationary pressures. Initially intended as an alternative medium of exchange (which it has indeed become, upon becoming legal tender in El Salvador and the Central African Republic), bitcoin has instead grown into its role as a store of value and investment asset, similar to gold; hence some call it digital gold.
After stormy initial years that saw its value shoot from its initial price of around $0.08 to all-time highs of above $60,000, it has become clear that bitcoin is here to stay. And thanks to much less volatility in recent times, it fully settled into its role as an investment asset.
Brokers offering Bitcoin on MT4
After examining a couple of variables, we've curated a list of some of the best online brokers for trading bitcoin on the Metatrader 4 platform.
Established in 2012 with a key focus on the emerging economies of the Asia-Pacific, Africa, and South America, MTrading has spent the last decade providing top-notch financial services to over 250,000 clients. Apart from forex currency pairs, indices and CFDs, you can now also trade bitcoin on MTrading via Metatrader 4. Regulated by the Financial Commission which provides guarantees of up to €20,000 on clients' funds, MTrading ensures that its clients can trade bitcoin with a reasonable level of security.
Established in 2006 with offices in the financial centers of London, Tel Aviv, and Limassol in Cyprus, eToro has emerged as one of the world's leading online forex brokers. Apart from Bitcoin, they also provide access to traders to trade up to 40 other cryptocurrencies. And with a low price threshold, they ensure that just about anybody can access the market. With as little as $10, you can trade cryptos on eToro.
Founded in 2008 with a main focus on the CFD market, Plus500 has grown to a position of prominence as a key player in the global forex market. So much that they are now the major sponsor of Atletico Madrid in the Spanish La Liga, and are publicly listed on the London stock exchange.
On Plus500, you can trade up to 9 cryptocurrencies including bitcoin in USD pairs. You can also trade the bitcoin/Ethereum pair. The minimum that traders can deposit is $100. And what more? Nearly all activities on Plus500 are free of fee.
One of the oldest forex brokers in the market, XTB was established in 2002 and has now grown into a truly global operation, with offices in over 10 different countries in Europe and the Americas. In 2018, the company was named the highest-rated FX and CFD broker 2018, by the Wealth & Finance International Awards. And that's just one of the several accolades that they've won in their years of operation, including awards from Bloomberg and Forbes.
Apart from bitcoin, XTB also allows traders to trade Ethereum, Ripple, Litecoin, and Dash. And with no minimum deposit threshold, XTB holds the door open for traders of different economic means worldwide.
How to trade Bitcoin on MT4
The process for trading bitcoin on MT4 is very much similar to the process for trading forex currency pairs. When you've opened the trading window, you just simply indicate how much capital you intend to commit to the trade, indicate whether you want to go long or short on the asset, and then if you want to, you can also include "stop-loss" or "take profit" clauses to kick in when the asset reaches a particular price. When all these are set, you can then indicate whether you want an instant trade, or you want to wait until the asset reaches a particular price. then, you can finally open the trade, sit back and monitor it.
Differences and similarities between bitcoin and forex trading
Bitcoin and forex currency pairs are not all that different, in the grand scheme of things. They are both tradable assets with a significant level of risk for traders involved with them. And that's asides from the fact that the process for trading them is almost the same. However, three are some notable differences. Let's examine some of them.
Traditionally, financial markets have designated open hours. The Bursa Malaysia in Kuala Lumpur, for example, is only from 9 AM to 12:30 PM after which the market goes on a short break for lunch, resuming at 2:30 PM and then closing at 4:45 PM on Mondays to Fridays. This is because, even though currency pairs and company stocks can be traded digitally, processing their trade has significant physical activity in the backend.
However, bitcoin is different, as it is an entirely digital asset and doesn't have any physical components. So the bitcoin market is open every day of the week.
World political and finance news have an outsized influence on the financial markets; it's not uncommon for stock markets to get sent into frenzies over little news reports. This effect is replicated in the forex market, but only to a little extent. Aside from the USD, currency pairs are not very sensitive to news, except when it's a particularly huge event – Russia's war in Ukraine, for example. This is because, currencies are not much affected by little political happenings, but by the economic wellbeing of their countries.
Bitcoin, on the hand, is highly sensitive to news events. Any announcement about new investments or regulatory easing can send its price sky high, just as news of regulatory tightening or cyber breaches could send the asset's price tumbling.
Conclusion
For forex traders, both new and inexperienced, bitcoin holds promise as a brave new world devoid of the censorship issues, regulatory overreach, and inflationary pressures that have long undermined the capacities of traders. However, the risk is still a major factor, especially considering that many criminals see the reduced regulatory environment around cryptocurrency trading as an avenue to commit fraud. So, traders need to weigh all options before eventually settling for a forex broker.
You may also like: What Are The Benefits Of MetaTrader4 That Every Investor Needs To Take Into Consideration
Image source: Shutterstock.com