Click here to get this post in PDF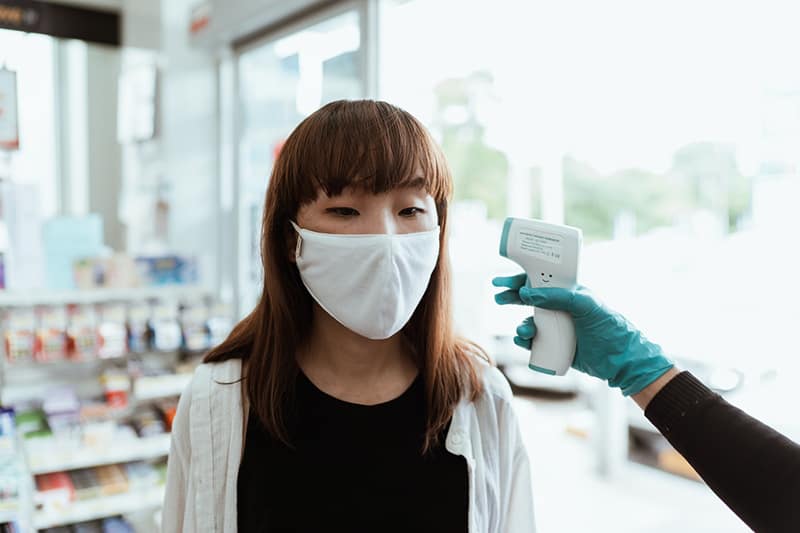 The entire world is on the path to recovery after the COVID-19 pandemic wreaked havoc on every aspect of our daily lives. The governments and ruling authorities are taking every precautionary measure necessary to keep the crisis under control. Initially, a complete lockdown was imposed in countries across the world, which restricted normal day-to-day work and life. However, as the lockdown restrictions are being relaxed gradually, the precautionary measures are becoming increasingly strict. This situation makes the temperature screening kiosk an essential implementation in corporations around the world.
This solution is excellent to detect high body temperatures, which could be an indication of the onset of the corona-virus in employees and others. Although handheld scanners were initially extremely popular, the remote screening technology of the screening kiosks makes them an even safer and more effective option. These kiosks are designed for employers to monitor employee body temperature remotely, from an off-site location.
Prevention is essential
Numerous activities are being undertaken by corporations worldwide to ensure a safe and healthy work environment for employees, from maintaining social distancing to mandatory health checkups. Remote temperature screening has become an essential aspect of following the safety guidelines imposed by governments and corporations alike. The need to screen employees and visitors has increased significantly.
Remote temperature screening tools are a great help to ensure the successful and safe return of employees to work and a safe environment for visitors too.
Top 4 Benefits of Remote Temperature Screening Kiosk
Below are the major benefits and advantages of remote temperature screening kiosk for small and large companies that are restarting work from offices:
1 – Health privacy of employees is maintained
Although temperature screening at the workplace can be interpreted as a part of conventional medical examination, the situation created by the COVID-19 pandemic is unprecedented. Hence, the temperature screening kiosk is an exception in such circumstances. This allows employers to measure their employees' body temperature and prevent the risk of an outbreak of the virus at the workplace.
As restrictions on working from office are being relaxed all over the country, the need to monitor employee temperature is rising in proportion. Thanks to remote temperature screening devices, the privacy of employees is maintained effectively as the results are monitored from an off-site location. Several software systems are in place, which alerts the concerned employee about the potential corona-virus risk without breaching their privacy. Some of the safest and most convenient ways to convey body temperature screening results to risk-prone employees are through text messaging, emails or push notification, which can be sent directly to their mobile phones, thus saving them from embarrassment, which is often the case when announcing results after a checkup using a handheld temperature monitor or other types of screening kiosks.
2 – Convenient and effective for large companies
Remote temperature screening devices are especially beneficial for large corporations that operate through several different locations. Buying and using handheld temperature screening devices requires additional time for training and money to buy the devices too. In addition, there is a higher potential for inaccurate screening as different standards are adopted by different companies.
However, with a stable and centralized system for screening, such as that provided by the remote screening kiosk, the screening processes become not only convenient but also extremely accurate too. This is an excellent way to identify potential risk locations and take necessary precautionary measures to prevent an outbreak at offices.
3 – Safer and adheres to social distancing norms
The social distancing recommendations require people to maintain a distance of at least 6 feet at all times. This is not possible when analyzing body temperature using a handheld screening device. Using handheld devices to monitor body temperature raises the risk of spreading the infection.
However, using remote screening kiosks, employers can easily adhere to the social distancing regulations and ensure effective screening simultaneously. Remote screening kiosks allow employees to get their temperature reading on the spot and those with higher temperatures can be effectively advised to take the necessary steps.
4 – Budget-friendly way to ensure a safe work environment
Handheld screening devices require the allocation and training of staff members to monitor employee temperature screening processes. Using other types of screening stalls require hiring third-party contractors to monitor and execute the screening process. These options are expensive and a load on the already strained budgets of enterprises.
On the other hand, remote temperature screening kiosks remove the need to train staff and eventually costs considerably less to process employee screening.
Experts recommend choosing the Daizo COVID-19 remote temperature screening kiosk for use at small and large business enterprises, thanks to its effectiveness and affordability.
You may also like: Preparing business and establishments after lockdown. Disinfecting workplaces to be COVID 19 -ready
Image source: Pexels.com