Click here to get this post in PDF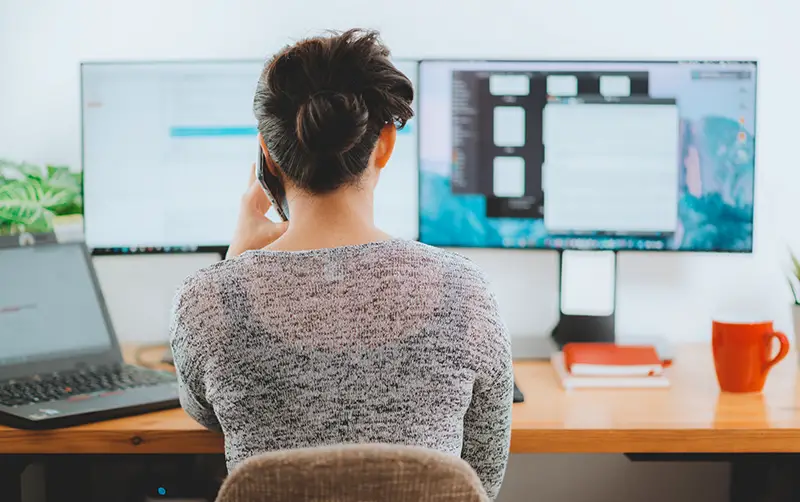 Business leaders and CEO's have noticed something over these past 13 months. Jobs that used to be done in the office can be done well, from home. According to a Pew Research survey, 54% of employees would like to continue working from home even after the covid-19 crisis. So employers are writing a new hybrid work model that would allow for precisely that. Big tech companies, like Salesforce, Facebook, Google and Amazon have already signed up for this new model.
The hybrid work model is defined by a group or team of employees that work from home while part of the employee base still comes into the building every day. This hybrid model generally has more employees on-site than remote. Closely related to this model is the Flexible model. This is when each employee has days when they are on site and days when they are remote. As restrictions have been lifted, we have seen more companies take this flexible model. Now with eyes to the future remote work guru's like YouTuber Running Remote note the combination of both structures coming together in new hybrid plans. Companies like Ford Motor Co. were already making this shift to a flexible hybrid style as early as 2016 when the pandemic made it a necessity. Creating a hybrid work environment and letting some employees work remotely is becoming popular amongst large corporations.
With flexibility comes opportunity, and that is the most significant advantage this hybrid model has going for it right now. Employees up to this point were limited in their job choice based on where they lived. Now they have the power of choice, which means companies could find a whole new pool of talent to choose from. In an interview with Shelley Archambeau, a Verizon board member, CNBC probes about the kind of employees who are seeking this extra flexibility in a hybrid workplace. Archambeau said she has found that employees with young families or just starting out are attracted to this employee-controlled schedule. CNBC suggests that some employees may not have chosen to work if they had not been given this opportunity. 
One major advantage of the hybrid model is morale among employees. Companies that can afford to have employees work from home are typically desk jobs, with a lot of computer or phone work involved. This type of job is associated with lower morale and depression in employees. However, in 2020 SurveyMonkey reported that employees who worked remotely self-reported feeling happier and more in control than their colleagues who remained working from the office. In addition, employees working from home can be more comfortable, make better food choices, and see their loved ones more.
One universal truth, happy employees are productive employees. And companies love productivity! Studies are done before the pandemic show greater productivity in employees who work from home. Boston Consulting Group report that over half of their managers feel their teams are more productive working from home. Three main reasons for this rise in productivity include greater flexibility, increased focus while working, and fewer absences. With the flexibility of work time, employees can find the perfect work/home balance. Scheduling a doctor's visit can mean working a little later instead of missing half a day. Picking the kids is no longer an issue because you can always write that email when you get home. When you are working, you can focus on work instead of all the other things you need at home. 
The hybrid work model has many advantages for employees and employers—most of all, it is still new and can be written together. 
You may also like: How Your Business Can Adapt to the Remote Work Culture
Image source: Dreamstime.com