Click here to get this post in PDF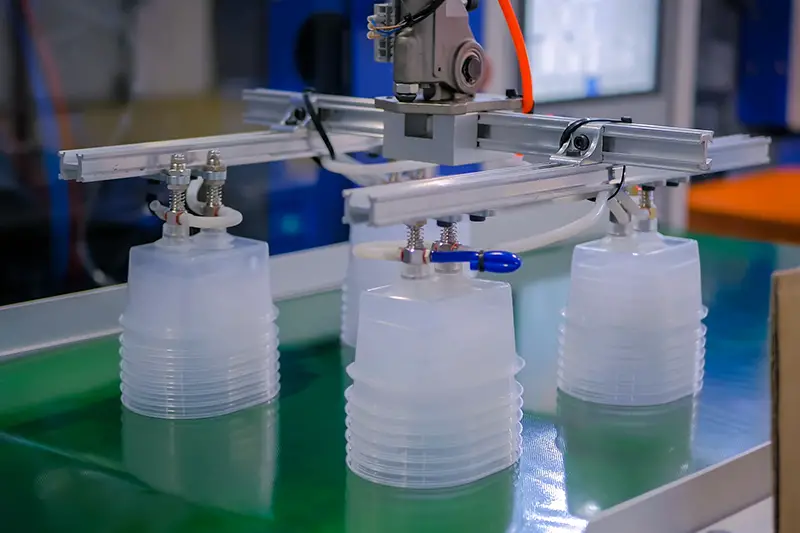 An extrusion blow molding machine is a machine in which two types of processes are at work:
Extrusion process
Injection molding process
Extrusion Process
An Extrusion blow molding machine is a machine in which plastic material is heated and forced out via a shaped cut on a metal plate, creating a consistent form that is then stretched and cooled to set. These linear products can also be cut directly into plastic parts once it has cooled. Examples include industrial piping, medical device tubing, synthetic filaments, plastic rails, plastic sheeting and plastic drinking straws (coextrusion). Keep reading to know what extrusion is.
Injection Molding Process
This process is basically based on the molten and die-casting methods. The liquid is heated, and then it gets filled into a mold, followed by a cooling process to set and then eject a piece as a crisp and solid shape. Examples of the products made by this process are chess pieces, combs made of plastic, plates or cups, and three-dimensional shapes with openings, such as plastic baskets or crates.
End Product Differences and Advantages of The Two Processes
Although the ultimate shape required for a certain part often decides the process that is eventually used, both of these processes (extrusion and injection molding) have their pros.
Injection molding usually has a much higher and more complex initial design process because of the complex mold structure. But in the process of cyclical production, however, it typically creates a finished piece that often does not require further assembly or secondary processing. This is why plastic injection machine can make your mass production quickly and maximize your ROI.
On the other hand, the extrusion method can create complex cross-sections like the multi-lumen tubing used in medical devices or food processing methods. The exterior of these extruded materials is usually smooth and has no bumps; therefore, they do not require any post-production "clean-up." The extrusion processing method is ideal when various lengths of the same profile shape are required for production. By producing a stock product with a continuous production process and cutting it to length post-process per demand, setup and die/design costs are reduced for such items.
Below is a guide on extrusion molding machines that will explain the molding process to give you a better understanding of how this machine works.
Extrusion molding machines are used to create objects or products made of plastic with a fixed cross-sectional profile. This works because a single-screw type of extrusion molding machine uses a rotating screw located inside the barrel. The plastic pellets are fed in through a hopper, with the added friction of rotating the screw and the heating up of elements that melt the plastic when pushed out forward. Then it eventually exits in a unique shape through the die on the opposite end.
To develop an extrusion molding machine that fits your needs, various downstream components need to be added. Some of which could include water baths that help with the cooling process, a puller, different cutters, pelletizers that help form the plastic pellets' inconsistent sizes and shapes, and much more.
Extrusion molding machines are famous for being more cost-effective than any other form method. They also allow you to get various barriers and many features like handles.
As described in Wikipedia, "Extrusion molding machine is used in the process of manufacturing pipes, hoses, drinking straws, curtain tracks, rods, and types of fibre. The granules/pellets first melt into a liquid forced through a die, forming a long 'tube-like' shape. The shape of the die eventually determines the shape of the tube. After this, the extrusion is cooled and forms a solid shape. The tube might be printed upon and then cut at equal intervals. The individual pieces might get rolled for storage or they could even be packed together. Shapes resulting from extrusion include T-sections, U-sections, square sections, I-sections, L-sections and circular sections. An optical fiber cable is one of the most famous productions of this machine."
Conclusion
An extrusion molding machine is used for production as it has many advantages, including the fact that it has a low tool and die cost, fast production rates, and can shape hard and brittle materials. It creates a smooth finish on the end product. You can make modifications to the product after it has been removed from the extruder. Complex shapes can be produced with varying textures, thicknesses, and colors. Handles can be incorporated into the design and much more. You can also get in touch with the best extrusion blow moulding machine manufacturers to buy the best ones whenever you are in need. 
You may also like: Mechanical Properties Of Plastics For Industry
Image source: Shutterstock.com