Click here to get this post in PDF
Buying a commercial vehicle for your business is one of your most significant investments. It's especially true if you deliver goods from one location to another. It enables your sales team to make timely deliveries to clients, boosting their satisfaction and loyalty. Additionally, it ensures goods reach customers in good condition.
With the various types of commercial cars available, you'd want to choose the right one for your business. It ensures that your company's operations run smoothly daily, keeps your staff and goods safe while on the road, and promotes good customer service. With that in mind, here's what to consider before purchasing a commercial vehicle: 
1. The Engine
The engine is one of the most vital components of any car. It powers the vehicle and is responsible for it running seamlessly. Therefore, choosing a good one is critical. When picking the right engine size for your commercial vehicle, it's good to consider the performance, the size of the cargo you'll be transporting, fuel efficiency, emissions standards, and power and torque.
For instance, a four-cylinder engine is sufficient for daily commuting and transporting regular-size items. However, you may consider Cummins series engines if you move heavy cargo. These engines are ideal for various commercial cars, including buses and trucks. They're famous for fuel efficiency, power, reliability, and longevity.
2. Truck Size
Another essential factor to consider before purchasing a commercial vehicle is its size. A car's size determines the number of goods you can transport. The larger the vehicle, the bigger the cargo space, and vice versa. Larger trucks increase delivery effectiveness by minimizing the trips you may have to make. However, they may consume more fuel and require bigger garage facilities to keep them safe.
On the other hand, with smaller vehicles, you can only transport light and a few products. You may need more trips or an extra car to move your desired goods to their destination. 
But then, your size choice depends on how you will use your vehicle. Do you transport bulk items every day to your clients or customers? Or do you just use it as a service for your staff to hop onto places where they conduct business? Simply put, go for trucks with sufficient cargo space to transport all your goods in one trip and leave room for air ventilation, primarily if you sell perishable goods.
3. Fuel Efficiency
Fuel efficiency evaluates how much fuel a car can consume per kilometre. Going for fuel-efficient commercial vehicles is essential as they use less fuel, enabling you to save money on fuel costs. Other benefits of fuel-efficient vehicles include the following:
They're environmentally friendly: Less efficient vehicles produce a lot of greenhouse gases like nitrogen oxide, carbon dioxide, hydrocarbons, etc., that have detrimental effects on the environment. These gases deplete the ozone layer, leading to global warming and climate change. Thankfully, fuel-efficient trucks consume less energy, reducing carbon emissions and air pollution.  
Lowers energy dependency: Fuel-efficient vehicles reduce fuel usage, minimizing importation from foreign countries.
Saves you money: Spending less on fuel saves you the money you can use to grow and expand your business.   
Even though fuel-efficient vehicles can be costly, they're worth it as they benefit your business and the country and create sustainable surroundings. In the long run, you'll realize that the fuel economy of such vehicles outweighs their price.
4. Maintenance And Repair Costs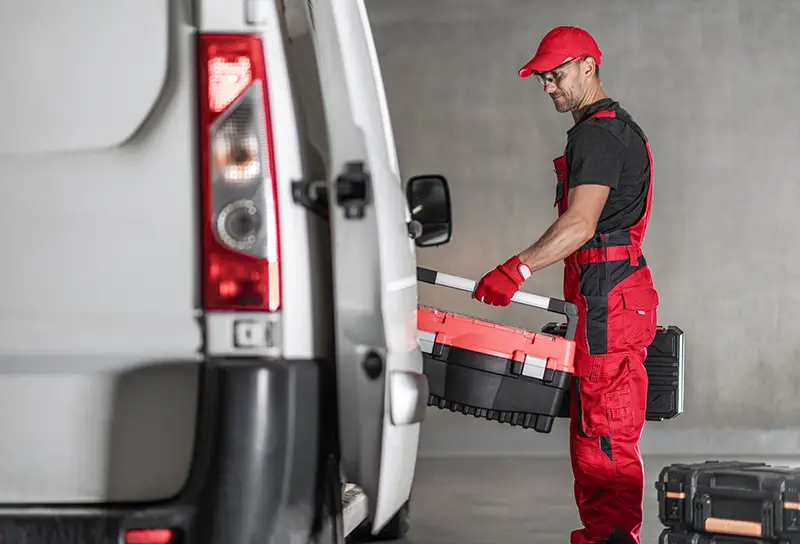 Every vehicle requires regular maintenance for proper functioning, safety, and dependability. Maintaining your truck also increases fuel efficiency and its value and helps prevent bigger issues that may occur. On the other hand, vehicles may break down with time, and you may need to repair or replace damaged parts.
Therefore, considering repair and maintenance costs is essential. Go for vehicles that are easy and cost-effective to maintain. Also, check the costs and availability of parts in your area. The aftersales service should be convenient to avoid the hassle if any issues arise.
5. Safety Features
Safety features of a car help reduce the risk of a crash or minimize the severity of vehicular accidents. Some features to look for in your commercial vehicle are:  
Tire pressure monitor: It lets you know when the tires are low pressure.
Brake assist: Offers additional braking in emergencies.
Blind spot monitoring: It helps you to keep an eye on approaching vehicles in adjacent lanes.
Antilock brakes: Hinders skidding when braking hard.
Airbags: Prevent people from hitting the car's hard surfaces in a high-impact crash.
Electronic stability control: Keeps the truck moving in the direction you're steering.
Forward collision warning: It lets you identify vehicles or any object in front of your truck.
Lane departure warning: It utilizes a front-mounted camera to monitor your truck concerning the lane markers. When it notices that your vehicle is shifting close to the lane markers on either side, it warns you to return to your lane.   
While these safety features can help protect you, they don't prevent car accidents. Your safety while driving depends on how you cruise on the road. Therefore, practice good driving habits to ensure optimum safety while driving. 
Conclusion
The commercial vehicle you choose significantly impacts your bottom line. It affects your finances and your activities. That's why taking your time to research the right car is vital. Examine your company's needs and tailor them to the car's demands to find the best fit for your business. Remember to check the engine size and the available safety features to ensure you deliver your goods safely to their destination.    
You may also like: How the rising price of petrol is affecting commercial vehicle management and trade expenses
Image source: AdobeStock