Click here to get this post in PDF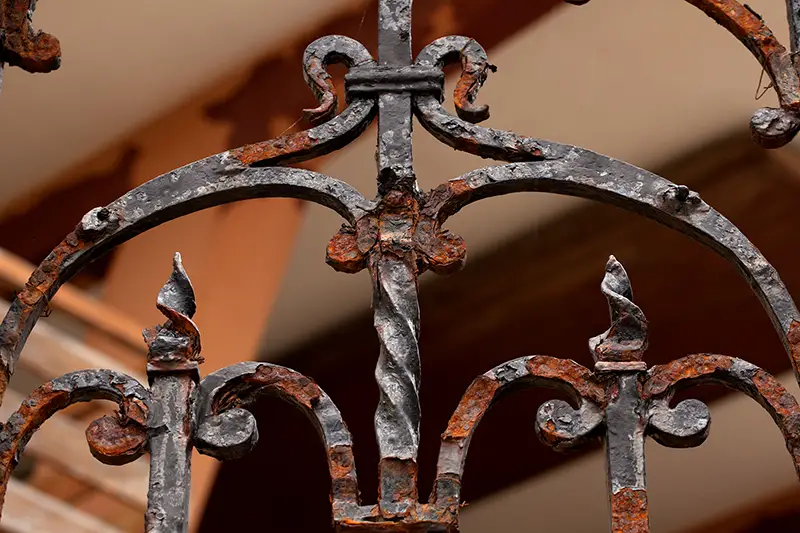 Corrosion is one of the less intuitive truths of the commercial and industrial world. Durable, long-lasting materials can be bested by the innocuous but steady dripping of water or other liquids.
Without proper maintenance and a careful eye, unnoticed problems can potentially cause thousands of dollars in damages over time.
Knowing what causes corrosion is the first step to preventing it and saving on repair costs. Join us today as we discuss not only what causes corrosion but also give some tips to help your pipes and other metal surfaces resist it!
What Causes Corrosion?
Corrosion occurs as the result of a chemical reaction. Metal reacts to something touching it, causing its properties to change in an undesired way.
By far the most common type of corrosion a business has to worry about is iron oxidation or rusting. If a structure has iron in it (which includes steel), oxidation may occur.
There are two elements to iron oxidation (in addition to the presence of iron) that must be accounted for if you want to prevent rust from forming for as long as possible:
Metal on Metal Contact
While often unavoidable, metal on metal contact (such as with pipes and fittings) will encourage rusting on one of the two metal objects. This process is called galvanic corrosion.
One of the metals will become resistant to rusting (referred to as protected) while the other will, over time, become corroded. This whole process could warrant its own article but, for now, keep it in mind and understand this is why it is critical that joints and other places of metal on metal contact be inspected regularly.
Electrolytes
An eletrolyte is a liquid, usually water, that acts as a medium through which chemical reaction can occur. Put simply, electrolytes make it easier for chemicals to interact via electrical charge, as they better carry that charge than dry air. This is why saltwater is so harsh on metals; it is an excellent conductor.
Other substances can serve this purpose too. Smoke, fumes, clay, and even soil can all conduct electricity fairly well depending on their composition. Metal in harsh industrial environments or buried underground can experience rapid oxidation even if water is not in abundance.
Prevention
The most common way to resist rusting is painting metal surfaces and regularly inspecting them. This, coupled with keeping the area as dry as feasibly possible, goes a long way to helping keep metal rust-free. However, it isn't always enough.
Sometimes stopping corrosion requires special insulation designed specifically to help prevent a chemical reaction. This type of insulation is critical if a pipe will be in prolonged contact with water or if its failure could have a serious financial or human toll.
More Tips & Facts Like These
Now that you know what causes corrosion, do you have any other burning questions? Our blog may have the answers!
For more content like this, check out our technology section! If you're looking for something different, we also offer content on a variety of other topics, from communication to start-up tips.
YOu may also like: What Does 2021 Hold For The Future Of Construction Technology
Image Source: Shutterstock