Click here to get this post in PDF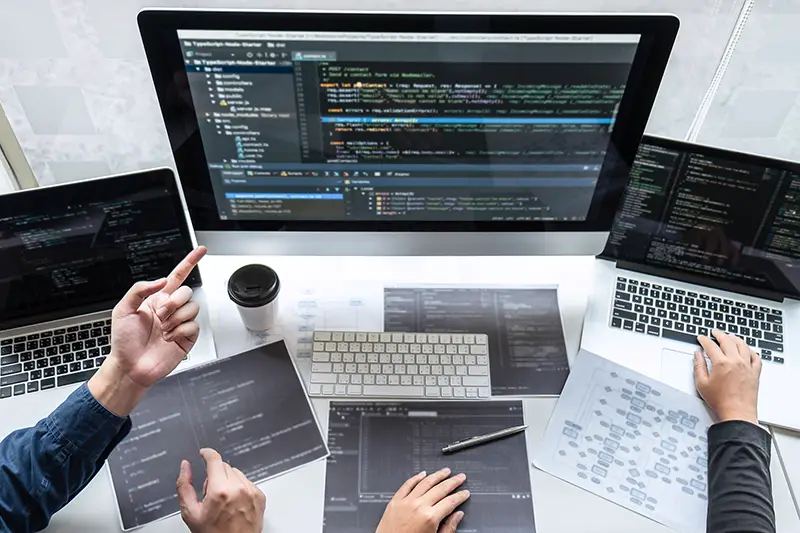 You can go ahead and jump straight to the actual listing now and choose your best website builder for small businesses or read a few about the industry and more. Now, are you really sure that a website builder is actually the best choice for you?
Modern web development is full of acquired solutions; the amount of different ways you can fulfill a web development project is tremendous. This article has covered the most prominent solutions available on the market right now.
Meanwhile, using a website builder requires technical background and some time to actually create a website with such a tool. Still, in case you have a budget and want professionals to take over your web development, hire full stack developers and get the job done right!
Want the Best Website Builder for Small Business?
So, for us to be able to rank different website builders, we had to do research. We could divide them and have a few paid and a few free options so all of our readers could get the right match.
Still, we have decided to evaluate them individually and then compose all the data we get to outline weak and strong sides for each of them. But, don't you worry, we will mention what comes for free and what doesn't.
It's also worth mentioning that there's the best ecommerce website builder for small business. That's a more specific search, and it means you probably have specific requirements as well. Usually, those requirements can be met only with a paid version of the builder. 
Also, we didn't have the capacities and resources to test each builder, but we were able to identify the most worthy participants here. So, let's start with a shortlisting of each website builder for small business we would like you to be acquainted with:
Wix – leading and most prominent builder;
Squarespace – a rich set of templates, ecommerce-friendly;
WordPress – flexible design and wide range of plugins;
GoDaddy – if you don't have many requirements and want to launch fast;
Weebly – best for an online store or a marketplace (for ecommerce).
Wix
First of all, Wix does have a free plan, so anyone can try using it. It has such an amazing and intuitive interface! Actually, it is probably the easiest builder we have used. Moreover, it also allows you to create amazing designs from scratch, but there are hundreds of available templates that are ready to use.
Unfortunately, there's also a downside which is the fact that as soon as you have chosen your template and published your website, you don't get to switch to another template easily. Thus, take your time choosing the right design!
Even though Wix has a free plan, additional functionality and customization don't come for free. Luckily there are eight different plans you can choose from. Just make sure your list of requirements is complete so you can pick the one that suits your needs the best.
Squarespace 
Squarespace is an excellent candidate to be the best website builder for small businesses. Though it does not have a free plan, like any other professional service, it has a 14-day free trial. What does it mean? This means you can also try it yourself before you spend anything.
This builder offers more customizable design options, but it's also a bit harder to use. Still, for someone who's an advanced PC user, it won't be a problem to learn how to use it. The amount of templates is also great, like with the previous builder.
You are free to customize almost anything on your site, and no actual coding is required for that. As soon as you are done choosing your template, and your website is live, you can still make changes by editing separate blocks.
Once your 14-day trial wears off, you can choose from 4 available plans. Two of those plans are tailored for e-commerce, but the rest works for any casual website.
WordPress
You have probably heard about WordPress many times. The beauty of this builder is the fact that it works just as well for beginners as for advanced users. Also, you can learn how to use it properly because there are thousands of guides on the web.
WordPress would be a good choice for building almost any kind of website. Moreover, the majority of plugins are simple and come for free. Meanwhile, there are also paid plugins that will allow you to enrich the functionality of your website and do almost anything with it.
You can go with a free plan, but once again, if you want more than just a casual blog, you would have to pay. No worries, extra and pro features and plugins are relatively cheap. Thus, this builder makes perfect sense if you want an excellent price/quality ratio. Many people find WordPress to be the best website builder for small business.
GoDaddy
Unfortunately, there's no free plan, but you do get a free trial though. Also, it's so simple to use and even has an Artificial Design Intelligence. With this tool, you can build a website in no time. What's even more surprising, you can even make it build a website for you.
Take into account that with this builder, you can customize your design and switch templates whenever you desire (even when the website is up). Also, you can test each template and different variations to see which one looks the best in your case.
Godaddy has four plans, and they are affordable. In case you are buying a domain using Godaddy services, you would also get a chance to use the builder for free. Eventually, it's a very worthy option, especially if you want to launch your website as soon as you can.
FAQ
Have some questions? Didn't read the article? Let's see.
Is Wix good for a small business?
Depends on your requirements! Overall, it is a good solution, but you have to make sure you have taken all possible options into account, and you know your requirements well.
Who can build a website for my business?
We have mentioned that website builders are amazing, but it's not always the best choice. Keep in mind that there are more options out there. Anyone can hire a developer, a whole team of developers, or an IT staffing company if you want professionals to take it over.
Is Wix really free?
Well, they do have a free plan that you can use. Obviously, the features you get are not limitless. It's the same for any service – if you want something more than basic, you have to pay.
What is the best website for a business?
A tailor-made website would be the one! Obviously, you have to do SEO or have a ready audience for it. But also one that helps to grow brand awareness, converts leads into sales and makes money (business).
You may also like: What to Look for While Choosing a Website Builder?
Image source: Shutterstock.com