Click here to get this post in PDF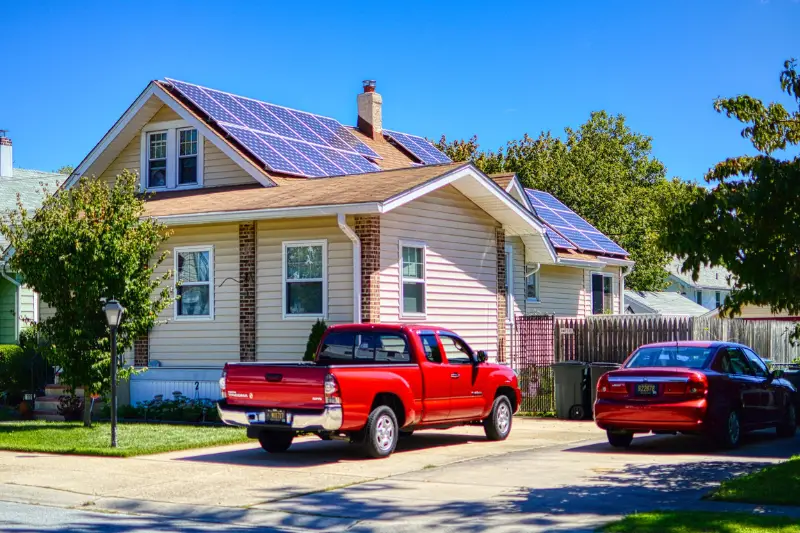 Solar panels are a popular method of creating electricity not only residentially, but commercially and industrially. You've probably seen countless houses with solar panels on their roof and thought about the cost of residential solar panels.
There are many reasons why a person would choose solar panels, from money saving to environmental, but they stop when they get to the cost. We'll examine how solar panels create electricity, their cost, and why it makes financial sense to invest in solar panels.
If you're thinking about choosing an alternative method of power for your home, then this guide gives you the information you need to make an educated decision.
A Brief History of Residential Solar Panels
Solar panels are nothing new. They've been around for more than a century, but it's only in the last 30 years that they've become efficient enough for residential power creation. In the late 19th century, physicist Edmond Becquerel discovered the photovoltaic effect.
He discovered that certain chemicals created electricity when exposed to light. The first patents for solar panels came about as early as 1888. The biggest problem with early solar cells was efficiency. They could create an electric current, but not enough to power a home unless they were large.
Scientists spent decades working to improve the efficiency of solar panels to make them more affordable for the average person. For many years, they were a creative quirk that was more proof of concept than an effective method of powering homes.
In the 1950s, Bell Laboratories found that silicon was more efficient than selenium, the most popular material, and created a 6 percent efficient power cell. They were expensive, but they began to be commercially available.
It wasn't until the 1970s, during an energy crisis, that the federal government put forth resources to improve the efficiency of solar cells and solar panels. It wanted to make solar cells affordable and efficient.
Since then, solar cells have increased in efficiency and are now highly efficient and affordable for all income ranges. Today's solar cells can better integrate with existing roofing materials, and there are even photovoltaic roofing tiles.
How Do Solar Panels Works?
When you place solar panels on your roof, you're placing individual solar cells. The sun emits photons, which are little packets of light. When they impact the solar panels, the silicon power cells react and create electricity.
Some homes use this immediate use only, but if you want consistent energy, then the electricity needs a place to be until use. Almost every home with solar panels has a battery that stores electricity. When you turn on a light, the electricity is pulled from the battery. Therefore, people can use solar power during the evening when the sun isn't out.
The battery stores the energy. Many people don't use only the solar panels for electricity but merge them with the commercial electrical grid in case the battery becomes drained. It is an excellent method of decreasing your energy cost and helping the environment.
Most commercial electrical companies use gas, coal, or nuclear plants to create electricity. These are not renewable and create pollution. Solar panels do not produce waste, and the power is in an endless supply.
Cost of Residential Solar Panels
You've decided that the benefits of solar panels are too great to ignore. You want to save money and be environmentally responsible, but what does the average solar panel cost? That depends on the area and the contractor.
According to the Center for Sustainable Energy, the cost of solar panels averages between $15,000 and $25,000. Many factors go into solar panel cost.
If you have an unusually shaped roof that is difficult to install the panels on, it increases the cost. The type of solar panel you choose also impacts the cost. Solar panels range from the bargain basement to the best efficiency.
Several types of solar panel systems, such as grid-tie, connect to the main grid. Grid-tie and energy storage to have backup power in case of an outage. You can also go completely off-grid and have only solar.
You also must consider the installer. An installer that specialized in solar panels may be more expensive but do it faster and better. A lower-cost installation can take longer.
The more solar panels you want also impact the cost not only because of the number of panels but also installation costs.  Now is the perfect time to invest in solar panels for your home. The cost of panels dropped considerably over the last decade. Are solar panels worth it? You bet they are.
Incentives for Solar Panels
With the cost of solar panels, you may think it's easier to stick with what you have, but that's not the case. The federal government provides extensive tax incentives to people who invest in solar power.
It understands the environmental impact commercial electrical providers have on the environment. The government invested billions of dollars in solar panel research. Over time, the solar panels pay for themselves because you save money on your electric bill. Depending on the size of the system, the cost savings could be massive.
Many solar panel providers and installers have incentives to help reduce the cost of the panels as well. Don't be afraid to shop around and find the best products and installers for your home. If the provider uses a specific brand, ask them why and ask if they are open to using other brands.
The Perfect Time for Solar
The cost of electricity rises year after year, and more people than ever seek alternatives to commercial electrical providers. The cost of residential solar panels doesn't compare to the savings over time and the impact on the environment.
More people install solar panels now than ever before, and you can be one of them. If you want to learn more about solar panels and the cost of solar panels, then explore our site.
You may also like: How Your Small Business Can Save Money with Solar Energy
Image source: Unsplash.com