Click here to get this post in PDF
Since the lockdown, Google searches have increased for all sorts of search terms: "sourdough bread", "yoga mat", "how to make McDonald's chicken nuggets" and "how to immigrate to …" Insert the dream destination.
A new report suggests the most popular destination for people looking to relocate abroad is Canada. A new study done by Remitly analyzed the search volume for phrases related to moving abroad and immigration in more than 100 countries.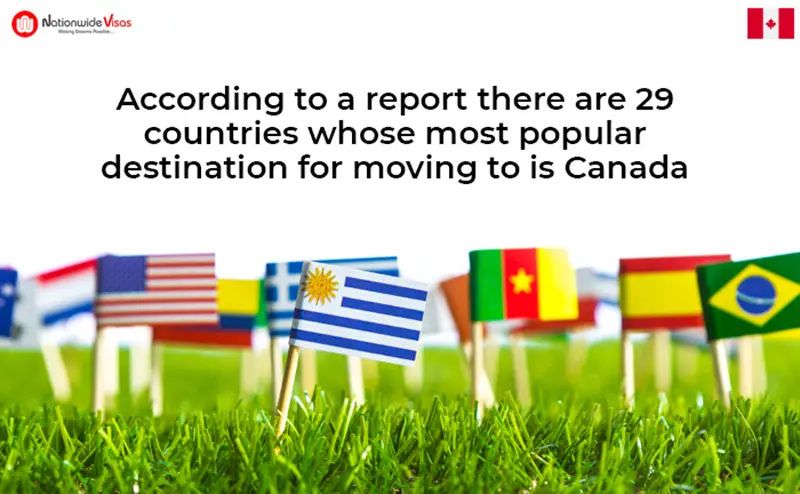 Canada tops the list with 29 countries seeking to immigrate to the North American nation. To put this in perspective, Japan was in second place with just 13 countries.
Spain came third, followed by Germany, Qatar, and Australia. The United States was ninth.
Canada with around 100 immigration pathways, free universal healthcare, and low unemployment rates, makes Canada popular among those who want to move abroad. After all, Canada is one of the most peaceful countries in the world according to the Global Peace Index, where Canada is ranked sixth.
Nations with the most number of immigrants coming to Canada
Countries in Asia that seem interested in moving to Canada are:
Azerbaijan
India
Pakistan
Qatar
It is perhaps not surprising that India is on the list. Indian nationals represent about a quarter of all immigrants in Canada.
Among European countries, the most popular destination was Germany, followed by Canada. The following nationalities are most interested in moving to Canada:
Belgium
France
Ireland
United Kingdom
Among North American countries, eight countries have shown interest in immigrating to Canada:
Antigua and Barbuda
Bahamas
Barbados
Belize
Dominican Republic
Grenada
Jamaica
Mexico
The continent that most wants to settle in Canada is Africa, with a total of 13 countries. Find them below:
Botswana
Ghana
Kenya
Madagascar
Mauritius
Namibia
Nigeria
Seychelles
South Africa
Tanzania
Tunisia
Zambia
Zimbabwe
Remitly used Google search data to find out the monthly search volume, across countries around the world, for terms that are likely to be used by those wishing to go abroad. For example, the terms "move to [destination]," work at [destination] and live at [destination] have been used. It is important to note that Remitly took into account search data in all languages.
The most searched destination was considered the most searched destination for that country.
Canada offers more than 100 different immigration programs and has invited record levels of successful immigrant applicants throughout the coronavirus pandemic to help its economic recovery from the pandemic. To help you choose the right immigration program best suited for you according to your credentials consult with a Canada PR consultant. With their experience in the various immigration programs they will assist you in each step of the process and make your decision to immigrate to Canada hassle free.
You may also like: Automation vs Immigration – Possible Solutions to the Skilled Labor Shortage