Click here to get this post in PDF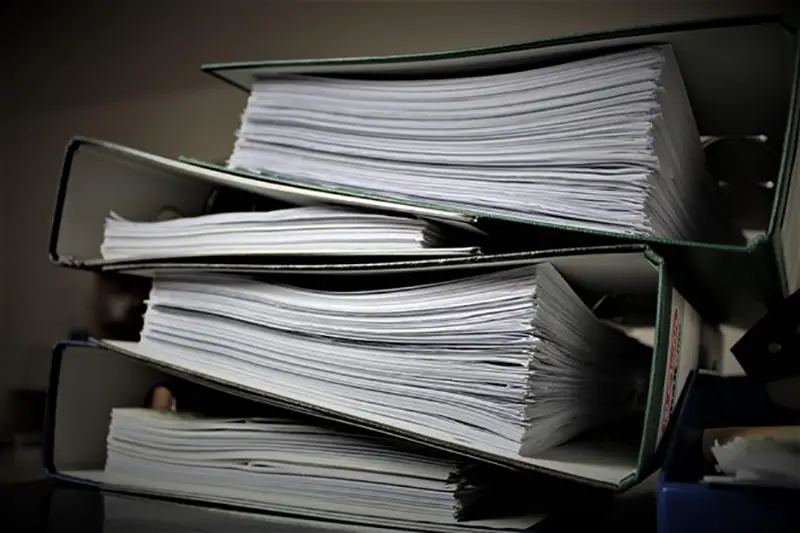 HR documents can take up a lot of space. And not only that, but they also contain sensitive information about employees that must be protected according to strict regulations and laws.
That's why many companies are jumping at the opportunity of transferring to an HR document management system on the cloud, where the documents can be much more secure and also much easier to access.
However, one of the most common dilemmas these companies is whether they should just give up all the documents to be outsourced off-site or have the entire large format document scanning process done in the office? 
Both of these approaches have their pros and cons, and thus making the right choice will largely depend on your priorities and individual situation.
With that in mind, let's explore the pros and cons of off-site HR document scanning so that you can make a more informed decision. 
Pros
Giving up all of your HR documents to a company to take off-site can seem stressful, but it does have some benefits that you should consider. 
Document Security
Scanning documents can be a chaotic process, especially if handled by people without experience in the process. The office can be a hectic place, with documents being taken and brought back to storage continually, and that's a recipe for disaster when you're trying to find a systematic way of digitizing the records.
With off-site scanning, the documents are handed over to a professional document scanning company that can securely transport them to their location and go through an organized and efficient digitization process. 
This way, you can be sure that the entirety of your documents will be scanned and that no vital records will get lost or misplaced during the digitization process.
Less Disruption 
Another benefit of using off-site document digitization is that it doesn't have to interfere with your company's day-to-day operations. 
Sure, using an off-site service means that you won't have access to HR documents, but it also means that your employees won't have to work around scanning services providers operating in the office and causing various delays. And if you try to tackle the site yourself, you would also have to assign people to oversee the scanning process, which is a disruption in itself.
Meanwhile, even though you will have to get by without HR documents for a few days while they are getting digitized, you will then gain access to a state-of-the-art document management system that will make many tasks in your workplace that much faster and more convenient. 
Reduced Costs
Finally, allowing the large format document scanning service to take the documents with them will usually result in lower costs. That's because they won't have to bring professional scanning equipment to your site and can instead transport the documents to their own location, which can be much easier.
If you're like most companies, you probably have many HR documents you need to have processed, so you might even be able to get a special deal that will cut down the costs even more. 
Cons
Even though off-site document scanning is an excellent option for most companies, it doesn't come without drawbacks. Let's look at a few of the biggest challenges you'll have to deal with if you choose this approach.
No Access to Documents
Most companies have a policy that if any documents are needed while they are in possession of the scanning company, they will locate the document, scan them, and provide them for download with a password protected link.
Therefore, you should talk with the services provider about the turnaround time and the best days for handling the project to minimize the disruption in your office. 
The good news is that once you get back the documents, you will also have a digital document management system that will make those same everyday tasks much more convenient.
The Verdict
It's clear that off-site document scanning offers numerous powerful advantages that are hard to ignore for any business. Stepping into the digital age and using a modern document management system can be a game-changer for how your company operates, allowing your employees to save time and also providing more security for your documents. 
Therefore, even though the few days you'll have to get by without HR documents might be a nuisance, the long-term advantages of off-site scanning make it an excellent choice in most situations.
Whether you're a small business or a larger company, having the freedom and increased office space that going paperless can offer is becoming a business necessity and not something that might be nice to have some time in the future. 
About the Author
Brandon Harris is the vice president of Smooth Solutions founded by his father Michael Harris, who has been a pioneer in the document scanning industry for over 35 years. A leading Document Scanning Company in Lodi, N.J., they are experts in providing bulk document digitization services, document management software, workflow management software, affordable book scanning services, ecm software, business record management and Convert Microfilm to Digital. They scan paper files, large format drawings, digitize books, convert microfilm to digital, etc. Prior to that, Brandon owned and operated a small bakery. Other than working to grow and improve his business, he enjoys spending time with his wife, daughter, and family.
You may also like: Understanding the Advantages of Using PDF for Business Documents