Click here to get this post in PDF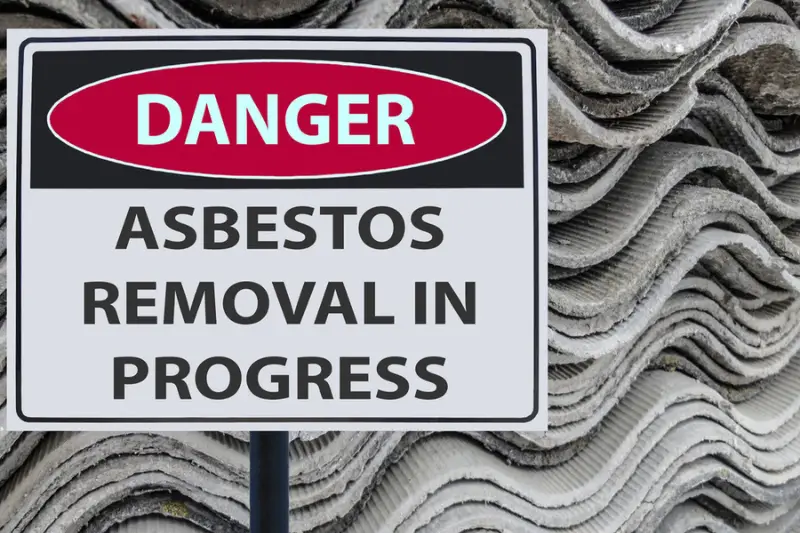 In an ever-evolving business landscape, staying informed about health and safety hazards is crucial. Among these, asbestos, a seemingly innocuous but potentially lethal material, stands out. Historically revered for its insulation and fire-resistant properties, asbestos is now known for its darker side—its ability to cause serious health issues. This introduction to the world of asbestos underlines why businesses, especially those involved in construction and renovation, must not only be aware of its dangers but also actively seek knowledge through.
Understanding Asbestos: Historical Use and Present Dangers
The history of asbestos use is a complex narrative of industrial advancement and subsequent public health awakening. Originally hailed for its heat resistance, strength, and insulating properties, asbestos was widely used in construction, automotive, and other industries. This extensive use turned ominous as its health risks became evident. The same fibrous structure that made asbestos an excellent insulator also made it a deadly carcinogen. Today's understanding starkly contrasts its initial reception, recognizing asbestos as a significant health hazard, leading to strict regulations in its use and handling.
Health Implications: Recognizing the Silent Killer
Asbestos exposure is linked to severe health risks, some of which manifest decades after exposure. Key among these are asbestosis, a chronic lung condition, lung cancer, and mesothelioma, a rare and aggressive cancer primarily affecting the lining of the lungs. The latency period of these conditions can be extensive, often leading to diagnoses at advanced stages. This delayed onset underscores the importance of early detection, prevention, and awareness of asbestos exposure risks.
Legal and Ethical Responsibilities in Asbestos Management
Businesses face substantial legal and ethical responsibilities regarding asbestos management. Legally, there are stringent workplace safety laws and regulations aimed at protecting employees from asbestos exposure. Ethically, businesses hold a duty of care to ensure the safety of their employees, customers, and the general public. Compliance with these laws is not just a legal obligation but a moral imperative to prevent health risks associated with asbestos.
Identifying Asbestos in the Workplace: A Crucial Skill
Identifying asbestos, particularly in older buildings, is a critical skill for ensuring workplace safety. Asbestos can exist in various forms and locations, from insulation and ceiling tiles to flooring and pipe coverings. Recognizing these different forms and potential asbestos-containing areas is vital for implementing effective safety measures.
Risk Assessment and Asbestos Surveys
Conducting asbestos surveys and risk assessments is essential in managing asbestos risks. These surveys help identify the presence, type, and condition of asbestos within premises. Understanding these factors is crucial for devising appropriate management or removal strategies and ensuring compliance with safety regulations.
Safe Handling and Asbestos Removal Techniques
Handling and removing asbestos requires specialized techniques and strict adherence to safety procedures. This includes proper protective equipment, containment measures to prevent fibre dispersion, and methods for safe disposal. These guidelines are vital for minimizing health risks and ensuring safety during asbestos removal processes.
Training and Awareness: Empowering Your Workforce
Employee training in asbestos awareness is a key aspect of workplace safety. Such training should cover identification, risk assessment, and appropriate response procedures. An informed workforce is an empowered one, capable of contributing significantly to maintaining a safe work environment.
Asbestos Waste Management: Procedures and Regulations
Proper asbestos waste management is critical for environmental and public health. This includes understanding the legal requirements for asbestos disposal, following strict protocols, and considering environmental impacts. Adherence to these guidelines ensures safe and responsible disposal of asbestos materials.
Financial Impact of Asbestos Mismanagement
The financial repercussions of asbestos mismanagement can be significant. This includes legal fines, costs associated with healthcare for affected individuals, and potential damage to a business's reputation. Understanding these financial risks underscores the importance of proper asbestos management.
The Role of Asbestos Awareness Courses in Business Safety Strategy
Asbestos awareness courses play a crucial role in a comprehensive business safety strategy. These courses, such as those offered by Commodious, provide essential knowledge for compliance and safety. They equip businesses with the information needed to manage asbestos risks effectively.
Future Perspectives: Moving Towards Asbestos-Free Environments
The movement towards asbestos-free environments is an ongoing global effort. This includes advancements in alternative, safer building materials and advocating for better construction practices. Businesses have a significant role in this transition, contributing to a future where asbestos-related health risks are a thing of the past.
The presence of asbestos in the workplace is a silent but significant threat. It becomes airborne during activities like cutting, drilling, or sanding, posing a health risk to anyone in the vicinity. Prolonged exposure can lead to serious diseases such as asbestosis, lung cancer, and mesothelioma, often manifesting years after exposure. The latency of these conditions adds to the complexity, making early education and prevention strategies paramount.
For businesses, the stakes are high. Not only is there a moral obligation to protect employees and clients, but there's also a legal one. Regulations mandate asbestos management in workplaces, and failure to comply can result in hefty fines and legal repercussions. However, beyond compliance, understanding asbestos is about cultivating a culture of safety and responsibility.
Investing in employee training, such as the asbestos awareness course offered by Commodious, equips staff with the knowledge to identify and handle asbestos safely. This education is not just about compliance; it's about empowering employees to make informed decisions, fostering a safe working environment. Courses cover identification, risks, legal obligations, and proper response protocols, forming a comprehensive approach to asbestos management.
In conclusion, asbestos remains a lurking danger in many buildings, a legacy of its past popularity in construction. The health risks associated with asbestos exposure are grave and often delayed, making awareness and preventive action crucial. For businesses, the implications extend beyond health; they encompass legal, financial, and ethical dimensions.
Understanding and managing asbestos is not just a regulatory requirement; it's a fundamental aspect of workplace safety and ethical responsibility. Courses offered by institutions like Commodious provide an accessible and efficient way to acquire this knowledge, enabling businesses to navigate the complexities of asbestos management effectively.
In the journey towards safer work environments, knowledge is a powerful tool. By embracing training and awareness, businesses can protect their employees, clients, and themselves from the hidden dangers of asbestos. It's an investment in safety, health, and the future—a commitment to fostering asbestos-free environments and upholding the highest standards of workplace safety.
You may also like: Top Tips For Safety In Hazardous Work Environments
Image source: Depositphotos.com