Click here to get this post in PDF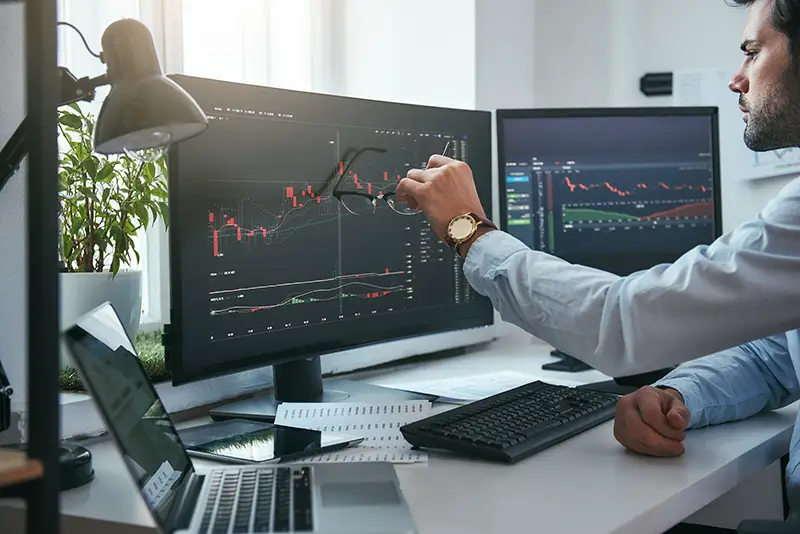 TradingView is a market leader in trading charts with a network of over 30 million traders and investors. Trading charts provide a detailed and real-time stock market analysis that can help you identify the right entry and exit positions in a trade. 
TradingView can open up a world of potentially profitable trading opportunities. The pro plan of TradingView can cost around Rs 12,000 per year. While a free version is available that lets you trade on TradingView Charts for free, there are certain limitations. Also,  TradingView Pro provides more functionality compared to its free version.
However, what if we told you that you can get full functionality for free? Read on to discover how to get TradingView free and use it for online trading.
Can You Get TradingView Free?
The answer is yes! You can access the advanced charting features of TradingView for free by signing up with a reputed web trading platform. Dhan provides a dedicated TradingView interface for free. 
You can trade across multiple exchanges and segments, such as equities, currency, F&O and commodities, using various parameters on TradingView with Dhan. Sounds good? Let us now discuss how to trade on TradingView charts for free.
How to do Online Trading with TradingView for Free?
Trading on charts is effortless with TradingView. The best part? You can connect with hundreds of investors and traders on the network. Follow the simple steps below to start trading with TradingView for free.
1. Open a Trading Account
This is an essential requirement for accessing TradingView for free. Web trading platforms partner with TradingView to provide its features for free to its users. Dhan enables a quick and easy account creation process along with effortless TradingView integration.
2. Create a TradingView Account
Once your trading account is verified, you now need to create an account with TradingView. Go to their website and choose 'Get Started'. You will get a signup screen where you can use your Google or Facebook account to register. Go through the signup process and verify your account.
3. Choose Your Broker on TradingView
After both your accounts are verified, you need to connect your trading account with TradingView. Head over to your TradingView account and navigate to 'Charts'. Then click on 'Trading Panels' and choose the name of your trading platform, for example, Dhan. 
4. Authorize Connection
After you initiate the connection of your TradingView panel to your trading account, you will be asked to log in with your trading account. You can also scan the QR code to log in with your trading platform's mobile app. Once the connection is authorized, you are all set!
5. Start Trading!
Trade directly from charts across exchanges and segments, place basket orders, set alerts, create and test trading strategies, and access real-time data analysis from TradingView. All you need is to open an account with a trading platform like Dhan. You can also chat with other traders and investors to discover new functionalities or seek help. 
Conclusion
If you are a new-age trader, you might want to try trading on charts. TradingView charts provide real-time stock market data analysis to help you discover potentially profitable trade opportunities. By signing up with an online stock trading platform like Dhan, you can access TradingView free. Just follow these steps and start trading smartly!
Disclaimer: This article is not intended to be a recommendation. The author is not responsible for any resulting actions of the company during your trading/investing experience.
You may also like: 3 Most Basic Concepts Of Online Currency Trading
Image source: Depositphotos.com