Click here to get this post in PDF
In 2020 video interviews have become the new face of recruitment, and undoubtedly will be a growing trend for 2021 – but how do video interviews hold up when compared to traditional face-to-face sessions?
According to researchers from Missouri University of Science and Technology it turns out video interviewing can put you at a disadvantage. The researchers analysed 21 job interviews involving 84 participants. The results showed large differences and revealed how candidates were perceived, with the same candidates rated much lower in virtual interviews than when interviewed in-person.
Per CNBC, since the start of the COVID-19 pandemic, as many as 8 out of 10 recruiters have turned to video conferencing to screen and interview job candidates and are now making it a key part of the hiring process.
With this data in mind, job applicants may wonder how to master video interviews!
PREPARE!
Preparation is almost the same as if you were going to a face to face interview, but there is some preparation that very few people do. This preperation is perhaps even more critical considering the research of Missouri University.
WHAT ARE THE VALUES OF THE ORGANISATION?
Scour the internet or even pretend to be a customer. This will give you some insight into the company's beliefs.
WHO IS INTERVIEWING YOU?
Know who you are going to meet! It really makes an impact during your interview and can help you feel more confident about the interview overall.
REVIEW THE JOB DESCRIPTION!
Read between the lines of their job postings. As a potential employee, you need to understand the type of work you would be doing once hired.
WHAT'S THE WORST QUESTION THEY COULD ASK YOU?
There is probably something you would rather not talk about. Be prepared for a question about it.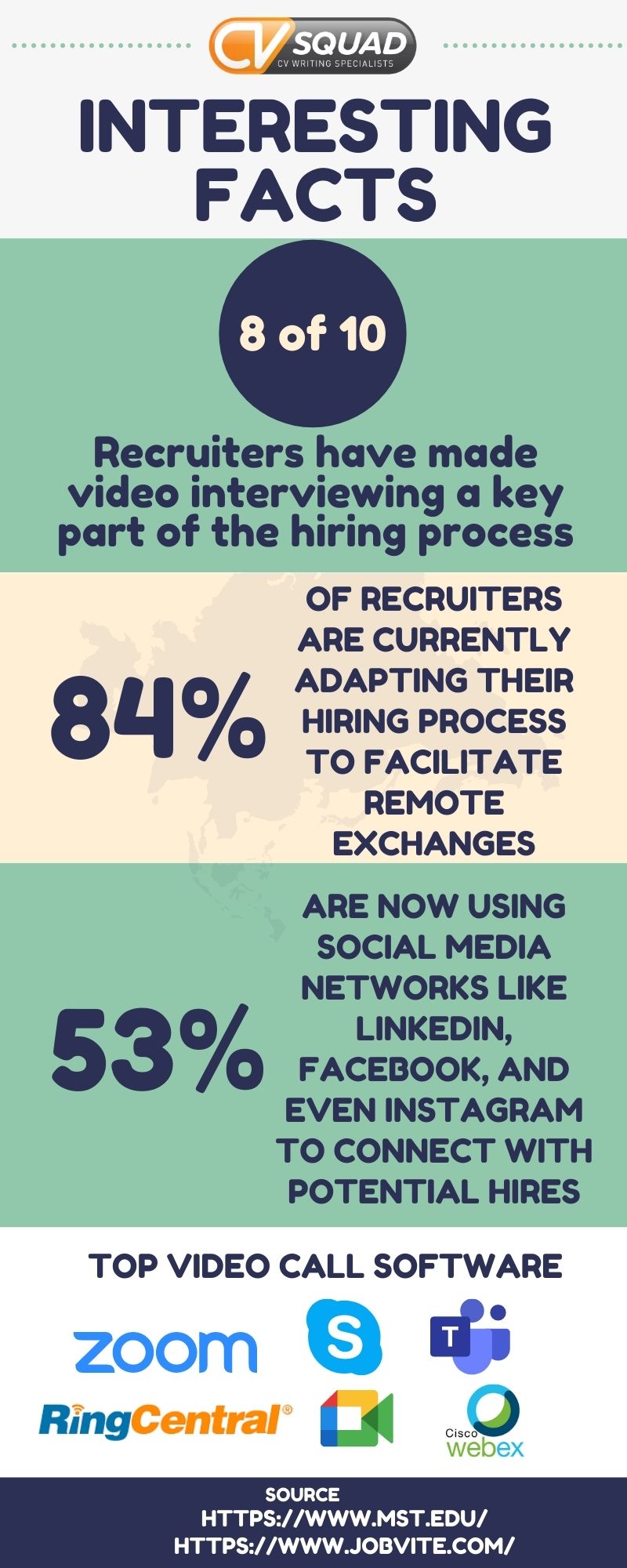 TOP TIPS TO MASTER YOUR VIDEO INTERVIEW
1. CONNECTION
Find a quiet place with a good WiFi signal. You'll sound better if you take a call in a quiet place. Also, keep in mind that your headphones might have a better microphone than your computer. Most video conferencing apps have a tool in their settings for testing sound.
2. SET UP A PROFESSIONAL BACKGROUND
The goal of all interviewers is to find a reason to cut you from consideration. Don't let what the interviewer sees in the background cause them to not see your skills and talents. If you will be interviewing from your home office, make sure the wall or bookshelf behind you is decorated appropriately. If you don't have a home office, set up an area in your home with a professional background for video conference calls or Skype/Zoom interviews. To create a professional background, find a blank wall in your home that you can put a chair and a small table in front of. Alternatively use a Virtual Background.
3. DRESS FOR SUCCESS
Sure, no one will know if you are wearing pyjama pants, but we strongly encourage you to dress professionally during video interviews – as you would if you were meeting at someone's office. Research the company's dress code and choose clothes that make you feel comfortable and confident. Preferably solid colors, nothing bright or striped.
4. GET READY
Silence your phone and place everything you need for example paper, a pen, your CV and job spec and glass of water within reach.
5. KNOW WHERE TO LOOK
One of the most challenging things about a video conference call interview is knowing where to look. If you look at the person you are talking to then the camera doesn't capture your eye contact. If you look into the camera, you don't get to see the interviewer's body language or facial reactions. We recommend looking into the camera when you are talking and looking at the screen for clues about how the interview is going while the interviewer is speaking.
6. WALK THE TALK
Make sure your actions are consistent with your words. You will be judged as much by what you do as what you say, so if you are claiming that you are a great listener, make sure to listen.
7. PRACTICE PRACTICE PRACTICE
Finally, practice using your webcam and make sure the video conference call app is working. Practice asking some of the questions you have prepared while looking into the camera. Before you interview, you should be at ease logging into your video app. Test it with a friend or family member and ask what they can see in the background – make sure it's not a pile of dirty laundry! Practice your interview ahead of time so you can make yourself a list of necessary reminders.
WHAT ELSE?
If your interview is on Zoom or another video conference call provider, make sure you have downloaded their app and any updates before your interview. If you're using Skype or Google Hangouts, make sure your username is appropriate.
Join the meeting ahead of time, especially if you're using an unfamiliar platform.
The great thing about virtual interviews is that you can have your own secret sheet of notes and questions to refer to during the call.
The Recruitment Team at The CV Squad knows preparing for an interview can be daunting. The day of the actual interview you will be nervous – nerves are good! They prove you are truly interested in the job. The key is to prepare, test and practice, practice, practice. Don't be disappointed or demotivated should you not secure the job. Take it as a test and realise next time you will know what to expect and will be more confident.
You may also like: Most In-Demand Skills in Tech