Click here to get this post in PDF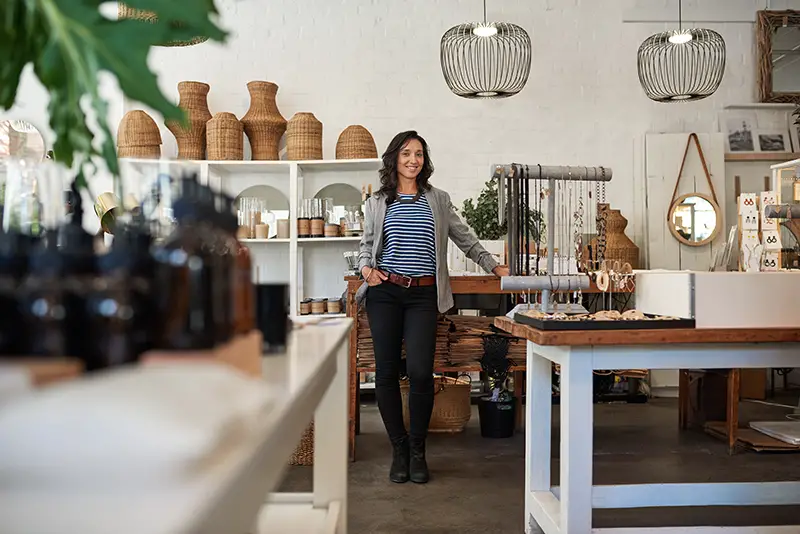 Introduction
You've opened a brick-and-mortar store! Congratulations on taking this step. Now, you're probably excited to get started on your new business and start selling your product or service. But before you dive in, there are some things you need to consider that will make your experience as smooth as possible.
Location
Location is the first thing you should consider when opening a brick-and-mortar store. Luckily for you, some basic guidelines can help you find the right spot.
The location should be accessible to customers: When choosing a space for your business, think about where your customers live and work. The closer it is to them and their homes/jobs, the more likely they are going to come to see you! If possible, find a place where people travel through often or live nearby.
The location should be easy to find: Your business needs visibility so that it's easily found by potential customers who may pass by and notice something interesting about what it offers (or even just walking down an interesting street). If possible, try placing yourself near landmarks like parks or other attractions—people will likely walk past these places anyway on their way home from work/school, so why not capitalize on proximity? Or maybe plant yourself somewhere unique like at one end of town rather than another… this way, people have no choice but to stop by!
Leasing terms
You should also be aware of the terms of your lease. You don't want to sign a lease that's too expensive or too restrictive. If you're not sure what's included in the rent or if it includes utilities and taxes, ask! Don't be afraid to negotiate with your landlord.
If you feel like some clauses in your lease aren't fair or don't benefit you as much as they should, don't be afraid to ask for changes! Remember: this is about building a mutually beneficial relationship between both parties involved—you are not just leasing space from someone but allying with them so both parties can benefit from one another.
Finally, ensure there is enough time before opening day so everything goes smoothly (and without any last-minute hiccups).
Get the Property
You may have found a great location, but make sure it is the right one. Here are some tips to consider:
Location is critical – Ideally, you want customers to be able to find you easily when they are looking for your product or service. You also want your location to help set the tone for how people perceive your brand and business. Your storefront will help put prospective clients at ease before they walk in, so think about its appearance from an aesthetic and functional standpoint (e.g., what does this place say about my brand?). If you need help finding space, ask friends or hire property management companies.
Make sure it has everything you need – The property should have all essentials: power outlets, Wi-Fi access points/devices/signal boosters (if needed), bathrooms with running water (and soap!), fire extinguishers within reach at all times… you get the idea!
Signage
Signage is one of the most important parts of a store. No matter what kind of shop you're opening, it's vital to make sure that your signage is visually appealing and easy to read from a distance. You want people to notice your storefront right away and come inside.
Your sign from an electronic message center builder should be consistent with the branding of your business. This will help customers recognize you as an established brand and know what they can expect when they visit your shop. In addition, if someone walks into a store and sees a logo they recognize from another location, they'll feel more confident that they'll get good service there too.
Signs should also be readable at distances where passing traffic can see them easily without having to stop or turn around — usually 50 feet (15 meters) or more away for public areas like sidewalks or parking lots; 30 feet (10 meters) for private property such as road crossings; 25 feet (7 meters) for alleys or doorways etc.
Custom Window Decals
A custom window decal is a great way to advertise your business. You can design them yourself or have them created for you. If you don't have the time or resources, many online companies will do it for you. They're easy to apply and can be removed without damaging the glass.
Decals are also a great way to add color and style to the windows of your store. This is especially important if you have an old building with plain-looking windows, which could make it seem uninviting to potential customers passing by on the street below. Customizing your storefront helps create an identity for your business as well as make it stand out among competitors in the area, who may also use this strategy with their window decals or signage designs.
Parking
Parking is a major factor in customer satisfaction. There's nothing more frustrating than driving around the block looking for a parking space, only to find out that there aren't any left.
Make sure you have enough parking before opening your store and make sure it's well-lit, safe, convenient, and affordable. If you're going to be located in an area that attracts tourists or local shoppers who may not know their way around town, as well as residents, do make sure your customer parking is close by so they don't get frustrated trying to find their vehicle after making a purchase or browsing your store for an hour or two.
Don't forget about online!
It's important to remember that while your brick-and-mortar store is a great way to get people into your store, it shouldn't be the only way you market yourself. You should also be focusing on building an online presence via websites like Facebook, Instagram, and Twitter. This can help you grow your brand by getting the word out about specials or events at the store. It can also help with marketing for current or future products that you may sell in the store. We're sure there are plenty of other ways having an online presence will come in handy too!
Install Equipment and Appliances
You're about to open your brick-and-mortar store, and you have a ton of equipment and appliances to install, like this aircon installation. You're excited, but make sure you have a backup plan for when things go wrong. You may be tempted to jump into the installation process headfirst, but take some time out first and ensure that you have the right equipment and appliances before installing them.
Make sure there is enough space in your store for all of your appliances, so they don't get in each other's way (especially during busy periods). Also, ensure enough power is available before installing any electrical devices, such as refrigerators or microwaves, because these can be very heavy devices if not installed correctly.
Keep a budget
Before you even start thinking about opening a brick-and-mortar store, it's important to create a budget. This will help you plan out the costs of everything from furniture to inventory. The budget should include:
Lease/rental fees
Construction costs (if applicable)
Inventory costs (if applicable)
Install Lamps & Lighting Fixtures
Lighting is an easy way to set the mood in your store. You can find lamps and lighting fixtures at many places like these electrical companies in Auckland, but you can also find them online. Before purchasing any lighting fixtures, make sure you know what kind of light you want.
Staffing
Hiring the right people using an applicant tracking system (ats) is something you'll have to consider from the very beginning. You need to make sure that your staff members are well-suited for their positions and will be able to work well with each other as well as your customers.
Hiring the right person for the job: This should be a no-brainer, but it's important to remember that not everyone can do every job equally well. When looking at resumes, consider what type of background someone has about what you need them to do in their position. For example, if you're hiring an assistant manager and they've only worked as a waiter before, they may not be qualified enough for such responsibility and possibly wouldn't appreciate being given more responsibilities than what they're used to or comfortable with handling on their own yet anyways; instead focus on hiring someone whose resume shows experience working in management positions so that they can step into this role seamlessly when needed. 
Hiring based on culture fit: Every business has its own unique culture – whether intentional or not – so ensure that new hires match up accordingly before bringing them aboard. 
Hiring based on budget: Starting small doesn't mean needing small talent! There's no reason why high-quality workers shouldn't come at affordable prices, too; just keep an eye out for good deals on reputable sites like Upwork.  
Finding candidates near your location: If possible, try searching locally first – doing so may save time (and gas money) when going out of town isn't feasible due to either personal reasons (e.g., family obligations) or financial reasons.
Take your time creating a space you love
The first step is to take your time. You want to create a space that you love and that fits your brand, so it's important to stop and think about what will make the store feel like home.
Let's start with some general guidelines for creating an inviting environment:
Open up! Customers will want to see them in all their glory if you're trying to sell products. So make sure you have ample windows or glass doors so they can see all of the amazing products inside your store (or even just look at the shelves from outside).
Be careful with colors! Bright reds and yellows are more likely than other colors to attract attention—but be cautious about this effect if you aren't selling food items or other things that might naturally draw people in (like bright yellow bananas).
When starting a brick-and-mortar store, don't rush the process.
When starting a brick-and-mortar store, don't rush the process. Don't forget about online. Don't forget about the budget. Don't forget about the staff. Don't forget about the equipment. Don't forget about signage or lease terms, either!
Conclusion
If you're just starting, it can seem like a million things need to be done before you open your doors. But if you take the time to do things right and look at them from all angles, everything else will fall into place. Remember that this is your dream, and it will be worth every second of hard work!
You may also like: Top 9 Tips for Opening a Successful Store
Image source: Shutterstock.com