Click here to get this post in PDF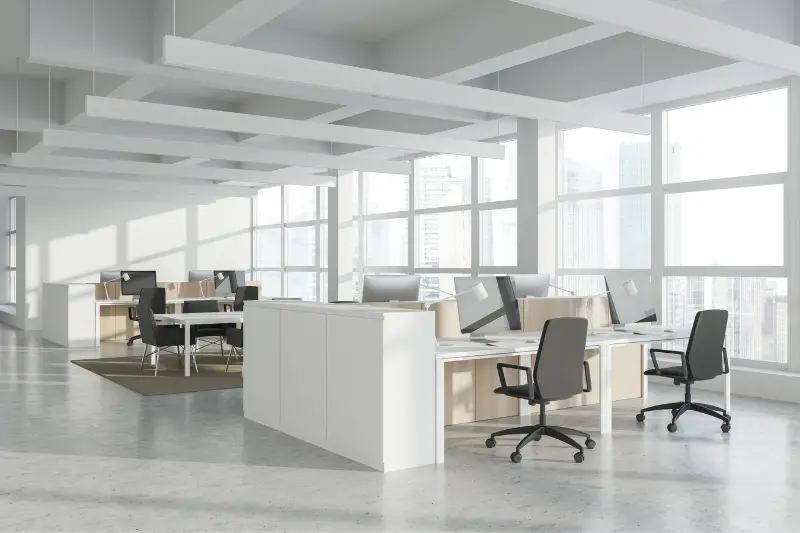 Setting up a new office or relocating to a larger one requires a lot of intricate planning and painstaking execution. 
Choosing how to create and organize the working atmosphere for your business is a critical responsibility. It impacts your daily operations and employee morale along with your brand image. 
So, when setting up your physical office, try to move forward with the following tips to make your efforts and business successful.
1. Creating a Checklist 
Setting up your office properly takes time and effort. Like any venture, it can be made less painful by doing more planning upfront. This is where a checklist can be useful.
You need to create a list of everything your business requires to operate before looking for an office space. For instance, desks, mesh office chairs, computer hardware, as well as basic amenities like an Internet connection. 
Having a thorough understanding of your company's needs can help you select the ideal office location and size for yourself and your coworkers. 
Moreover, think about the additional services and equipment your office might need. For instance, you may need to set up a service to answer the phone, an alarm system, or even smart cards for the employees. 
Check all businesses near me to get more ideas for setting up an ideal office. Depending on your business strategy and the location of your office, many of these ideas can be optional. After making a list of the requirements, move forward with the following steps.
2. Determining the Space
Before leasing or purchasing a facility, carefully assess your demands. Take your time to carefully consider your space requirements.
When determining your requirements, know how many employees you have, what functionality you are expecting, and if you are willing to let the customers visit your business place. 
You also need to make sure that the place is big enough for your business to grow in the future. Be sure about your budget and the duration of the lease before signing.
3. Choosing the Location
When your customers are sure to visit your physical office, it will be wise for you to examine your target market. You need to make sure that your clients can reach you whenever they want.
You need to think about this if you have to be near your suppliers. Even if it is not crucial, you might think about your current staff and how your selection would impact their travel times and whether they will have enough parking space.
Additionally, it makes sense to carefully consider the neighborhood in which the office is located to make sure that the community can be helpful to your business rather than a hindrance. 
You need to know the details such as nearby restaurants that your staff can go to for lunch, the safety of the neighborhood, and so on. These all inquiries will help you to pick the best location where you can run your business smoothly.
4. Determining the Budget
When selecting a new office, the most essential consideration for most firms is undoubtedly price. 
If you don't spend enough, you'll either have an unsatisfactory office space and you might want to move out within a few months. 
If you overspend, you can find it difficult to pay monthly rent or wind up having to downsize and relocate again. You do not want to be in both of those situations as they are not ideal.
When you are considering the amount to spend on your office space make sure to:
Know if you can currently afford to put down a three-month rent payment for this office or not. 
Inquire if there are any unstated fees. 
Look out if the cost of this office is similar to the nearby office buildings.
The first one will give you a very general idea of your ability to pay and finding out about any hidden fees will help you avoid getting hit with bills you weren't prepared for. 
Simply make sure you're getting the greatest bargain possible with the third one. Always make a fast comparison with nearby office buildings to ensure you are getting a good deal.
5. Choosing the Right Size
It goes without saying that location and cost will have an impact on the size of your office space, but it is still vital to note. It is typically advised to have seventy square feet for each person as a very basic rule of thumb. 
But as you are more knowledgeable in your industry, increase this number as necessary, for instance, if your staff want larger desks or more storage space.
The issue of meetings and rest areas is another factor to consider. Your colleagues need a place to eat lunch, and you need a place to meet with clients. 
Here are a few straightforward inquiries to determine whether the offices you're considering are the appropriate size:
Will each person have a minimum of 70 sq ft of floor space?
Do you have a special place set aside for client and customer meetings?
Do you have enough room to increase workforce levels to match growth expectations?
Will your staff enjoy their social and recreational spaces?
Try not to compromise on floor space because a crowded office undoubtedly lowers productivity.
6. Incorporating the Brand Identity
While looking for new workplaces, this is commonly at the very back of people's minds. But you must make your business more attractive if your company aspires to establish a "brand" or wishes to safeguard its reputation from the outset. Your office can be a great branding tool if you style it like one.
You need to know the answers to the following questions in order to make the right decision:
What other companies are there in that neighborhood? Does it fit the niche that I'm in?
Can this office enable you to brand or modify your workspace without paying extra?
Would you be pleased to share images of this office's interior on your website?
Explore other options in case you respond "no" to these inquiries.
Even simple tasks like repainting or decorating as per your brand image come with additional charges in certain locations. Make sure you know where you stand beforehand. Your brand's image won't benefit from a bare office! 
The office you select will be representing your startup. When visitors enter, they need to immediately think of your business. 
For instance, you wouldn't want a physical office that is stuck in the 1980s if your business is a youthful, cutting-edge digital company. You need to make sure your physical office fits with the type of corporate culture you are willing to establish before setting it up.
7. Determining the Infrastructure
For certain businesses, this function is more crucial than others. Nowadays, it might be rare to find a business that can operate well without a steady internet connection. 
Internet connectivity is frequently included in the rent of some offices, especially serviced or managed offices. However, if you're renting a private space, you might also need to consider the cost of setting up a connection and the monthly access fees.
It also matters how good the service is and how reliable it is. You do not want to pay for a service that keeps breaking down when there are a lot of people using it at once.
Infrastructure can be more than just the internet as well. What about mail delivery and phone service? 
Since mobile phones are so common these days, you might not care about the latter as much, but you still need postal services for several physical items including signed documents.
Here are some questions to ask to make sure that the facilities in the new office will be good:
Have you taken into account the cost of internet access when figuring out how much the space will cost you?
Does your new office have a specific address for sending mail?
Is building inspection possible? For instance, can you talk to other companies in the building to find out what they think of the building's infrastructure? 
Can you ask the landlord to test the speed of the Internet service provider to make sure it is doing a good job?
Final Words
When setting up your physical office for your business, be honest about your demands. Make sure you clearly understand what you want. You need to know how it is related to your spending plan as well.
Your workplace environment can affect staff productivity and convey a great deal about your organization to the clients. To ensure that your firm has a long-term future, do the legwork required to secure the best possible office space within your budget. 
Best of luck!
You may also like: A Guide to Choosing Windows and Doors for Your Office Space
Image source: Shutterstock.com