Click here to get this post in PDF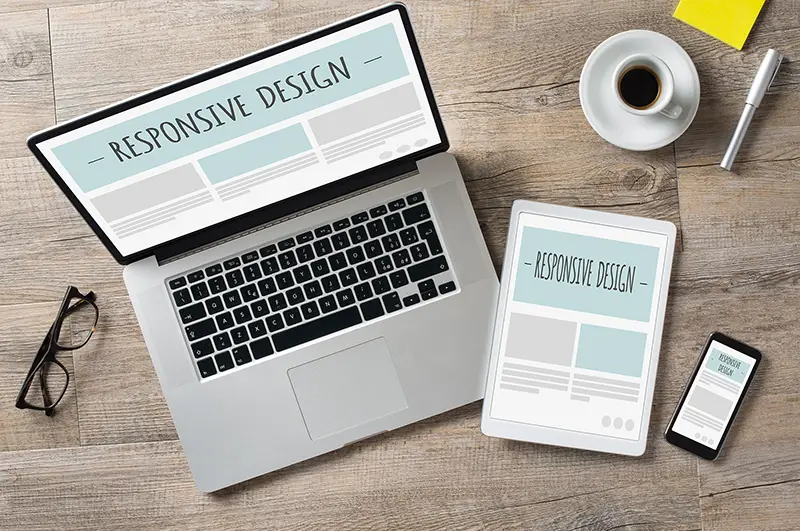 Creating a successful, well-optimised website isn't as simple today as it used to be. You need to consider all the different devices people use to browse the internet to cast a wider net and garner more traffic. With approximately 60% of organic search engine visits coming on mobile devices, you cannot ignore the wishes of mobile users anymore. While creating a separate mobile version of your website does the job, it can wreak havoc on your SEO and lead to technical issues down the road. A better way is to have a single flexible web design layout that adjusts based on the screen size you're using to view the page.
Responsive websites work seamlessly on desktop screens, laptops, smartphones and tablets, offering a horde of benefits to marketers, especially SEO professionals. Responsiveness makes your site mobile-friendly, enhances the appearance of your web pages on all screens, increases the time visitors spend on your site and improves your rankings in search engines. Here are the top 6 SEO benefits of implementing a fully responsive website.
Google Prioritises Mobile-First
Google keeps users happy by serving them the most relevant content that they will be interested in. For years, Google has adopted a mobile-first approach, prioritising websites that deliver a seamless user experience across every screen size, when indexing and ranking sites. Mobile responsiveness has become an important ranking signal with the number of users searching from mobile devices surpassing desktop users every day. This means that Google will give you a fairly significant rankings boost just for having a mobile-friendly and responsive site that offers a positive experience to users. Since businesses rely heavily on Google to drive their lead generation efforts, you have to make sure your site is optimised for quality placement in search engines.
Faster Load Speed
Mobile visitors are usually impatient, so much so that 53% of mobile users will bounce off a page that fails to load in three seconds. It doesn't come as a surprise that page load speed greatly affects your user experience, SEO and search engine ranking. A responsive website does not need to redirect users to the mobile version of the site or condense big files to fit on the smaller screens, significantly minimising the load time. In a mobile-centric world, you need to cater to your mobile users' needs, expectations, and demands to garner more traffic and conversions on your website. This is why your website should be optimised to load quickly and without hiccups on both mobile and desktop devices.
Lower Bounce Rate
A high bounce rate means visitors immediately leave your website without exploring it. Perhaps the users couldn't find what they came for; it could be that your website navigation is confusing; maybe your website failed to deliver a pleasant user experience, or maybe your site was too slow to load. When visitors search on the go, they want quick answers and don't have time to wait. A high bounce rate will result in a drop in ranking since google will attribute less user interaction to a bad design or irrelevant content. Since a responsive website offers the best user experience for your users and makes them stick around for a more extended period and explore different areas of your site, it automatically reduces the bounce rate.
Avoid Content Duplication
In a bid to be mobile-friendly, some businesses have a separate website—with the exact same content—for mobile visitors, but this leads to another issue: duplicate content. This is because when similar content appears on more than one URL, it can be construed by Google as an attempt to skew search results. Similarly, due to duplicate content on two sites, Google bots fail to determine which version to index or rank for a particular query or whether to allow one version to absorb all link metrics or to keep them separate. Due to Google penalties, duplicate content wreaks havoc on your ranking. On the other hand, with a responsive site, there is a single, mobile-responsive version of your website, which reduces the possibility of content duplication.
Higher Social Sharing
While social media doesn't affect your SERP ranking, it does complement your SEO efforts. Since users love sharing content, they like with their friends and family, having a responsive website instantly makes it easy for users to interact with your site and enhances the overall user experience. No matter how great your website content is, it is useless unless people can easily access it and have a positive experience reading it. Since mobile devices account for 80% of the entire social media activity, you have to consider this factor when devising social media strategies. For example, imagine that a desktop user loves an article piece and shares the link with a mobile user. Imagine their disappointment if the recipient opens the link, and your website is unresponsive. In addition to improving your website's design, usability and accessibility, being responsive also mean in-built social sharing capabilities to ensure users share your content far and wide. The higher your social shares, the more traffic your content generates, and the more comprehensive your reach.
Better Backlinking Profile
When an authoritative website creates backlinks to your website, it proves that your content is worthy, relevant, and provides value to others. Since a responsive site has a single URL for each page, any link to your original site is automatically a link to your mobile site as well, thereby strengthening your backlink profile for both mobile and desktop. On the other hand, if you design a separate mobile site, it will have significantly fewer backlinks due to being a new site and will subsequently fail to rank on mobile searches. Considering that 46% of companies will spend $10,000 for SEO link building, why would you want to waste link juice by having two separate sites? A responsive website will contain all the backlinks of your original site, helping you outbid competition in mobile searches. 
Easier to Navigate
Responsive web design makes your website load quicker, more accessible, and easier to navigate. When users have an easier time navigating through your website, it typically increases the time they spend on your website. Therefore, websites where users spend more time are favoured by Google, which benefits your SEO tremendously.
You may also like: Ways to Improve Your Website's Ranking on the SERP
Image source: Shutterstock.com