Click here to get this post in PDF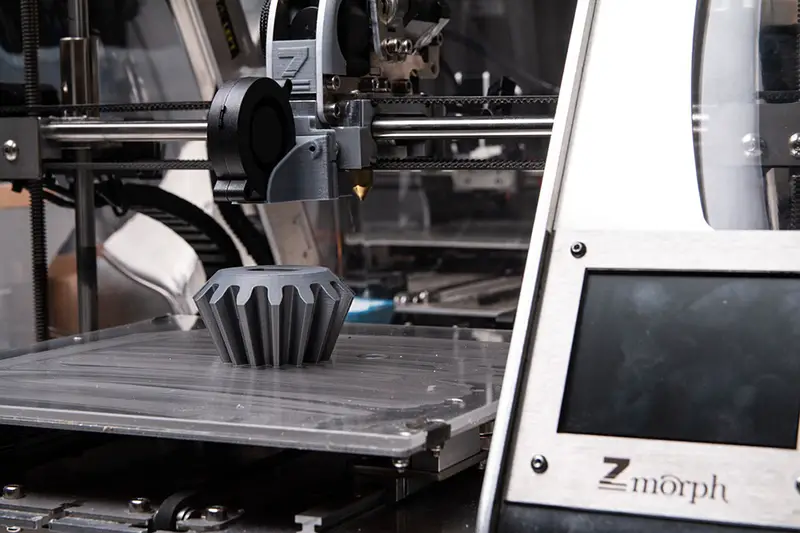 The automotive industry is constantly evolving, and many companies use 3D printing to make car parts faster. The automotive 3D printing market is expected to grow to $7.9 billion by 2027, at a CAGR of 21.7%, from $2.9 billion in 2022. Although this technology has been around for a while, it's only recently become popular with auto manufacturers as they try to stay competitive in the market. Here are some of the top automotive companies using 3D printing:
Koenigsegg
The Swedish manufacturer Koenigsegg is the leader in automotive 3D printing. It's helping to innovate the way we think about car parts and manufacturing, but it's also leading the way in giving us a glimpse into what the future may hold for this technology.
Koenigsegg is 3D printing multiple materials and using various processes to 3D print car parts, including aluminum, titanium, and carbon fiber, as well as resin-based materials. The company has been using additive manufacturing since 2011. While they are still relatively new to this technique (compared with companies such as BMW), Koenigsegg is setting an excellent standard for other automakers who want to integrate additive manufacturing into their operations or create lines of vehicles that incorporate 3D printed components.
BMW
BMW is one of the largest automotive companies in the world, and they have been using 3D printing to make parts for their cars from as early as 1990 for prototype production. BMW used additive manufacturing (3D printing) to make parts for its i8 plug-in hybrid sports car. The i8 was the first mass-produced car with a metal 3D-printed part and an exterior mirror bracket.
As a company that has been around for over 100 years, it's not surprising that BMW would be using this cutting-edge technology so early on in its lifetime. But what makes this even more impressive is how quickly they began incorporating additive manufacturing into their production process shortly after being introduced to it.
Audi
Audi has been using 3D printing for car parts since 2016, and they're betting on it. They've been using it to make parts that are difficult to make with traditional manufacturing methods, such as complex engine components. Their R18 e-Tron race car has been using 3D-printed titanium exhaust pipes, which can be made in one piece instead of multiple pieces welded together since 2012's Le Mans 24 Hours endurance race.
Audi is also working on hybrid hydrogen/electric engines that use many complex fluid tubing components like check valves and heat exchangers. These components are too difficult or expensive to manufacture conventionally, but by turning them into 3D-printed structures made from nickel alloy powder, Audi thinks it can achieve better performance at a lower cost than conventional methods.
Ford Motor Company
Ford Motor Company is using 3D printing to make car parts and engines. For example, the Mustang GT350R has a 3D-printed supercharger bracket that reduces weight by about three pounds. The F-150 Raptor has a 3D-printed aluminum fuel tank lighter than its steel counterpart. These innovations have been made possible by Ford's partnership with Stratasys subsidiaries Concept Laser and Renishaw, which acts as the company's additive manufacturing service provider (AMS).
Ford also uses AMS to improve internal processes at its plants worldwide. It has used Stratasys' PolyJet technology for prototyping tools for tooling development and creating production patterns for mold making since 2014. Now it's looking at using PolyJet more widely within its manufacturing operations, including producing prototype parts on demand instead of having them stocked in warehouses across different continents.
Porsche
Porsche is one of the automotive companies strongly committed to 3D printing. The German automaker has been using the technology since 2009. Some parts they've created include steel pistons for the 911 GT2 RS racecar and those for the Taycan electric car.
Porsche also works with 3D Systems to develop new materials for their application needs so that they can print faster or with higher quality results than before. They have partnered with other companies like Formlabs and Dassault Systèmes (DS) to develop new applications for 3D printing in manufacturing and design software tools. These are geared towards designing parts through additive manufacturing techniques rather than traditional subtractive methods such as milling.
Conclusion
The automotive industry is one of the most important industries in the world. It is also a sector that has long embraced new technologies and methods to improve its products and processes. 3D printing for car parts has been around for years, but it still hasn't taken off in a big way. The reason may be due to cost-effectiveness and concerns over quality control. However, many companies have found ways to overcome these obstacles by using 3D printed prototypes and production parts in their vehicles today, which means that we could soon see more cars on the road with some plastic components.
You may also like: What Materials Does 3D Printing Use?
Image source: Pixabay.com